Will you be placing bets on sports?
Now that betting on sports is legal in Indiana, will you be doing so?
You voted: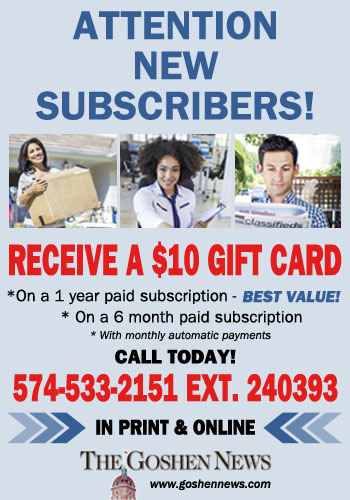 MISSION, Texas [mdash] Henry "Harry" Polderman, 82, Mission, Texas, formerly of Kalamazoo, Michigan, and Goshen, Indiana, died Tuesday. Visitation is from 11 a.m. to 2 p.m. Monday, Sept. 23, followed by a 2 p.m. funeral service at Miller-Stewart Funeral Home, Middlebury.
ELKHART [mdash] Robert L. Barnes, 88, Elkhart, formerly of Middlebury, died at 12:30 a.m. Friday, Sept. 13, at East Lake Nursing and Rehabilitation, Elkhart. He was born April 3, 1931, in Chicago, Illinois, to Roy and Elvira (Tdeschi) Barnes. On Aug. 5, 1951, he married Gloria M. Phipps; she…