TOPEKA — A yellow-and-black Chevrolet Camaro sits just beyond the 3-point line on the homemade basketball court in the barn where Charlie Yoder perfected his jump shot.
"It's mine," Charlie said.
Wait, what?
"I got it after I got my first official offer," he explained.
"Well," his dad, Rob, interjected. "It just happened around the same time. He needed a car."
You would have never known Charlie had a Camaro unless you had visited the barn on the Yoder's farm.
It's almost fitting, in a way, that Yoder didn't post anything about the car when he received it. His Instagram account is private. Go to Charlie's newly-created Twitter page and you'll see he's had 10 tweets — all of them retweets from other accounts, but none from the man himself.
The Westview senior doesn't talk much on social media, much like how he doesn't chatter a lot on a basketball court.
Instead, Charlie has let his on-court performance do the talking — and it's spoken volumes. Charlie has become one of the top players in Indiana, with The Indianapolis Star's Kyle Neddenriep calling him a "sleeper Mr. Basketball candidate."
While much is known about his playing abilities, little is known about who Charlie Yoder is and how he became one of the state's best players. Living on a farm, growing up in a small town in Indiana and going to a school without a football program, you could say Charlie was born to play basketball.
That, and his willingness to be the best at everything he does.
PLAYING TO 100
Charlie Yoder's mom knew from a young age that her son was destined to be great at whatever he wanted to do in life.
"From the time he was little, like maybe not even kindergarten, he's always been very competitive," Cori Yoder said. "Like, if you would play a board game and he would lose, he would not be happy."
His competitiveness didn't just stop at board games, though. No matter what Charlie was doing, he had to win — even if it meant playing all night.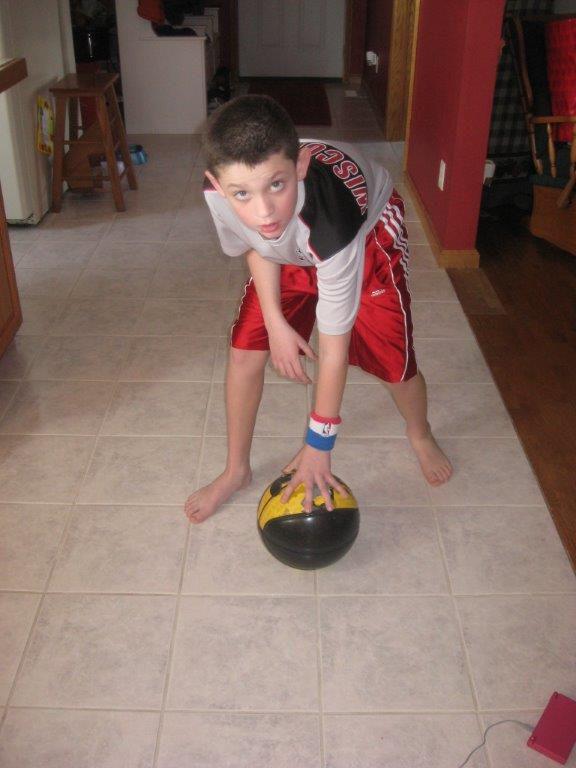 "We cleared out our dining room table and we had a little NERF basket, and they (Charlie, Rob, and Charlie's younger sister, Carigan) would play to 100 every night before it was time to go to bed," Cori said. "That was when he was just little."
Cori did not play in these basketball games, but she could tell one thing from watching Charlie play: "He loved basketball."
Charlie was born when Rob was still an assistant coach at Westview. Rob, who played at Westview in the 1980s, was on the coaching staff for the Warriors' back-to-back state championship teams in 1999 and 2000 before becoming the head coach starting in the 2003-04 season.
Cori, a Lakeland grad, played basketball in high school as well. Even with a house full of basketball, Charlie's parents never forced him to play the game.
"I didn't care what he did," Rob said. "I think we, his mom and I, have always stressed that we want him to work really hard at whatever he chooses to do. We didn't honestly care if it was basketball or another sport or not a sport at all; just work at something and don't lay around, watch TV and play with your phone all day long."
Rob and Cori even went to some drastic lengths to ensure their kids — both Charlie and Carigan — didn't grow up glued to the television.
"When he was young, we took the cable TV out," Rob said. "He never got a cell phone until he was a lot older than most people. Video games — we didn't have them. We wanted both of our kids to work at something."
WORKING AT BASKETBALL
Charlie played T-ball and basketball when he was a kid, but quickly fell in love with the sport his parents grew up playing. His first distinct memory of playing basketball, however, scarred Charlie.
"It was at the NCBL (now Club1 Basketball in Fort Wayne), and I was in the third grade," Charlie said. "I had 31 of our 31 points, and some mom — no, some dad — stands up and he goes to his son, 'Next time he catches it, break his arm!'
"I cried all the way home."
Although his first memory of playing basketball ended in tears, Charlie didn't give up on the sport. With his dad being a high school basketball coach, Charlie played with a lot of high school players growing up. It was around middle school when he realized that the game might just be more than a hobby for him.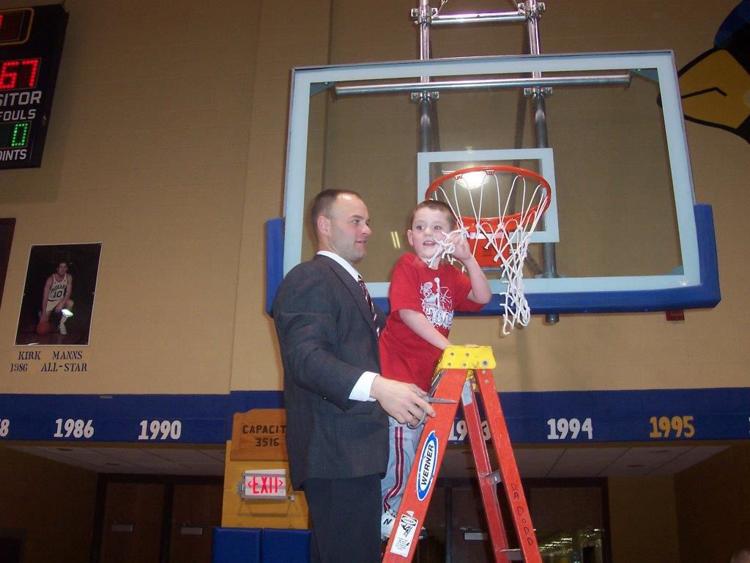 "When I was in fifth and sixth and seventh grade and I could compete against the high school players, make plays and not just be a non-factor like a lot of kids would've been," Charlie said. "I probably realized that I might be decent and be able to contribute on a varsity level."
Charlie kept working at the game. The half-court basketball arena was built in the barn. Charlie would spend hours in the barn, perfecting his craft.
"He's worked probably harder than anybody I've ever coached before," Rob said.
FATHER/SON DYNAMIC
It's not rare to see a father/son dynamic in high school sports, but Rob and Charlie Yoder are no ordinary coach and son.
Rob is one of the more intense coaches in the area. He has a proven track record of success, amassing a record of 282-121 in 16 seasons as the head coach so far, capturing nine sectional titles, six regionals and one semistate. He led Westview to the 2014 Class 2A state championship game as well.
Meanwhile, Charlie has become one of the most touted recruits in Westview history. He's been a three-year varsity starter, accumulating 1,480 career points, 470 rebounds, 253 assists, 171 steals and 103 blocked shots. Last year, he broke the program's single-season points scored record, tallying 734 points, a 23.7-per-game average. He's on pace to break Gary Yoder's program record 1,711 career points scored.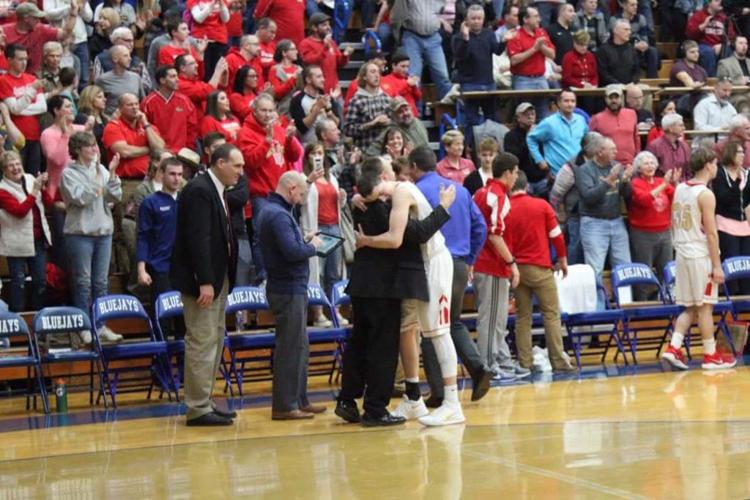 While they've been coach and player for numerous years, Rob and Charlie have always been father and son. They make sure to leave basketball at the gym.
"When we're here, it's coach, and when we're at home, it's dad," Charlie said. "I think we've gotten a lot better at it. As the years have gone on, we've gotten better at it, and I think we're pretty much on the same page now."
"I've probably pushed him really hard," Rob added. "At the end of the day, just like any dad, I just want what's best for him. I love him, but I suppose it's a tough balancing act. I suppose anyone that's gone through it would at least say that."
MORE THAN PLAYING
A Larry Bird Celtics' pennant hangs in the same barn with the Camaro and basketball court. Even though he only had local TV channels growing up, Charlie still watched a lot of basketball.
"I remember for Christmas, I got 'Larry Bird's Top Eight Games' (DVD) or something like that," Charlie said. "Those were on the TV a lot."
Charlie said his favorite NBA team is the Celtics, but he also enjoys watching players like Golden State's Klay Thompson and Dallas' Luka Doncic. The way Thompson carries himself on and off the court has served as an inspiration, of sorts, for Charlie.
"That's probably my favorite thing about Klay Thompson: just the way he handles himself," Charlie said. "So, in that aspect, that's how I try to model my game. Just be a good person on and off the court."
When he's not playing basketball, Charlie is doing what normal teenagers do. He hangs out with friends, going out to dinner and playing video games with them — notably the NBA 2K video game. Even though he doesn't have a gaming system at home, Charlie said he usually wins when playing against his friends.
Charlie keeps his group small as well.
"I have a few really close friends … I don't love being around big groups," Charlie said. "I'm pretty outgoing, but I'd rather just be around small groups. I just enjoy that better."
READY FOR THE SEASON
Charlie's play has caught the attention of numerous collegiate programs, ranging from Division-I to NAIA. He received his first D1 offer at the end of May when Jacksonville State made an official offer. Charlie and Rob estimate that they visited 12 different schools last summer.
"I want to be 100 percent sure, because it's a big decision, obviously. That decision doesn't just affect those four years, but your whole life," Charlie said, who mentioned he'd like to study business or sports management in college. "I don't want to end up in the transfer portal like everyone else."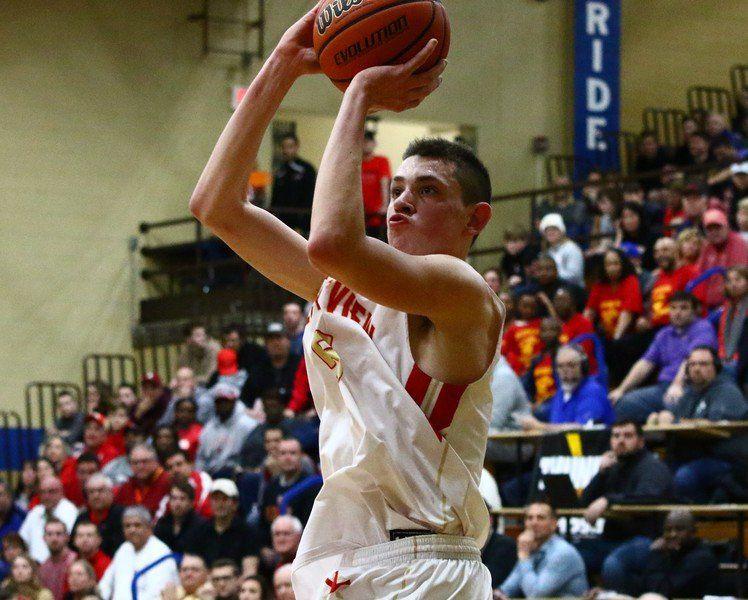 Countless coaches have come in and visited Westview practices this month to get a glimpse of what the 6-4, 190-pound Yoder has to offer.
"I think, after a while, you just get used to it and kind of forget that they're there," Rob said.
Charlie said he probably won't make a collegiate decision until after the season. After months of recruiting, the Yoder family is excited for the season to start.
"I think we're as ready for this season to start as any just because of all the other extra stuff that's been going on," Rob said.
"I just want him to have fun and just enjoy the game that he loves," Cori added. "I just want the last six months to be fun as a family and for us to enjoy it."
Westview finds itself in unfamiliar territory this year as the underdog. With the graduation of Elijah Hales and Nick Rensberger, a lot of people anticipate the Warriors to take a step back in the 2019-20 season. Outside of Charlie, there isn't much "star power" on the Westview roster.
Bring it on, says Charlie.
"I'm excited because I enjoy proving people wrong," Charlie said. "I'm excited to see what we can do. I'm excited because the last two years, we were supposed to win; we came into practice, everyone knows the sets, everyone knows what we expect out of each other. And this year, it's totally different challenges. So, I'm looking forward to that."
Charlie is even adapting his playing style on the court, preparing to take on a more vocal leadership role with the team.
"I feel like last year, I was a different type of leader. Because Nick (Rensberger) was really vocal; he was super-duper vocal," Charlie said. "So, I kind of led just quietly, and this year I'm leading more vocally."
Does that mean he'll finally break his Twitter silence and send his first official tweet?
"I don't know. I'll have to think of something," Charlie said, chuckling. "That first tweet has got to be good. Just waiting for the perfect moment."