SYRACUSE — Even in his final days, all Andy Kryder could think about was swimming.
When Kryder's cancer diagnosis turned out to be more severe than expected, his high school swimming coach, Roger Karns, reached out to tell him that he was in his thoughts and prayers. Kryder responded in the only way he knew how: with a swimming analogy.
"He said thanks and said, 'This is a race I'm not going to win. I just want to see how long I can stay in it,'" Karns said.
The race ended for Kryder on June 25th. Kryder died from sarcoma, a cancer that affects bones, fat and muscles. He was 45 years old.
Swimming is what came to define Kryder throughout his life. A champion in the pool, Kryder made an equal impact on the people around him in his life. From his boisterous laugh to his quiet leadership, Kryder will be remembered by his coaches, friends and athletes as the epitome of Wawasee swimming.
THE COMPETITOR
Before Karns coached Kryder at Wawasee, he saw the swimming standout in the club swimming ranks. Karns will never forget the moment when he realized what Kryder was truly made of.
"He broke his arm a couple weeks before the (club) state championship meet. He had a cast on it, wrapped it in a plastic bag and taped it around his elbow so it didn't get wet, and he swam his state championship events like that," Karns said. "I just thought, 'Man, this guy's got guts.'"
Karns became the Wawasee head coach beginning with the 1989-90 season. Kryder entered high school in 1990-91 and quickly became one of the top swimmers for the Warriors. It would be Kryder's senior season, though, when everything would come together.
Heading into the 1993-94 season, there was one boys swimming team in the state that was a juggernaut: Carmel. The Greyhounds had won four-straight IHSAA state championships, and nothing was stopping them from winning a fifth.
"We knew all year that Carmel might be the best high school swim team in the country and they were going to gobble up a lot of points," Karns said. "So, that meant a school with a small squad could do really well with the remaining points on the table."
Wawasee qualified five swimmers for the state championship meet: Kryder, senior Ben Christoffel, senior Eric Swartzendruber, junior Scott Metcalf and sophomore Andy Christoffel. Together, those five swam in two different relays and three different individual events. While Carmel was going to win, Wawasee was hoping its top-end talent was good enough to get the second-place trophy they desired.
The first event in the finals was the 200-yard medley relay, which had the Christoffel brothers, Swartzendruber and Kryder competing for the Warriors. After qualifying fourth in the prelims, the relay team was slotted into lane six.
Ben Christoffel wasn't feeling optimistic ahead of race time.
"I didn't feel like we had a chance, to be honest, even though we had a fast time," Christoffel said. "I just felt like everybody was going to bring their 'A' game and we were going to get trounced by these bigger schools."
Fortunately for Christoffel, he and his teammates proved himself wrong. Each member of the relay team swam one of the best splits of their lives, topped by Christoffel's 20.3-second freestyle to win the state championship with a time of 1:36.65.
Kryder swam the first leg, the backstroke, of the relay. Prior to 1994, he hadn't swum the backstroke competitively in five years but convinced Karns he could do it.
"It was his fourth year of high school, and I had learned by that time if Andy said he could do something, then he probably was going to do it," Karns said. "So, we swam it that way. … I was flabbergasted. That was the first swimming event win at a state championship meet in Wawasee history."
Individual success would be next for Wawasee, as Ben Christoffel won the 50-yard freestyle state title, with Kryder finishing ninth. Kryder's time in the finals would've been good enough to finish second overall, but he struggled in the prelims the night before and was stuck in the consolation round, meaning the highest he could finish was ninth.
Christoffel won with a time of 20.94 seconds. Kryder finished ninth in 21.23 seconds. The second-place time was 21.28 seconds.
Kryder then finally accomplished his goal of winning an individual state championship, winning the 100-yard freestyle with a time of 46.10 seconds. He did this after finishing seventh in the prelims, putting him in lane one — an outside lane.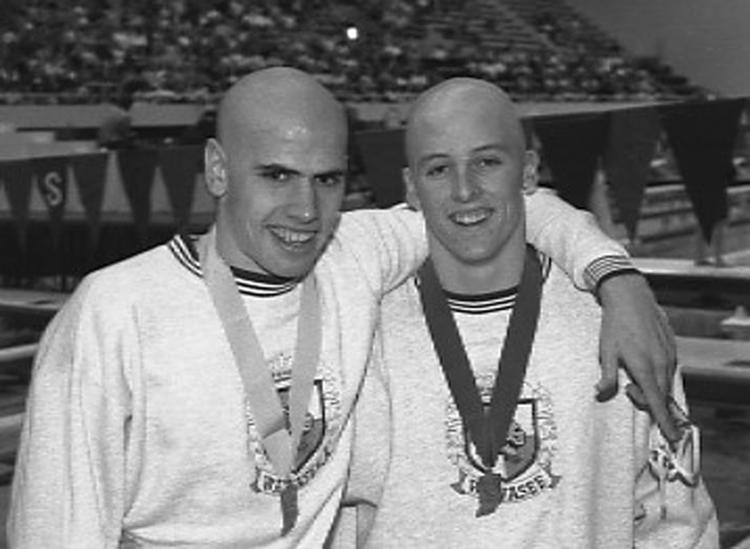 "An outside lane that is supposed to be a disadvantage — unless you don't want it to be and you're Andy Kryder," Karns said. "He won the 100 freestyle in a time that he had predicted at the beginning of the year out of lane one."
Ben Christoffel finished fourth in the 100 with a time of 47 seconds.
In their final competition of the day for the Warriors, Kryder, Ben Christoffel, Swartzendruber and Metcalf finished second in the 200-yard freestyle with a time of 1:26.77.
In the end, Wawasee scored 138 points, finishing in second place. Despite only having five total swimmers in five events, the Warriors were able to bring home a state trophy.
"Looking back at that time, I don't think you can ever replicate nowadays what that small team was able to do," Christoffel said. "We took five people to that meet and we got second at state."
On top of the success in the pool, Kryder also received the Herman F. Keller Mental Attitude Award, given to the swimmer who best represents excellence in sportsmanship, athleticism and academics.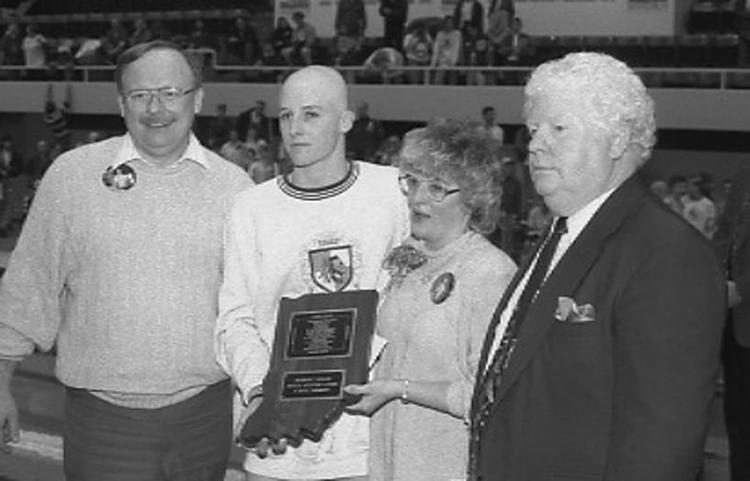 "I really didn't expect this award," Kryder told The Goshen News following the 1994 state meet. "And I couldn't have done it without the other guys on the team who were very supportive of me."
Karns, who has been the coach at Lewis University in Naperville, Illinois for the past nine years, called Kryder one of the best swimmers he's ever coached.
"I've had other gifted swimmers who it's always been easy for them, so they don't really dig down and make the training effort that they should," Karns said. "Andy had that level of talent and that level of commitment, and it made him a pretty outstanding swimmer."
THE COACH
Following high school, Kryder continued his swimming career at Ball State University. He graduated in 1998 and entered the business world. Eight years ago, though, Kryder left his job to become a business teacher at Wawasee and a swim coach in Wawasee's Age Group program.
That was when he started working with Jason Scott, who had moved from southern Indiana and was getting into the swimming program at Wawasee at the same time. Being able to work with Kryder was a no-brainer for Scott.
"When he decided to leave the business world and transition to teaching, I had been coaching the middle school swim team and I had him as an assistant coach," Scott said. "When he transitioned, I went right to him — what better opportunity would it be to have Andy Kryder's name next to you?"
When the head swimming coach position became available at the high school last year, both Scott and Kryder were hired to take over. Scott coached the boys team, while Kryder coached the girls.
For then-incoming freshman Kiah Farrington, this was welcoming news. She had been swimming in the Wawasee program the previous seven years, all with Kryder as her coach.
"Once he was hired, we all knew that we were in really great hands," Farrington said. "He would always help us at practice and push us to our limits, making us better."
Kryder was able to lead a young team to a third-place finish in the Northern Lakes Conference. Farrington was on one of two Warrior relay teams that made it to the state meet as well.
"He was just always that supportive," Farrington said. "I remember right before we were going to go to sectionals, for our relay, he was calculating all of the numbers, who would score best and if we could get it. … We did it; we got the school records and the state cut."
Scott said being co-head coaches with Kryder was an experience unlike any he's had before.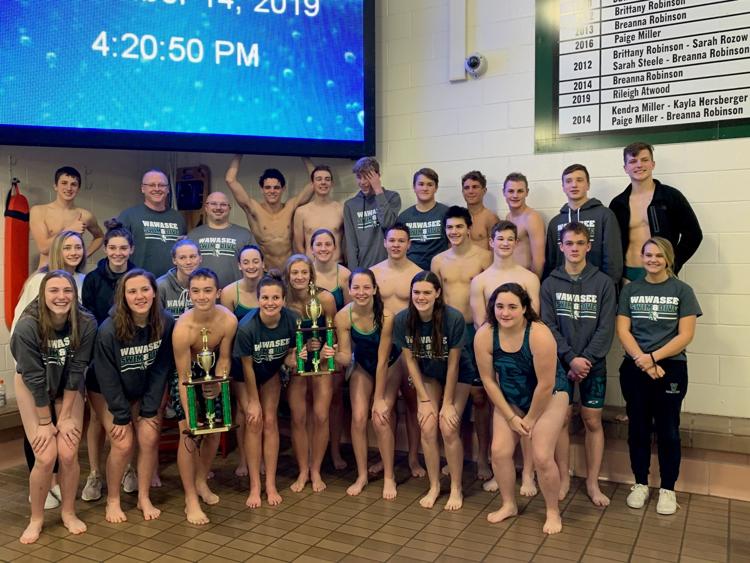 "It was probably the most fun I've had coaching," Scott said. "I think we complimented each other — I can be known as hard-nosed, and he was able to be the soft edge when the kids weren't necessarily the happiest because they were tired and ready to go home."
Kryder remained in contact with Karns throughout his coaching journey, exchanging ideas with his former coach on what to do in certain situations.
"He really loved the sport and the kids he was coaching," Karns said. "If you went to a swim meet and saw him coaching, it was pretty easy to tell why God put him on Earth."
THE PERSON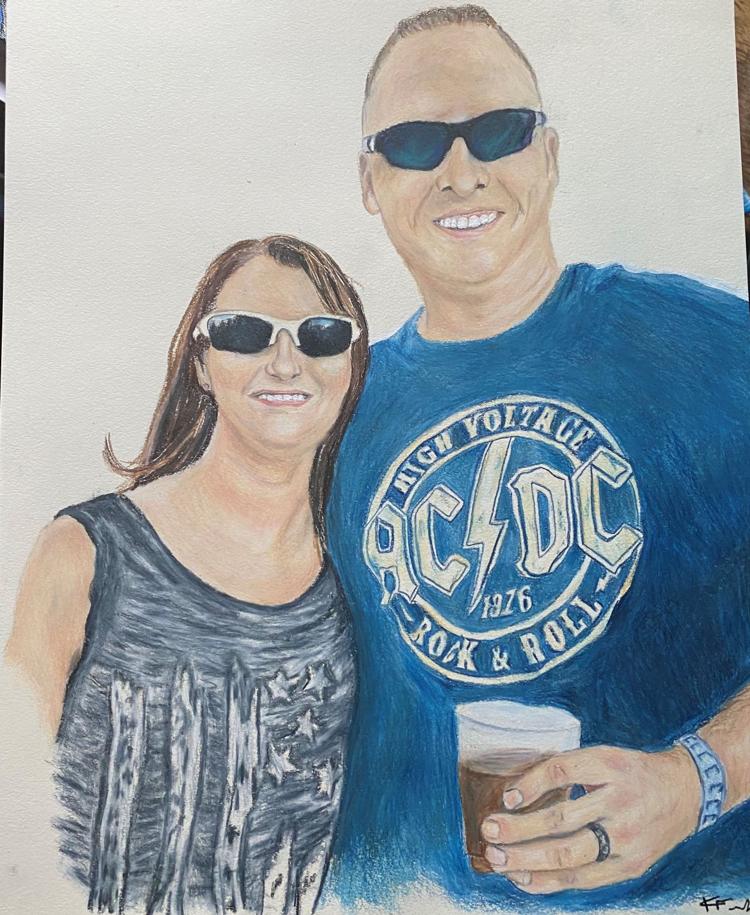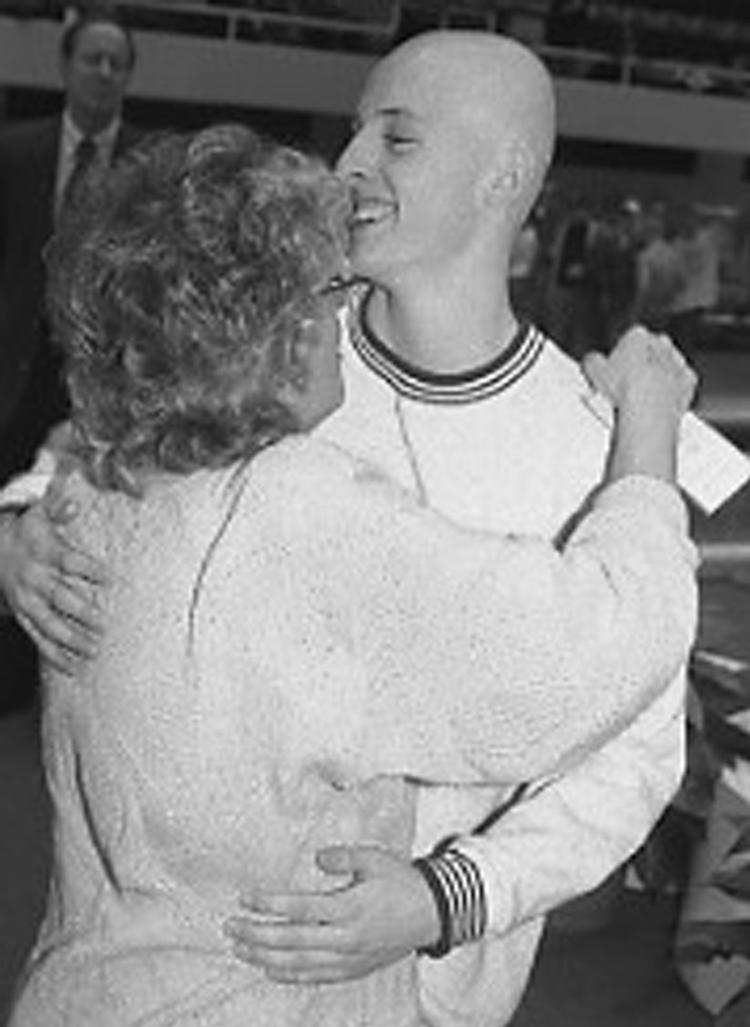 Kryder was diagnosed with cancer during the season. Initially, the diagnosis looked promising. Even if it had been bleak, Kryder was going to remain positive.
"When he had his first cyst removed, they told him that he should probably wait to come back, but he came back a couple days later — a little earlier than he was supposed to," Farrington said. "He was still there for his team through it all."
The cancer progressed worse and faster than anticipated, however. Once the diagnosis became severe, Kryder knew his time was coming.
Kryder is survived by his wife, Colleen, and three children: Cammy, Nathan and Zack. Both of his parents, Roger and Marge, are still alive, as well as his brother, Aaron. A service was held at Wawasee Community Bible Church Tuesday, a place the Kryder family was heavily involved in.
"He was a great family man; they were the world to him," Karns said.
When asked what they'll remember the most about Kryder, everyone mentioned his infectious laugh and smile. It became a staple of Wawasee swim meets.
"You could hear his laugh all the way down the pool deck," Farrington said. "He was able to drive me and the whole swim team to be better, all while still having a smile on his face."
"You could never talk with Andy and not leave feeling better about whatever situation it was," Scott added. "Even if it was a hard conversation with a kid who was struggling with something, he always found a positive in everything. I mean, he was Andy."
Kryder gave everything he had to Wawasee swimming. His legacy will live on in the memories of those that knew him best.
"He was Wawasee swimming, in a nutshell," Christoffel said. "If anyone could represent Wawasee swimming as the ideal person, it would be Andy Kryder."