GOSHEN — There was some risk involved intentionally fouling the opposing team with 23 seconds to go in a tie game, but Jon Tropf knew he wanted the final shot. Specifically, he wanted the ball in the hands of one man: Demarkus Stuckey. With a chance to beat the No. 1 team in NAIA, Tropf wanted to control his team's destiny.
Tropf, the Goshen College men's basketball coach, had great reason to trust Stuckey as well. The senior had 33 points in the game already as the Maple Leafs had a chance to upset the top-ranked Indiana Wesleyan Wildcats on their home floor. Wesleyan made both free throws, giving them a 65-63 advantage. The stage was set for Stuckey.
For Demarkus Stuckey to even be in this moment was more improbable than what was about to happen on the Gunden Gymnasium floor that day.
A DIFFICULT UPBRINGING
Stuckey fell in love with basketball at a young age growing up in Saginaw, Michigan. It was always a dream of his to play in the NBA, a dream he still had heading into his freshman year of high school. Before the season could even begin, though, tragedy struck.
His friend, Dorian Dawkins, died right before the school year began. He was 13 years old. He had an undetected heart defect and passed away suddenly. This was all the motivation Stuckey needed to pursue his basketball dreams even more.
"That was a pivotal moment in my life because I was like, 'Man, I really want to take this seriously not only for me, but to live his dream and do it for him,'" Stuckey said.
After Dawkins' passing, Stuckey moved from Saginaw to Grand Rapids, where his basketball career would take off. Stuckey became a rising star for the Grand Rapids Union basketball team, playing in varsity games by the end of his freshman year and moving into a starting role by his sophomore season. He was emerging as one of the best young players in Michigan.
While Stuckey's basketball career was on the rise, his home life had hit rock bottom.
Stuckey and his five siblings moved five times during Stuckey's high school career because of financial issues. His mother, Mary Anderson, was a single-mother left to raise the five children.
"She was trying to do it on her own, but things were really tough. There was a point in time where we had to stay in a shelter because one of our houses got foreclosed," Stuckey said. "Everybody was separated from each other."
This put a lot of strain not only on Mary, but Stuckey as well. Being the oldest male in the home, he felt the pressure to become the "man of the house."
"Being 15, 16 and having to look over a 6-year-old, a 7-year-old and 13-year-old, making sure they're off to school when your mom's not there … sometimes I shouldn't have made decisions that I made, but I felt like it was the best thing for me to look out for my family," Stuckey said. "Wanting to be in the gym or hang out a lot with friends, I couldn't do that because I had to babysit brothers and sisters.
"It helped me understand my mom a lot more, too. Most kids probably have a love/hate relationship with their parents, but I respect everything that woman does for us and respect everything she's done for me."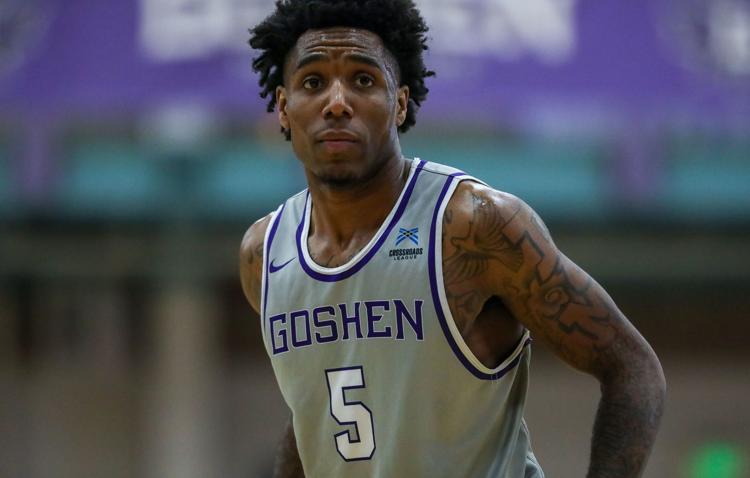 Four games into his junior season, Stuckey transferred to Grand Rapids Catholic Central High School. He was forced to sit out a year due to state rules, hurting his college recruiting process.
"I was receiving a lot of interest from a lot of low Division-I schools, picked up a couple of offers from Division-II schools … and then it disappeared," Stuckey said.
Then, an incident near the end of his senior year all but ended Stuckey's hopes of playing major college basketball.
"We played Wayland Union, and they're kind of known for their racial slurs that they make toward African Americans. There was a moment in the game where I was called an (unprintable slur) and I didn't take that moment well. I lashed out and punched the kid in the middle of the game," Stuckey said. "I had Grand Valley State at the game and they were about to offer me a college scholarship, and their coach watched that live. They didn't want any part of me after that.
"I didn't know where I was going."
Stuckey wound up enrolling at Grand Rapids Community College. He spent two years with the Raiders before transferring to King University in Bristol, Tennessee. After a year there, he transferred to Harris-Stowe State in St. Louis, Missouri. He didn't play a game for the Hornets because of something he thought wouldn't come back again.
HEALTH ISSUES
Stuckey was having a hard time breathing as he was trying to go to sleep one night this past January.
"I noticed I was breathing heavy and I was having chest pains," Stuckey said.
What was happening was something Stuckey has lived with his whole life.
Stuckey was born with a hole in his heart, causing a heart murmur. The hole closed when he was 6-years-old and really hadn't affected his basketball career until that night in January when he couldn't sleep. Stuckey missed two games for the Maple Leafs because of the incident.
The issue of the murmur didn't even pop up on any physicals Stuckey underwent until he went to Harris-Stowe. This forced Stuckey to sit out last season for the Hornets due to medical reasons. He was cleared to play basketball again following the season and transferred to Goshen College.
Flashbacks to his friend's passing haunted Stuckey.
"It scared me and pushed me away from the game … I couldn't do what I wanted to do. That's how Dorian passed away, just all of a sudden from a heart thing," Stuckey said. "Just always thinking about that made me think, 'I love the game, but I don't want to die doing it.'"
THE SHOT
During the game against Wesleyan, Stuckey could hear the crowd counting down: seven, six, five.
Seventeen seconds earlier, Stuckey was sitting on the bench with his team trailing 65-63. He knew what he wanted to do before Tropf could even draw up a play.
"I told my team what I was going to do in the huddle before coach came over. I said, 'I'm going to get the ball on the wing, I'm going to do a little crossover, step-back and I'm going to hit this shot and we're going to win this game,'" Stuckey said.
It was as if Stuckey was Nostradamus. He got the ball with nine seconds left, hit the same exact move he said he was going to do, and buried the shot with 1.8 seconds left to lead Goshen past then-No. 1 Indiana Wesleyan, 66-65. It's the Maple Leafs only conference win of the season so far.
"I was surprised I got it off. When I look back at the film, that shot was contested by someone who's 6-4 and 7-0," Stuckey said. "That's my best moment of my basketball career by far."
The senior admitted he regrets one part of that moment, though.
"I didn't celebrate the way I wanted to. I wanted to do the Lance Stephenson guitar three-point thing," Stuckey said jokingly.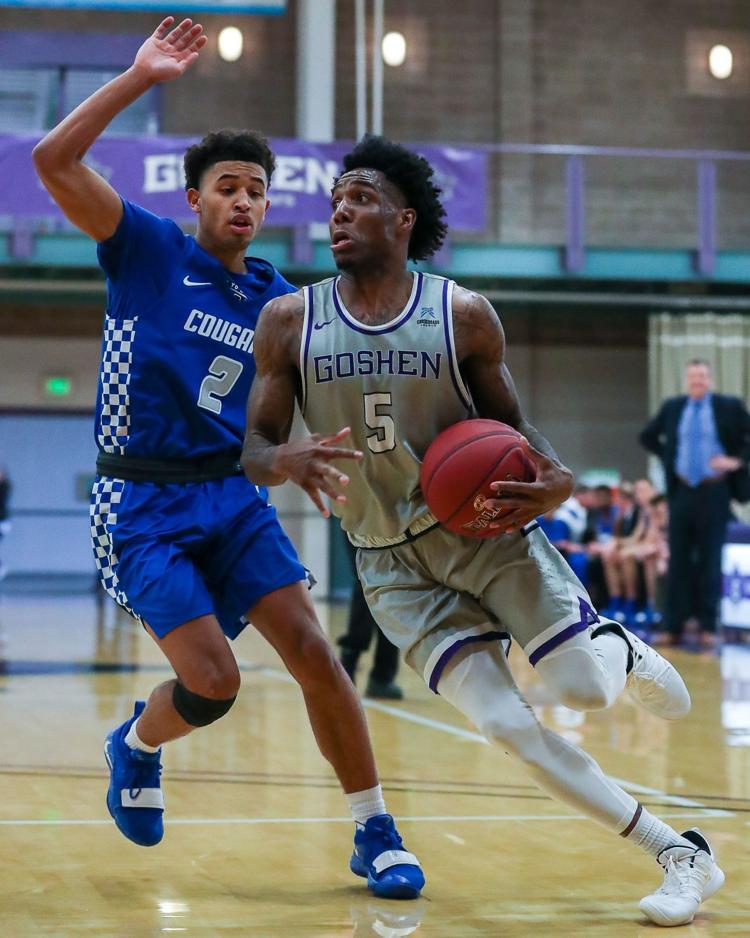 Stuckey has been a bright spot during a tough year for the Goshen College men's basketball team. He's averaging 21.7 points, 5.1 assists and 4.8 rebounds per game and is expected to be named to the Crossroads League All-Conference team at the end of the season.
"He really is the heart and soul of our team. I don't think I've ever been apart of a team where a player who takes as many shots as Demarkus does is still universally loved by his teammates," Tropf said. "I couldn't be happier for it to happen to him. He's one of most grateful players I've ever coached. He's grateful just to be even playing."
Stuckey will play his final home game for the Maple Leafs Tuesday against Taylor University. He plans to pursue a professional basketball career overseas before transitioning into becoming a basketball coach.
He will get to walk across the stage at Goshen College's graduation in April, but he'll still have to finish up a few classes in the fall to officially graduate from the school. He'll be the first person from his family to receive a college diploma.
"Getting that degree, that's the biggest motivation for me to stick through my college years. All the trials and tribulations that I faced at home. Even my friends that passed away back home," Stuckey said. "Just being the first one in my family to do it … it sets a standard for the next generation of all of my family members to see like, 'Okay, that's what the bar is. We have to reach that.'
"Walking across that stage, that's the biggest thing. The joy is to see those people who depend on me that I love smiling. That's why I do it."
Austin Hough can be reached at austin.hough@goshennews.com or 574-533-2151, ext. 325. Follow Austin on Twitter @AustinHoughTGN