GOSHEN — Tracy Walesa noticed a lump on her breast in December and feared the worst.
Her entire family has had a history of being diagnosed with cancer. Her mother, father, grandmother and uncle have all battled a variation of the disease. At 29 years old, she thought she had it too.
Tracy initially was told she was fine. Then, she had an ultrasound. Then, a mammogram. Then finally, a biopsy. The third test confirmed what she had feared the most: — she had breast cancer. Not just a normal type of breast cancer, either. It was stage four inflammatory breast cancer.
Tracy Walesa's life changed on April 8.
FRUSTRATION
It took Tracy five months before doctors reached a definitive conclusion on what the lump actually was on her breast. An initial conclusion from a doctor was to wait and see if it goes away. The mass never left, though.
In February, she went back to the doctors, who ordered more testing. The testing began at the end of March before concluding with her diagnosis on April 8.
"I was angry. I don't think I've been sad. It's just been angry," Tracy said. "Like, I'm 29 years old. I shouldn't have cancer. It's not something normal 29-year-old's have to deal with."
After her diagnosis, Tracy received some advice from her friend and colleague, Traci Henn. The two work at Wawasee High School together in the special education department. Henn is the department's chair, while Tracy has been a teacher there for three years.
Henn suggested Tracy seek a second opinion, just so she knew everything about her diagnosis.
"I had an experience a year ago with a mass that was found … mine was not cancerous, thankfully, but I still went through the process of finding that out," Henn said. "When she told me her initial diagnosis, right away I was like, 'You have to go get a second opinion. You need to know all of the facts. You need to go to someone who's seen your type of cancer before.'"
There are two hospitals in the United States that specialize in inflammatory breast cancer treatment. Fortunately for Tracy, one of them is in Kokomo. She visited the center on April 17. By April 22, she was starting her first round of chemotherapy. She now visits a cancer treatment center in Warsaw every three weeks.
"It's definitely not as bad as I thought it would be," Tracy said. "The nurses (in Warsaw) are amazing. They make it great."
LIFE PUT ON HOLD
Tracy is originally from the area. She attended to Concord High School, playing soccer, basketball and track for the school. Her sisters, Kim and Sammy, also graduated from Concord.
Tracy met her future husband, Charlie Walesa, when the two worked at Goshen Middle School in 2014. They started dating in May 2015. Charlie, originally from Illinois, had just moved to the area when Tracy dragged him to one of Goshen's First Friday events.
"When she asked what I do for fun around here — I lived in an apartment in Elkhart by myself, didn't know anybody — so I was like, 'Nothing, really. I just kind of stay in my apartment,'" Charlie said.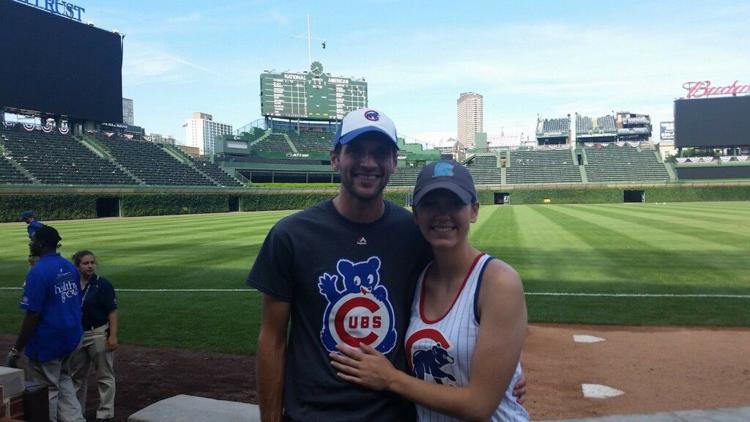 On July 28, 2018, the two officially tied the knot. They moved into a house together in Goshen shortly after. The two had their whole lives ahead of them when Tracy's diagnosis was made.
"I was more scared than anything because my family has never dealt with cancer," Charlie said. "I guess the thing that came to my mind is that it's not fair. We just bought a house, we just got married."
It's been different around the Walesa household since April 22. They've tried to keep life as normal as possible, but it's been difficult with Tracy's health.
"(The doctor) gave us this huge checklist of symptoms that if she experiences, we have to call them right away or go to the (emergency room). For me, the biggest thing is when she takes her temperature," Charlie said. "It freaks me out because if it's over 100, we have to go to the ER right away. And, there's been times where its 99.5 or 99.6, something like that, and I get a knot in my stomach. I instantly start worrying."
COMMUNITY SUPPORT
One thing that helped keep life normal for the two was sports. Tracy is the head girls track coach at Wawasee, while Charlie is an assistant for her. Tracy and Charlie only missed two track meets this past spring because of Tracy's health.
"If we didn't have track, it would've been 20 times harder. The girls, the team, the coaches — everyone was so accommodating and supportive," Tracy said. "They didn't ask questions; they just went with the flow. That was the best part about it."
"A blessing that we have is that we were coaching track together at Wawasee. That was something that kept our minds off a lot of the stuff, especially those first few weeks," Charlie added.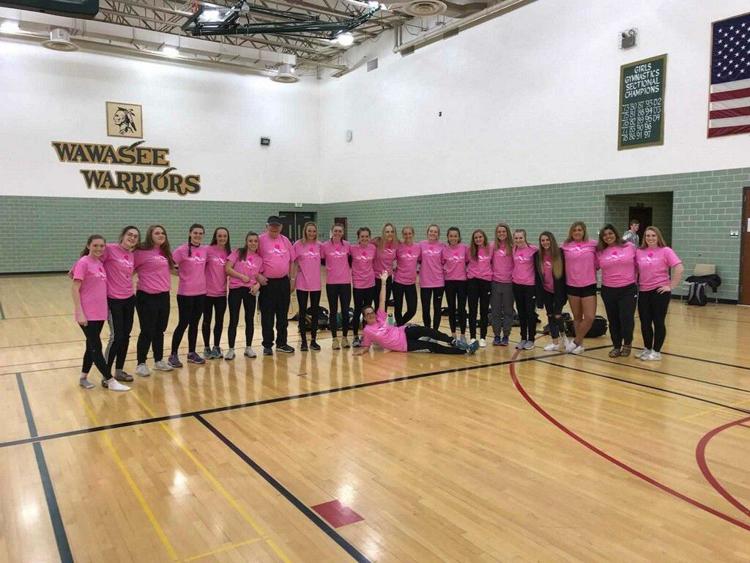 Charlie still teaches in the Goshen school system, working as a social studies teacher at the high school. His colleagues made sure he received help throughout this process as well.
Jenny Clark, a social studies teacher at Goshen High School, reached out to the Wawasee staff and asked if they could help with any fundraising efforts. Both Wawasee and Goshen started selling pink bracelets and pink T-shirts with the phrase "kick out cancer" on it. The shirt featured a soccer ball and a track on it, as Tracy also coaches the girls soccer team at Wawasee.
Goshen and Wawasee may be on-field adversaries, but new Goshen girls soccer head coach Myron Bontreger wanted to let Tracy know they were thinking of her off the field.
"Almost immediately when it was announced that the T-shirts were on sale, (Bontreger) came down and bought an entire set for the whole Goshen soccer team," Clark said. "He wanted to be able to show that we're rivals on the field, but supporters of each other off the field. And, that was a good feeling."
THE OUTLOOK
Tracy's final round of chemotherapy is scheduled for mid-August. After that, doctors will do more testing to see if more chemotherapy is needed. If they determine enough chemotherapy has been done, she'll be able to have surgery to hopefully remove the lump for good.
"The doctor in Kokomo said the outlook is positive. She said she has no reason to believe that it wouldn't be positive," Tracy said.
Because of her health issues, Tracy won't be coaching the Wawasee girls soccer team in the fall. Charlie also stepped down as co-head coach of the Goshen girls golf team this season to help his wife.
Since Tracy and Charlie were married two days before the fall sports season began last year, they never officially took a honeymoon. They plan to change that this summer with a nine-day vacation in Europe. They won't be alone, though, as they will be accompanied by some of Tracy's soccer players at Wawasee through a program called EF Tours. With her cancer diagnosis, though, they were uncertain the honeymoon was going to happen.
Tracy's "navigator" — a representative from the cancer center in Warsaw who helps Tracy with the medical, financial and daily aspects of dealing with cancer — refused to let her miss it.
"That's what we were worried about, like, 'Oh my gosh, are we going to be able to go?' Our navigator. she said that I'm going and that we'll schedule things around it," Tracy said.
Tracy's diagnosis and treatment journey has been an eye-opening experience for both Charlie and Tracy, one that has made them appreciate the people around them even more than they did before.
"People are amazing. That's what I've learned. That people will step up and do whatever they can for people when they need it," Tracy said.
Austin Hough can be reached at austin.hough@goshennews.com or 574-533-2151, ext. 325. Follow Austin on Twitter @AustinHoughTGN