NAPPANEE — Fourteen years ago, NorthWood High School didn't have enough players to field a girls golf team. On Saturday, they enter the Warsaw sectional as the eighth-ranked team in the state and the favorites to repeat as sectional champions — leaving coach Adam Yoder doubting his own golf skills.
"I'm not sure I could play on this team," he said.
It's been a process over the past 14 years, but the Panthers have risen to become one of Indiana's top girls golf programs. Only schools from the Indianapolis and Fort Wayne areas are ranked higher in the Indiana High School Golf Coaches Association (IHSGCA) polls.
Prior to 2006, NorthWood had girls golf teams from 1994-2000 and then 2002. There was no team pre-1994, 2001 or from 2003-2005. The school did have, however, an individual state champion in Gina Yoder, who brought home the title in 1988. Breea Masterton (1994), Michelle Taylor (1996-98) and Jill VanBrauene (1998-99) earned All-Northern Lakes Conference honors, but the Panthers only had one regional appearance — 1998 — up until 2005.
That all changed when Amy Thompson came around.
THE GAME CHANGER
Sometimes, all it takes is one player to turn around an entire team. Michael Jordan with the Chicago Bulls. Peyton Manning with the Indianapolis Colts. Tom Brady with the New England Patriots.
Amy Thompson had a similar effect on the NorthWood girls golf program. Thompson didn't lead the Panthers to multiple championships, but she brought to life a once-dormant program.
The love of golf was instilled into Thompson by her grandfather when she was 12 years old. She then started playing for the middle school team. With no high school team to look up to, though, her future as a high school player looked bleak. She did all she could to field enough players to have a team starting in the 2006 season.
"For me, it was about trying to get my friends to come out and play and try to get the four, five people that you need to compete as a team," Thompson said. "Just trying to get enough people together, even if they weren't necessarily super into golf. Just getting people out there to try it, see if they like it."
Chon Schrock coached the team in Thompson's freshman and sophomore seasons. The team finished seventh and eighth in the Northern Lakes Conference those two years, respectively, although Thompson earned All-NLC honors her sophomore campaign.
Then, in 2008, Adam Yoder took over the head coaching duties. Yoder wasn't intending on coaching a fall sport after previously serving as an assistant for the NorthWood football team. This opportunity was too good to pass up for Yoder, though.
"I've been into golf my entire life, and it was something I decided I wanted to take on," Yoder said. "I knew they had a really good player in Amy Thompson; she was a junior coming back. I had two really nice years of learning with her."
The 2008 season saw NorthWood go 13-5, the most wins in program history at that point. Thompson was the NLC champion and the team finished sixth, an improvement from the prior two years.
In 2009, the team finished second in the conference. Thompson had a sensational final year, repeating as NLC champ, finishing runner-up at the regional tournament and tied for 9th at the state tournament, earning her All-State honors.
NorthWood qualified for the regional as a team in both years.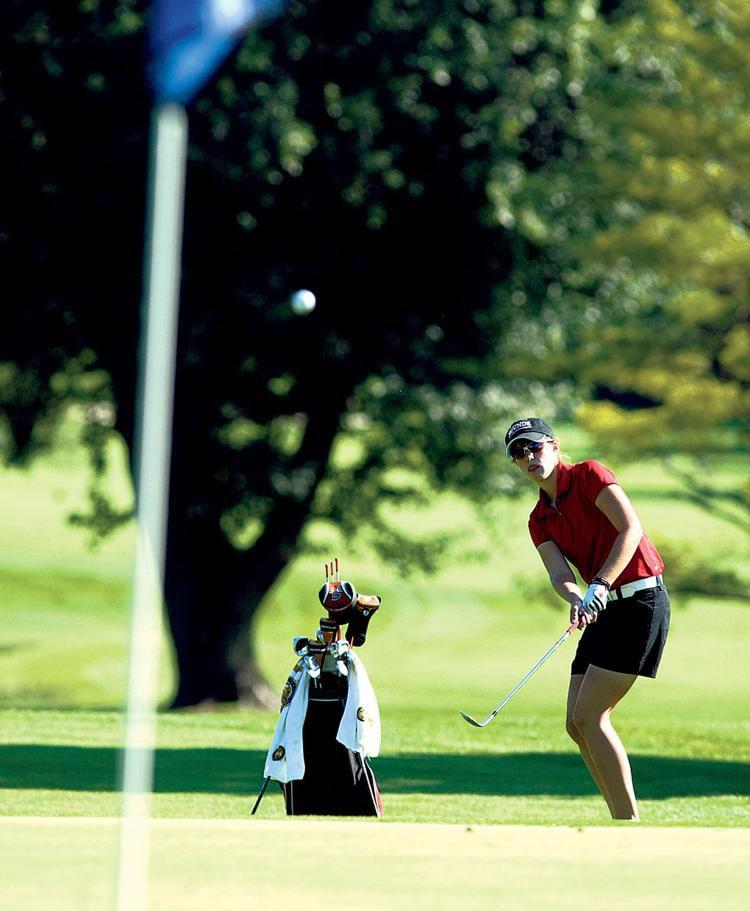 "I think the whole season my senior year, I was trying to put everything I had into it," Thompson said. "I didn't want to look back on the season and think, 'Oh, I wish I would've been out there a few more hours practicing throughout the season.' I wanted to make sure I put everything I had towards this so at the end of the year, even if it didn't end up great, I knew I had given all I had to it."
Yoder credits Thompson with expediting the growing process the NorthWood girls golf program would undergo in the ensuing decade.
"She was really instrumental in saying, 'Here's what I need, as a player. If I'm going to do well at state, here's kind of what I need,'" Yoder said. "We had a very close relationship. Very open and honest about things, and that was the time where we said, 'Well, if we're really going to do this, we're going to do it right. We're going to beef up the schedule and get us ready for the tournament.'"
BREAKING THROUGH
Yoder spent the next few years building the infrastructure of NorthWood girls golf.
"We figured out really quickly that in order to be good as a team, you have to get a 2, a 3, a 4, and then if you get to the point where you have all 5, now you really have something special," Yoder said.
After not qualifying for the regional tournament in 2010, the Panthers made it in 2011 and 2012. Although they did not advance to the state tournament either year, they won their first NLC regular season championship in 2012. NorthWood didn't lose a conference dual, starting a streak of 57-straight victories in nine-hole dual conference matches, the longest in NLC history.
"It's humbling because every season's different," Yoder said. "Every group's different. But every group knows what the number is, not because I tell them, but because the girls that have come before them have told them."
The program's breakout year, though, would be 2013.
NorthWood won both the NLC regular season and tournament championships, giving them their first outright conference crown. The Panthers wanted more, though, and knew they had the chance to reach heights the program hadn't seen up to that point.
Senior Heidi Morganthaler was a two-time All-NLC player and the defending NLC champion. Sophomore Linnzie Richner was an honorable mention All-NLC in 2012 and a sectional runner-up. Combine that with incoming freshman Summer Stillson, and making the state tournament wasn't just a dream for NorthWood — it was the goal.
"Having Heidi Morganthaler and Linnzie and myself on the team, it was sort of the first year we, as a program, knew we had something special and could make going to state a very realistic goal," Stillson said. "So, that was a goal for our whole season. There was no part of us that doubted we could do it."
NorthWood finished second at the Warsaw sectional, advancing to the regional at Noble Hawk Golf Links in Kendallville. Nerves were not a factor for Stillson heading into the tournament.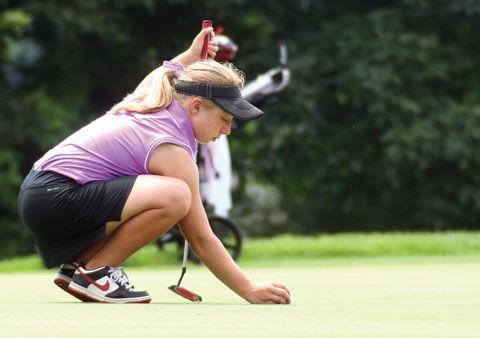 "As a freshman, although it was a team goal to make it to state, I didn't know anything different," she said. "Yeah, I knew we were sort of the first team that was as deep as we were, but there was no other thought in my mind of past years that could creep into my mind and put any doubt there."
Penn ran away with the regional, shooting 297.
NorthWood finished second, though, with a 335. Finally, after five seasons of coming up just short, Yoder and the Panthers were headed to the state tournament.
"That was one of the best days in my life in athletics, as far as coaching or playing," Yoder said. "I was fortunate to be a coach on our (2005 football) state championship team at NorthWood, but that was, for me, extremely, extremely satisfying. I was very close with that group of girls."
Reality quickly set in the next weekend for the Panthers. They finished 15th out of 15 teams at the state tournament.
"We were all standing on the range and we established that our goal was to not get 15th," Stillson said. "We wanted to get 14th, and we ended up getting 15th."
MORE THAN 15TH
More milestones came in the years following 2013. NorthWood won its first sectional in 2014. They made the state tournament for a second time in 2015, finishing 15th once again. Another sectional title followed in 2016, and a strong 2017 campaign established the program as a force to be reckoned with in northern Indiana.
It was 2018, however, where it seemed everything came together for NorthWood.
This time, another Stillson — Cybil — was an incoming freshman. She had two seniors in Mackenzie Weaver and Abby Slabaugh coming off of All-NLC years in 2017, with Weaver also advancing to the state tournament as an individual.
"I definitely came in with high goals for myself just because I knew that I was a good player and had the capability to do a lot of good things for this program," Cybil said. "I was nervous for sure, knowing that a lot of people knew I was a good golfer and they expected a lot out of me."
The difference between 2018 and 2013, though, was the depth of the Panthers.
Four players — Cybil, Weaver, Slabaugh and Delaney Davis — all earned All-NLC honors. A fifth player, Kirsten Schrock, was an honorable mention All-NLC player.
They won the sectional, finished second at the regional and 10th at the state tournament, finally getting over the hump at Prairie View Golf Club in Carmel. Seven players played during the state tournament for the Panthers, showing off the depth the program had amassed since their first state appearance six years before.
"It was really fun because all of my best friends are on the team," Schrock said. "I'm friends with all of my seniors, so it was really fun. We worked really hard."
"That team last year, we made them well aware that we're going to go down there and have a whole lot of fun, but we were also going to make sure that we competed to the best of our ability," Yoder added. "Tenth in a single-class system was something we were very, very proud of. It was just amazing, and then it definitely helped spring board us into this season."
THE FUTURE
NorthWood hasn't shown any signs of slowing down in 2019. They won three invites, including the inaugural NorthWood Invitational. They played in both the State Preview and the Hall of Fame invites, finishing in the top 10 in both of those. They broke an NLC tournament record last weekend, shooting a 317 at Stonehenge Golf Course to win by 26 strokes.
"There's an interesting dynamic amongst this team," Yoder said. "They are extremely confident, but they're also extremely detail-oriented. They are very meticulous on how we strategize for courses, how they practice. The bar has been set pretty high with all the things they are doing behind the scenes to help each other stay confident, to prepare for courses."
There's also a family dynamic among team members, as Cybil explained.
"We're just all so close," the sophomore said. "I would say we all have somewhat of the same personalities, so we're really close friends on and off the course. At school, we all hang out together, we all pass each other in the hallway and wave. We've just grown up together because most of us have had older siblings go through the program, so we've all been together for quite a while."
The group is also focused on helping the younger players on the team. Schrock, a senior, goes above and beyond in that category.
"I know a lot of the younger girls because I helped with the middle school team," Schrock said. "So, I feel I should help them. They may not want it, but I do it anyway."
There are a few trophies still to be added to the trophy case at NorthWood. A regional title is possible this season, but going up against No. 2 Homestead and No. 9 Penn will make a regional championship hard to win for the No. 8 Panthers.
Then there's a state championship, something NorthWood athletics only has two of as a whole (1999 girls basketball, 2005 football). To win a state championship in girls golf, Yoder knows it will take even more work and effort than has already been put in the last 14 years.
"It's going to take some serious, serious commitment from not just five girls but seven to eight girls," Yoder said. "Because if you don't have a 5th, a 6th, a 7th and an 8th pushing for spots, then people get complacent. I wouldn't say (winning a state title can't happen), but I think I'd like to see somebody get better than 10th. That'd be a good starting point, but we'll go from there."