GOSHEN — Agility ladder. Pumpkin carry. Five jump ropes. Ladder climb. Tire high-steps. Suitcase carry, but with 20-pound dumbbells. Running back drill. Touchdown.
Now do it 63 times.
That's what Darrin Eichorn was doing on a Saturday morning in his driveway by himself.
For people driving by, Eichorn may have looked like a madman in a random Detroit Lions jersey, with eye black under both of his eyes, gloves and high socks; running around beer bottles, tires and ladders in his driveway. And was that a pumpkin he just carried over his head?
But there was a purpose for the get-up and the unusual exercise stations. Eichorn was doing a fitness challenge for his dad, Galen, who has Multiple System Atrophy. He was wearing a Jason Hanson Lions jersey because Darrin and his father grew up watching Lions games together. He did the line of exercises 63 times in honor of it being 63 years since the last Lions championship.
This has become the weekly routine for Eichorn. What started as trying to lose the "dad bod" has turned into something bigger than him. His weekly fitness challenges raise awareness for different causes near to his heart. Money has been raised, toys have been bought and people have been honored.
These are some of the people Darrin Eichorn has touched:
FOR KRISTEN
Kristen Carich was a police officer in Goshen. She spent most of her time as a School Resource Officer at the elementary schools in town. The kids affectionally called her "Officer K.C."
It was in late March when Carich was diagnosed with brain cancer. On May 14, Carich passed away from the disease. She was 48 years old.
Eichorn's wife, Megan, is on the Goshen City Council and also works within the Goshen Community Schools District. The connection to the school made Carich an easy person for Eichorn to choose a fitness challenge for.
On July 11, Eichorn walked 16.76 miles roundtrip to all seven elementary schools in Goshen. At each stop, he left a bundle of flowers outside the front doors in Carich's honor. The walk took Eichorn nearly five hours to complete.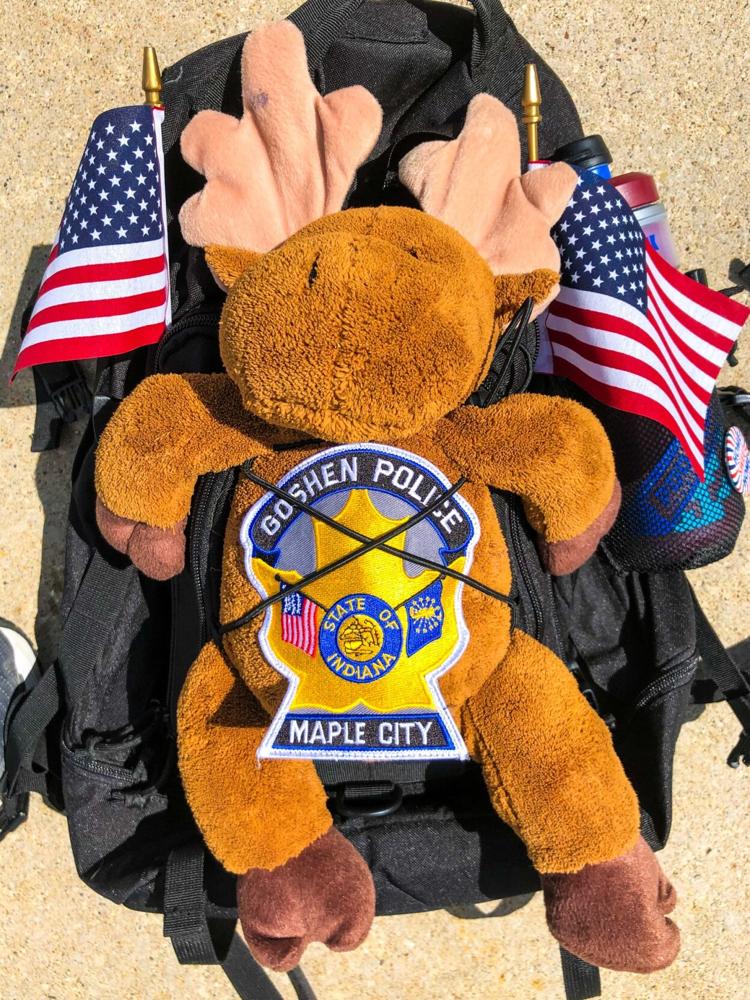 Eichorn's last stop was at Model Elementary. Tami Hicks, the principal at Model, was "closer than best friends" with Carich. For her, what Eichorn did that Saturday was more than a fitness challenge.
"I don't even know how to put it into words, honestly," Hicks said. "Just touched that someone would even take time to do something like that for someone that they didn't even know."
FOR ELEANOR
Eleanor Brandon is 11 years old. In 2016, Eleanor was been diagnosed with Friedreich's Ataxia, a neuromuscular disease that affects balance, along with a heart condition that goes along with it. Eleanor will eventually be in a wheelchair because of the disease. There is no known cure or medicine to help fight it as well.
During the month of July, the Friedreich's Ataxia Research Alliance hosts an annual bike ride to raise money to research a cure for the disease. With the COVID-19 pandemic still going on, though, the bike ride was made into a virtual event that went from July 1-25.
Eleanor is Eichorn's niece. This gave Eichorn a purpose for a new fitness challenge: walk 100 miles in those three weeks to raise money for Friedreich's Ataxia.
Eichorn's sister-in-law and Eleanor's mother, Kathleen, was taken aback by Eichorn's request.
"Darrin stepped up to the challenge and said, 'I want to walk 100 miles in 30 days for Eleanor. What do I need to do, how do I sign up, how do I join?' He really invigorated me because I did not expect to have a good haul," Kathleen said.
The Brandon family usually raises $8,000 every year during July for Friedreich's Ataxia. This year, they raised more than $12,000. Eichorn raised $1,500 of that himself through donations.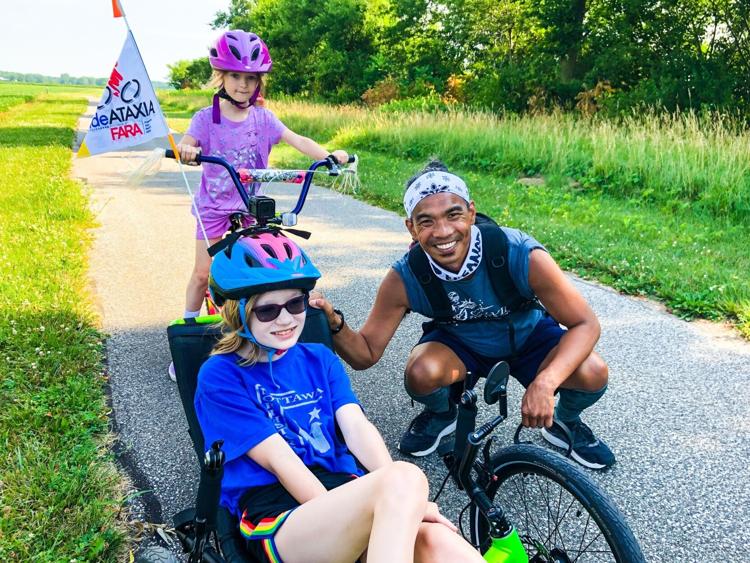 "I was blown away at the energy he brought to the team and the positivity and the funny posts that he did to get people to take a moment out of themselves and reach out to a little girl that they don't know and probably will never meet and help fund research," Kathleen said. "It just touched my heart so much."
On the final day of the fundraiser, Eichorn and Eleanor met on the Pumpkinvine Trail to celebrate the 100 miles reached. Pictures were taken and memories were made, with a lot of money going to research the rare disease.
"It really meant a lot to our little family, him reaching out like that and making that difference for us," Kathleen said.
FOR ETHAN
Ethan Snyder is 15 years old. He was born with Angelman Syndrome, a rare disease that affects the 15th chromosome of a person. Snyder is unable to talk because of this disease.
Snyder is also the son of Hicks. Given the Eichorn family's connection to Hicks, Darrin has seen numerous posts made about the outgoing 15-year-old. He was someone he knew, which made doing a fitness challenge for him that much easier.
On Aug. 29, Eichorn walked 15 miles, representing the 15th chromosome. The walk took him nearly five hours to complete. For the last mile of the walk, Snyder joined Eichorn.
Throughout the week leading up to the walk, Eichorn accepted donations for Angelman's Syndrome. He raised more than $500 to use toward research, and also bought new toys for Snyder. Kids with Angelman's Syndrome tend to love water, so Eichorn made sure to buy Snyder new water guns, sprinklers and an inflatable pool.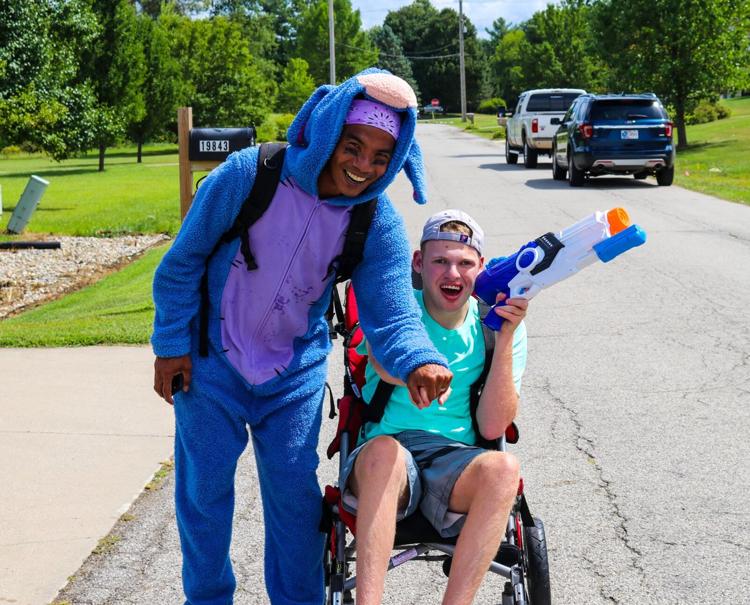 Eichorn had fun with the walk, too. He wore an Eeyore costume — the character from the Winnie-the-Pooh books — to help cheer Snyder up even more.
Just like they were for her friend Kristen Carich, the emotions were overwhelming for Hicks.
"Here's this individual who could be at home with his own family or could be doing whatever he wants to do on his day off, and he has taken five, six, seven, eight hours out of his day to dedicate it to my child, and raising awareness and posting positive things about my son," Hicks said. "I'm beyond thankful and grateful."
FOR DAD
Darrin Eichorn has a great appreciation for his adopted family.
Born in Vietnam near the end of the Vietnam War, Eichorn was an orphan until he was brought to the United States when he was 9 months old. On the flight from Vietnam, though, the plane crashed. Eichorn was one of few to survive.
The survivors were then loaded onto another plane at a U.S. Army base and flown to America. Eichorn still has a blanket from the Army base to prove just how true his story is.
"I think it's part of how I'm made up: it gives you kind of an attitude of gratitude," Eichorn said. "And I have lots of issues and wouldn't consider myself the most optimistic person all the time, but it gives you a sense of, 'Wow, I'm just thankful to be here.' Life is short, and even if I can have an impact on one person, then that's worth it. You have a story like that — even though I can't remember it — it feels like I should make use of my life."
Eichorn was adopted by Galen and Carol Eichorn of Sturgis, Michigan. He has four adopted siblings and no biological siblings that he knows of. He didn't even have a birth certificate when he arrived, so his July 10 birthday is "made up."
This is why it's harder for Eichorn to see his dad the way he is now. MSA is an "aggressive form of Parkinson's," according to Eichorn. His mother is now taking care of his dad full-time near Kalamazoo, Michigan.
"He's been a farmer his whole life, so I just remember a sturdy, rock-solid guy that was very active," Eichorn said. "And now to see him in a state where mobility is hard, speaking is hard and even breathing is hard — and it's all because the disease wrecks your body. It's nothing that he's done, so that's hard to see."
Darrin Eichorn does a fitness challenge for his dad
That's why Saturday's workout in his driveway meant more to Eichorn. And why running the stairs at the Goshen High School football stadium in memory of his mother-in-law meant more. And why his walk for Eleanor meant so much. The family connection for these challenges fuels Eichorn to complete them.
"When you have the personal connections, you're definitely more inspired to do it and to do it well," Eichorn said. "For instance, when I walked for George Floyd and Breonna Taylor — people who are players in our culture right now and the social conversation — it's different. It's still important to me and it still matters, but when you're walking for people you know — when I was running stairs for my mother-in-law who we were close to and miss to this day — it takes on a different significance."
Eichorn completed his 63 trips up-and-down his driveway for his dad in about 100 minutes. There's no sign of slowing down as well, as he's already planning out different fitness challenges for the fall and winter months. With many causes and people close to him, he plans on shining a light on all of them.
"Honestly? The end game for me is to help others and inspire others to do the same in a way which is comfortable to them," Eichorn said. "Not everyone's going to do fitness challenges; that's understandable. To me, that's always the end game: to reach more people, to raise awareness for these causes, to raise money and just to highlight the human side."
If you'd like to see all the fitness challenges Darrin Eichorn has done, check out his personal Facebook page.