SYRACUSE — Acta non verba. Actions, not words.
That's a phrase Jake Lock might have learned to say in his primary class of his senior year of education.
"My main class is Latin," Lock said. "I do it as a co-op with other home-schoolers in the Fort Wayne area … you really get a lot out of that."
Lock has been home-schooled his entire life, just like most of his Benton Bucks teammates. The Bucks are a boys basketball team that allows home-school students to participate in an extracurricular activity. A total of 34 kids are on the elementary, junior high, junior varsity and varsity teams in the Bucks' system in 2019-20.
For the varsity Bucks, though, basketball is more than just an activity to do after school. In December, they were ranked No. 8 in the National Christian HomeSchool Basketball Association national rankings. They have a record of 24-6, average 76 points-per-game and are headed to the National Christian HomeSchool Basketball Championships (NCHBC) national championships for a second-straight season.
The Bucks have become one of the top basketball teams in the area, regardless of classification, by letting their actions speak louder than their words.
SCHOOL FIRST
A home-school student's schedule isn't too different from a normal high school student's schedule.
"Wake up around 8, 9 a.m. and do school until like 4 p.m.," Bucks senior Ethan Cooper said. "And then I have a gym in my basement, so I hit there every day."
Home-school learning has evolved in the last two decades thanks to the invention of the internet. While most kids are taught by their parents up through junior high, by the time they reach high school, the concepts and classes they're required to take may be beyond the knowledge a common parent might know.
That's where co-ops and online classes come in. As Lock alluded to, he takes Latin with a teacher in the Fort Wayne area. Lock, who lives in Roanoke, also is taking advanced biology and trigonometry, among other classes.
"Just your regular senior stuff," Lock said.
Bucks head coach David Wright and his wife, Sheri — who teaches some classes to their kids, Caleb and Connor — have started using co-ops as well.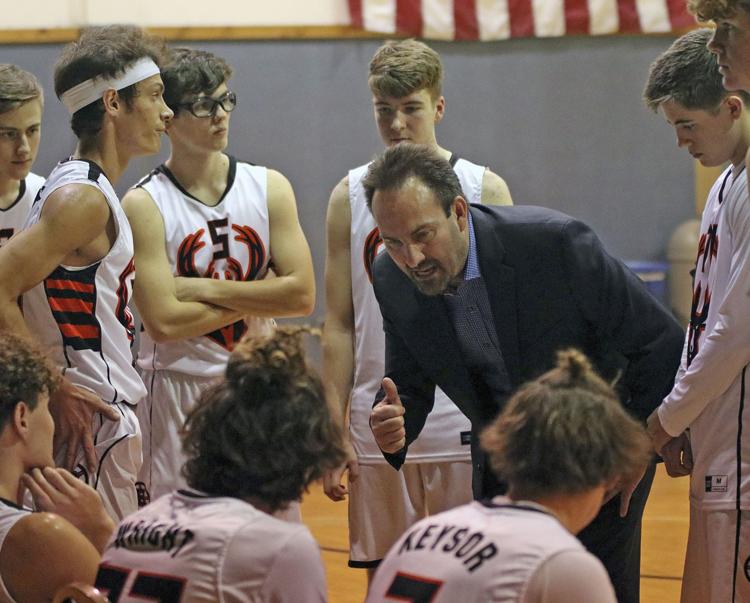 "When the kids were younger, it was easier to teach them your math, your English, science, stuff like that," David said. "And as they got older and decided to stay home for high school, that's where you see more of the co-ops — like Caleb and his brother take biology and chemistry from a retired science professor. He teaches a class of home-school kids that go to the class for 2 1/2, 3 hours.
"What they don't do online, a lot of time there's a co-op where there'll be a retired teacher or a mom that might have been a teacher."
Lock, Cooper and Caleb Wright are three of the more talented players on the Bucks roster this season. With that has come the opportunity to potentially transfer to a high school and play for the school's basketball team. There's also an IHSAA rule that states as long as a student takes one class at a high school, they can remain home-schooled the rest of the time and still be eligible to play on a high school's athletic teams.
The two seniors — Lock and Cooper — both explored going to high schools in the past. Lock wanted to go to Fort Wayne Homestead by using the one-class rule, but Homestead wouldn't let him play unless he took a full class load at the school. Lock and his family decided to stay home-schooled.
Cooper, an Elkhart native, had a few options he was mulling over before deciding to stay home-schooled.
"My parents talked about it; they were praying about it, too," Cooper said. "One option was Concord — it's like two minutes down the road from where I live. And then NorthWood, I could take a couple classes and do a sport if I wanted. But they decided to stay home-school."
Caleb is only a sophomore, meaning he has two years of eligibility remaining if he chooses to go to a high school. Caleb's three oldest siblings — Carissa, Chloe and Christian — are all Fairfield graduates. The Wright family lives in Goshen, so they'd be eligible to play for either Goshen or Fairfield high schools immediately if they decide to leave the home-school life in favor of a high school.
"We're still thinking about that," Caleb said. "We've talked to Troy Beachy, who used to be the coach at Fairfield, and Michael Wohlford from Goshen. We've talked to both of them, but haven't decided on anything yet."
DIFFERENCES AND MISCONCEPTIONS
Unlike within the IHSAA, home-schooled students don't have to maintain a certain grade point average to be eligible to play basketball. Parents, though, have to certify a student is in good academic standing when they enter NCHBC-sponsored events. If a student is struggling with a class, the parent talks to David Wright to notify him the student won't be playing with the team until the grades get up.
All players on a home-school team must live within 100 miles of the home base for the team. That's why a player like Lock is allowed to play for a team based in Benton. The rule is designed to prevent home-school teams becoming like AAU clubs, according to David.
There's also no minimum age a player is required to be to play on the varsity team. In formal school systems, kids aren't eligible to play for the high school varsity team until they become a high school student. For home-school programs, though, that's not the case. As long as the player is younger than age 18, they can play for a varsity team.
This is the case for both Wright kids, as Caleb and Connor — who's currently a freshman — began their varsity careers in seventh grade. Neither played much in their respective seventh-grade seasons, but each started seeing measurable playing time in their eighth-grade years.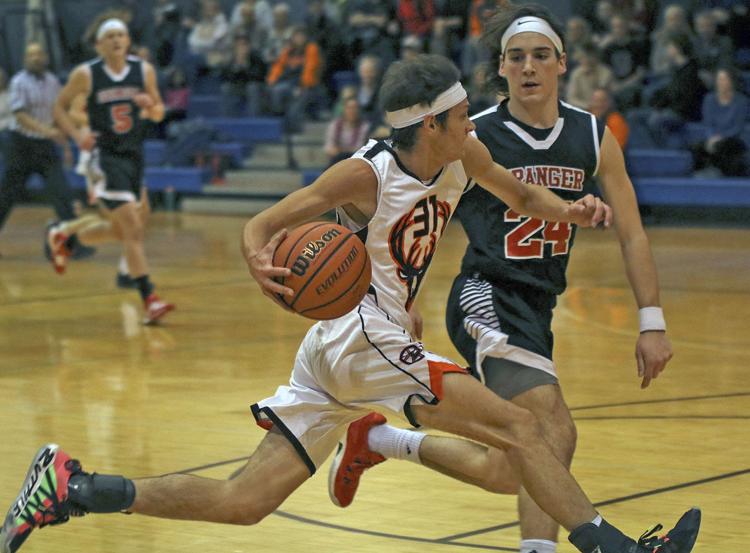 Playing against varsity kids at an early age has helped Caleb grow into a prolific scorer. In 78 varsity games for the Bucks, the sophomore has 1,500 career points.
"If I was playing junior high at that age, I don't think the competition would've been very high for me," Caleb said. "But I think playing for the varsity team, even if the competition wasn't as high as a public school, they were still pushing me because they were four years older than I was."
Both Lock and Cooper were playing on varsity teams as soon as they started high school as well. The Bucks is Lock's third different team he's played for, and he's amassed more than 3,000 points in his career. Cooper has more than 1,000 points and 420 rebounds in his career as well.
Along with no age minimum, home-school teams tend to play more games than high school teams. This season, the Bucks have 34 games scheduled, not including the nationally-sponsored tournaments. Benton will likely play more than 40 games this season, something that is unattainable for IHSAA schools.
"I think the biggest pro is the amount of games they get to play and the amount of time they get to spend practicing," David said.
The Bucks might play a lot of games, but not all the teams they play are the strongest teams. The talent disparity between the top-level home-school teams and lower-level ones is no more apparent than looking at the Bucks' schedule and results this season.
Benton is a good team this year and, when they play weaker teams, the Bucks rack up the points. In two games during the week of Jan. 13, Benton beat Noble-Whitley, 90-49, and Granger Christian, 104-30.
The top-level teams are just as good as high school teams, though, in David's eyes.
"You think home-school basketball, you think, 'OK, what's this level of competition? What are the athletes going to be like?'" David said. "If you go to a tournament in Fort Wayne, or if you go to a tournament in Indy, or when we go to nationals in Missouri, I think a lot of people are surprised by the level of competition."
EYES ON THE PRIZE
Teams don't have to qualify for the NCHBC National Championships in Springfield, Missouri, but typically only the top teams pay to enter the Division-I tournament.
The NCHBC then takes the top 64 teams and puts them in eight classes based on program size, with 8A being the biggest and A the smallest. The eight teams in each class are then seeded based on strength of schedule and record, among other factors.
Tournaments are held in each class to determine a winner. Then, the eight class winners compete in a tournament of their own to crown the undisputed Gold Ball Showdown national champions.
Last year, Benton was the No. 5 seed in Class 2A. After winning their quarterfinal game against the TACA Storm (TX), they lost to the Wichita Defenders (KS) in the semifinals. This sent the Bucks to the Small Program Division I Bronze tournament, which they went 2-1 in to finish third in that tournament. Overall, Benton went 34-10 and 3-2 at the national tournament, which led them to finishing 11th in the final national polls of the season.
Lock said this year's team is poised to do better than last year's, though, because of the team's depth.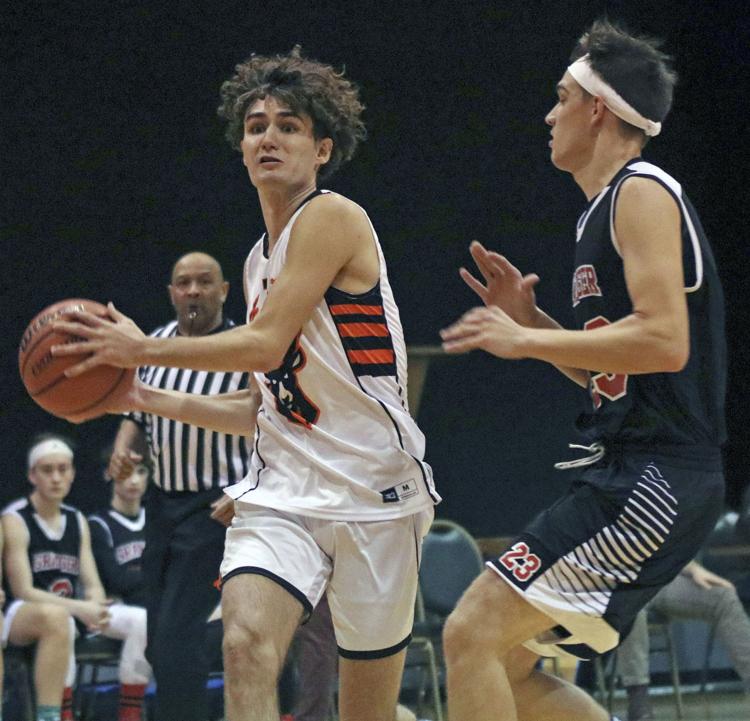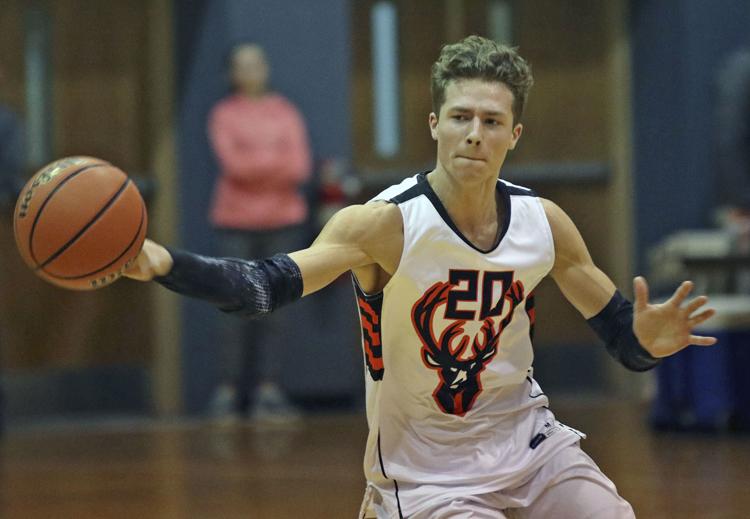 "We have a variety of weapons, so we can have a game where two of the six guys can combine for six points and we can still win by 30," Lock said. "That's the biggest thing. Prior years, the top three guys would have to score 20 every game. This year, it doesn't matter. … It's a lot less stressful, that's for sure."
Caleb Wright echoed Lock's sentiments.
"We have a lot of guys that could be taking more shots and scoring more points than they are right now, and we're unselfish and share the ball well," Caleb said. "We've got five guys averaging eight or 10-plus points a game, and I think a lot of those guys can average more."
The Bucks have four more scheduled regular season games, including three in the area: a home game against Kalamazoo HomeSchool at the Quaker Haven Activities Center in Syracuse on Jan. 28, and road games against Clinton Christian on Feb. 7 and South Bend Trinity on Feb. 11. The home-school state series begins Feb. 1, with the National Championships starting March 15.
Benton has played some tough games recently against the state's elite home-school teams. Cooper hopes it serves as a mechanism to get the team ready for a playoff run to remember for the Bucks.
"If we didn't stick together, that wouldn't help matters," Cooper said. "Yeah, we've had tough games, but we've never left. Every good team has some ups and downs, but we're focused on getting back to where we were at the beginning of the season.
"Peak at the right time, win state, nationals, regionals when they come around. That's when we'll take off."