Kem Zolman remembers the color of the sky.
It was a cloudy day, with the blue sky trying to peek through them. There was snow sputtering from the air as well, reminding him of the weather when he and his wife, Lynette, married each other on a cold, December day 22 years before.
"It was just like an iconic day; that's what I remember thinking going into the gym," Kem said. "This is an iconic day that we get to experience at the gym that I've always thought was a real memory to play in."
The day was Saturday, Jan. 12, 2002. Kem and Lynette's daughter, Shanna, was a senior on the Wawasee girls basketball team that Kem coached. The team was in Elkhart that day to take on Elkhart Memorial in a Northern Lakes Conference contest.
There was so much more at stake than just a conference win, however. History was on the line.
Shanna was on the doorstep of Hoosier basketball immortality. She needed 50 points to surpass 1995 Seeger graduate Stephanie White as the state's all-time leading scorer in girls basketball history. The anticipation of the record being broken that afternoon forced Memorial school officials to move the game from its high school gym, which held less than 3,000 people, to North Side Gym, which has a seating capacity of more than 7,000.
Eight days prior, Shanna had scored 53 points against NorthWood. Four days later, she put up 44 against Columbia City, which meant getting to 50 in the game against Memorial wasn't out of the realm of possibility for her.
Twenty years later, the people who lived that game recall what it was like when Shanna Zolman became Indiana's scoring queen.
THE CALM BEFORE THE STORM
Shanna was on a roll heading into the game against Memorial. Although she needed to score 50 points to break the scoring record, that number seemed attainable for many going into the game.
Shanna: "I do remember the night leading up to North Side Gym the day that I did break it, I knew I needed to score 50. It's not a small feat, but definitely doable, especially with the trajectory I was going at the time. But the one caveat I kept saying in the back of my mind to my dad and my mom was that my brother (Josh) couldn't be there that day, but he could be there the next game. So, when I started the game, I told my dad, hey, if I feel it, I'm just going to let it fly. If I don't feel it, I don't care how many people are here because then my brother Josh can see it the next game. That's literally how I went after it."
Jeff Mullins, Goshen News sports reporter assigned to cover the game: "I remember having a conversation in the office being like, 'She needs 50 points, and she's averaging 50 points these last two games.' … I did think she could do it — I didn't know if she would."
Scott Geist, Elkhart Memorial head coach: "I tell this story every year to somebody — her dad and I talked earlier that week, and I think that I called him. We talked, and I said, 'I just wanted to touch base with you because I know Shanna is 50 points away, and I know she's capable of scoring that against us.' We had a decent team that year; we weren't the best team we had that played against her, but we weren't the worst. But I told him we're willing to do whatever you want to do if she gets to 50, and he says, 'Scott, you guys are good! There's no way she's scoring 50 against you guys!' And I said, 'Kem, I watched her score 50 against NorthWood, and I know what type of team NorthWood is. So, I know she can get it.'"
Kem: "We didn't know — I mean, 50 points? You need 50 points. We're going into the game, and I told my assistants, 'You keep track' — because I never kept track. In fact, a lot of times, I'd get toward the end of the game and think, 'Man, she didn't score much tonight. She must've had an off game.' And then they'd tell me she scored 45. And so, she needed 50, and that seemed like a tall order to do, but we had almost 6,000 people coming to see this."
It was an early afternoon tip-off time for the game. By 10 a.m., the line was already starting to form outside North Side Gym.
Geist: "I think it was a 1 o'clock game. I showed up at North Side Gym at 10 o'clock, and there was probably 500 people in line at 10 o'clock, three hours before game time and two hours before we even opened up the gate to get into the gym. It wasn't assigned seating, and it was a crazy atmosphere. Probably the only game I've ever been associated with where the away team colors were way more than the home team. But it was cool."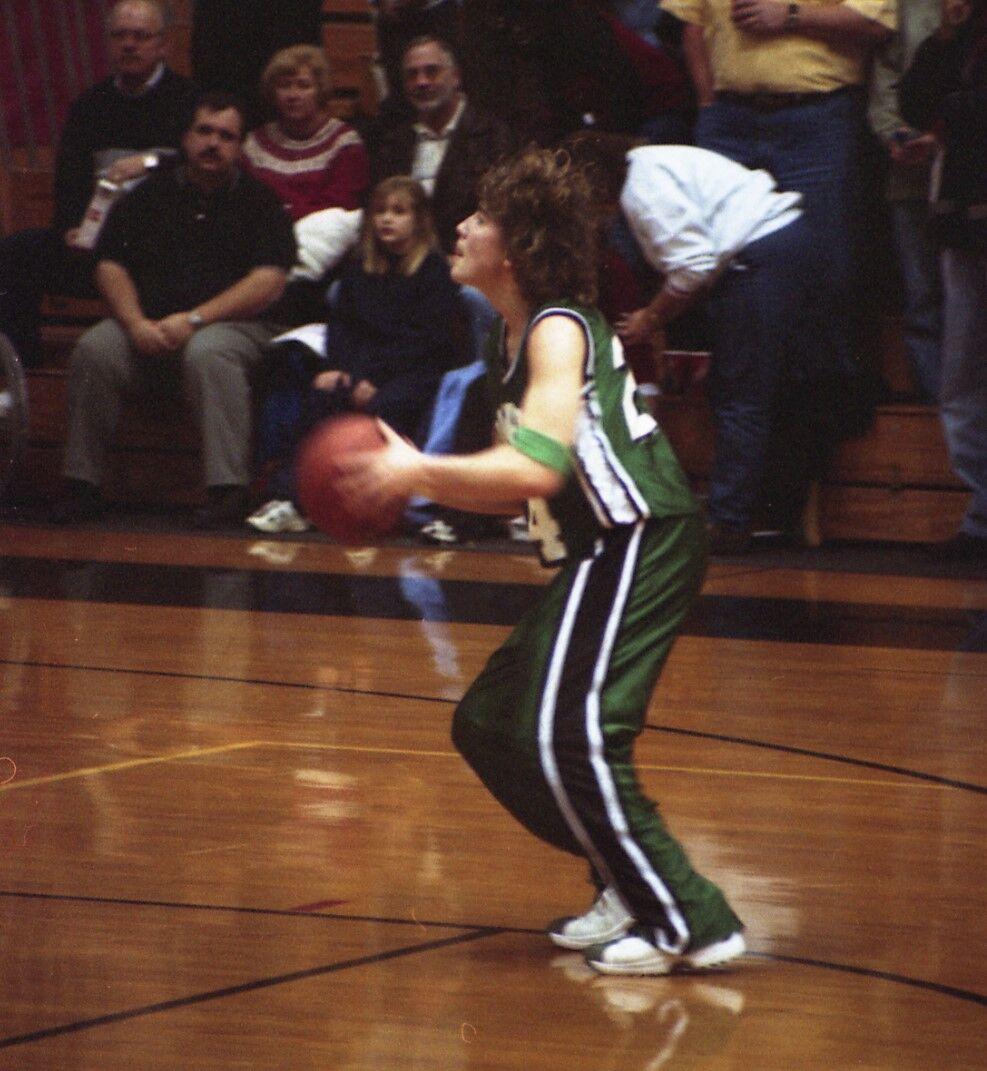 Shanna: "I've always been intrigued by how many people were there, really my entire senior year, whenever we'd pull up to a gym. Whenever we pull up and there's people standing in line waiting to get into the gym for a JV game, that's when you knew, 'Oh, this is something super special. I don't want to miss this.' Even as a kid, I remember thinking I don't want to take this for granted because I know this isn't the norm. And so, I do remember being excited thinking about how many people were going to show up because it was a bigger arena than what we were used to at the high school."
By the time the junior varsity game began, there were more than 5,000 fans packed inside North Side Gym. Estimates of the crowd range from 5,000 to 6,000 for the game.
Lynette Zolman, Shanna's mother: "It was exciting; it really was. It kind of reminded me — I went to Fort Wayne Carroll High School, and that was back when it was surrounded by corn fields; it wasn't like what it is today. But it remined me of the ACAC tournament that was always held at the Fort Wayne Coliseum."
Mullins: "It was a big gym, and there were so many people. It was packed for the JV game. There was just that sense that people wanted it to happen."
Kem: "I played basketball when I was in high school, and one of the iconic gyms at the time was North Side Gym. And so, if you got to play in North Side Gym here in northern Indiana, that was just an unbelievable experience from an athlete's point."
THE FIRST 48
Just like in her two prior games, Shanna came out on fire to start. She made 10 of her 12 shot attempts in the first half, five of those from three-point range to give her 26 points at halftime. Wawasee led 50-12 at the break.
Shanna: "I remember in the first quarter — especially as a shooter — you know when you're feeling it and you know when you're in the zone right away. It's the way that it feels coming off of your fingertips, it's the way that the game just slows down for you. I remember having 17 rebounds that game, too, which is abnormal of a guard. It was just one of those things where the ball was falling in the right place, I was in the right place at the right time, I felt good. And it wasn't even like at that point that I was pursuing 50 points. It was just like I wasn't going to not try."
Kem: "At halftime, the (assistant coaches) told me she's got 26, and I thought, 'Oh, man, that's just half.' I was hoping she was maybe at 30, 40 points, and if she was only at 15, well, then I guess we'll try for another day. But it's half, so I'm thinking, 'Oh my word, now what?'"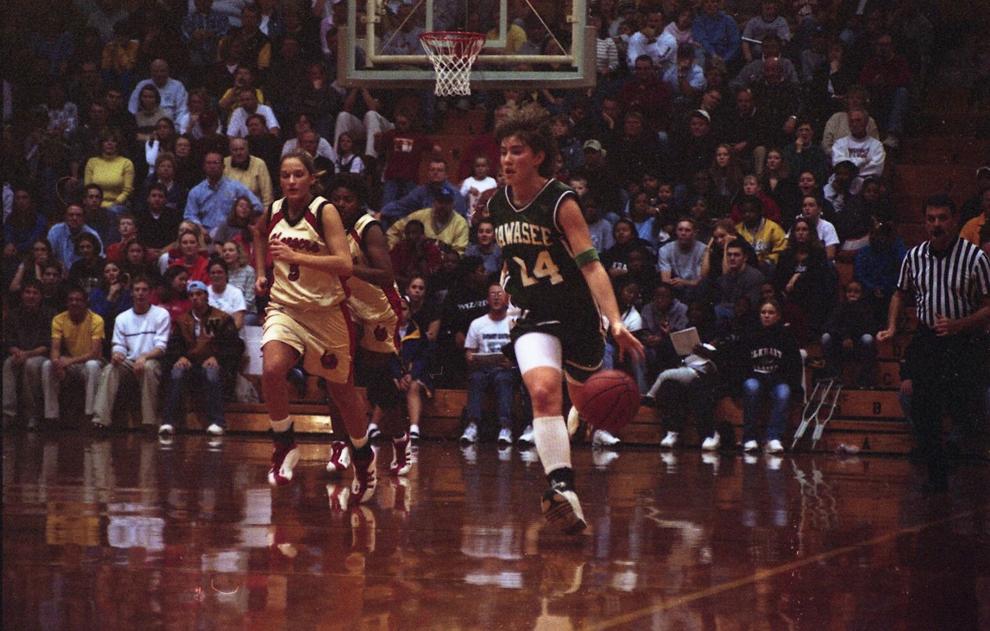 Lynette: "It was just fun to watch the crowd, the excitement, the electricity of the whole place. There were times when Mary Hurley (the Wawasee athletic director at the time) would whisper in my ear when it was getting close to the record. She was always very good about letting you know what to expect, what you were supposed to do, this and that. It was a little bit different in that way, but yeah, the electricity of the crowd — it was just fun."
Geist: "The mindset was either you were going to let her get hers and stop everybody else, or you're going to stop her, dedicating two people to her and make her uncomfortable because Kem had all kinds of sets to run her. It kind of reminded me of Steve Alford and what Bobby Knight did for Steve Alford to get him open. Same thing for Damon Bailey. I would say what Kem was trying to do was very similar. I just know that we chose, 'We're going to let her get hers. She's likely not going to score 50, but we're going to let her get hers and try to shut everybody else down' because that's what we decided, as a coaching staff, going into the game. That plan didn't work."
Shanna struggled in the third quarter by her standards, only scoring eight points in that frame to put her 16 away from the record. She was then substituted out of the game to start the fourth, leading to a chorus of boos from the people in attendance.
Kem: "I've never been booed like that before."
Shanna: "He just subbed me out to get me a rest, like good grief. Give the poor kid a breather. But yeah, the entire audience just starting booing and was yelling at him, and he looked at me and we just kind of chuckled."
Mullins: "You had a lot of people that loved that team, and they were very vocal. They definitely wanted to see it that day. I don't think anybody wanted to go over to Whitko in the middle of the week to see her do it there."
The short break worked. Shanna came back into the game with seven minutes remaining and finished the game with a flurry.
Mullins broke down Shanna's chase to 50 in his story from that day:
"At the 6:00 mark, Zolman swished a trey from the right corner for points 35, 36 and 37. The crowd then exploded 30 seconds later when she stole a Memorial pass and went the distance for two points. Zolman scored her 41st points at the 5:10 mark off an offensive rebound and rolled in another jumper at 3:57. The crowd could sense it at that point.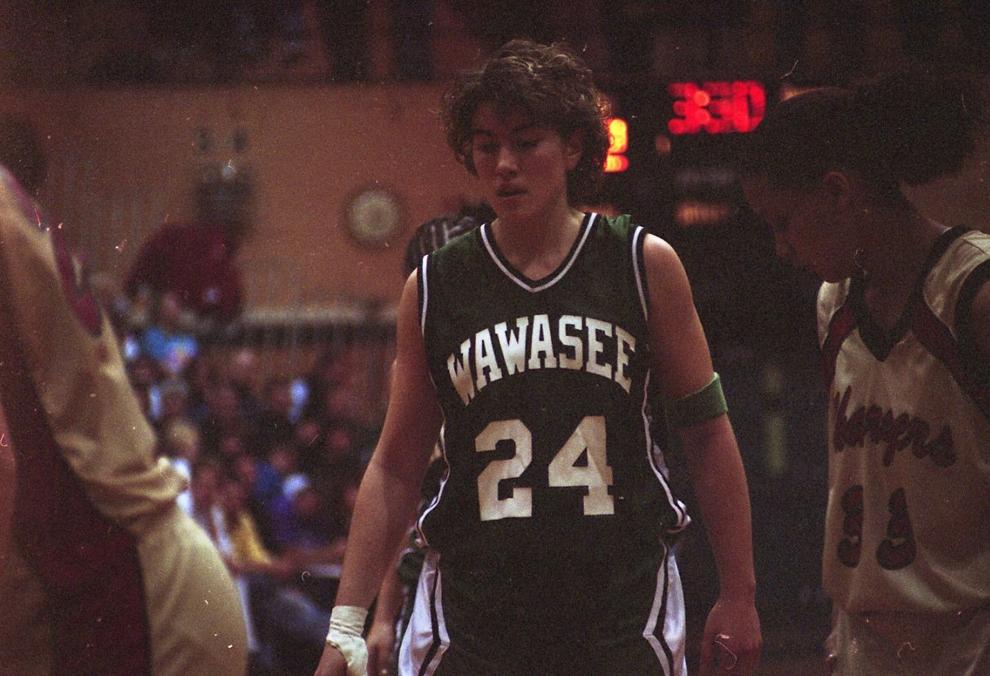 Mullins: "I do remember the person on photo call, which was one of the photographers — I don't remember who it was … they were there, but I think they could only stay for the first half, and so I had a camera, too. What I remember is she started getting close (to the record) and she came back into the game. They were up 40, and she came back into the game in the fourth quarter. I had to abandon my courtside seat to go down and shoot photos."
Mullins' story continued, "Shanna then hit one of her most clutch shots of the day, catching a pass in the corner and burying her patented dribble in step-back 3-pointer for 46. Then the crowd got restless as Zolman gave up the ball on three straight possessions. … With :54 left, Zolman was fouled on a jumper in the paint following a steal. She got a friendly roll on the first and swished the second, drawing deafening cheers."
Kem: "She hit a shot here and she hit a shot there, and I'm thinking, 'Man, that's got to be it.' And I kept looking at my assistants, and they were saying that she needed so many more. We just kept playing; we didn't call a special play or anything like that. The girls did a really nice job. They took what was given to them, and the next thing you know, Shanna is looking over at the stands — and she never does that."
49, 50 AND 2,870
Fourteen seconds after making the free throws, Zolman etched her name into the top of the history books.
Shanna: "What I remember is looking over to the bench and asking how many more I needed to get. I remember the girl dribbling up, and — you just know, over the course of a game, who doesn't have a right or a left hand. I just remember we adjusted our defense accordingly. I don't remember if I got (the steal) individually or if I had a teammate where we kind of trapped; I think we kind of trapped up top, I stole the pass from her and made a left-hand layup. There was no reason to do that other than to get the record because I think we were up pretty good. I don't really know why we would've been trapping at the top of the key at that point in time other than to just get this over with."
Kem: "They bring it across half-court, she takes it out of the girl's hands, goes down and scores this layup. And, it's like bedlam. It's just like you had won the state championship on the last second shot. … From a coach's standpoint, it was kind of neat because she got a defensive steal to make the layup."
Geist: "She stole the ball from Brittany Fields. I still remember that, who was a senior guard on our team. It was crazy."
Zolman's layup gave her 50 points in the game and 2,870 for her career. The record was hers.
Lynette: "I can only really remember this. Our son, who was about two-and-a-half years older than Shanna — they were both so competitive with each other because she didn't want to lose to her brother and he definitely didn't want to lose to his sister. But they watched the movie Hoosiers all the time, and when she hit that shot, it was just like all those memories came back. That music is kind of iconic from that movie, and just hearing that in my mind and seeing it all those years of the practicing and playing and wanting to win a state championship … It just made it really surreal in some ways."
Mullins: "Everybody in that gym knew it, they wanted it to happen, and when it did, it was just goosebumps. Just very loud and so exciting. There was less than a minute in the game, and they played the game out. They then did a whole thing with her on the court, and she got to speak. I think someone from the IHSAA was there. It was really cool to see."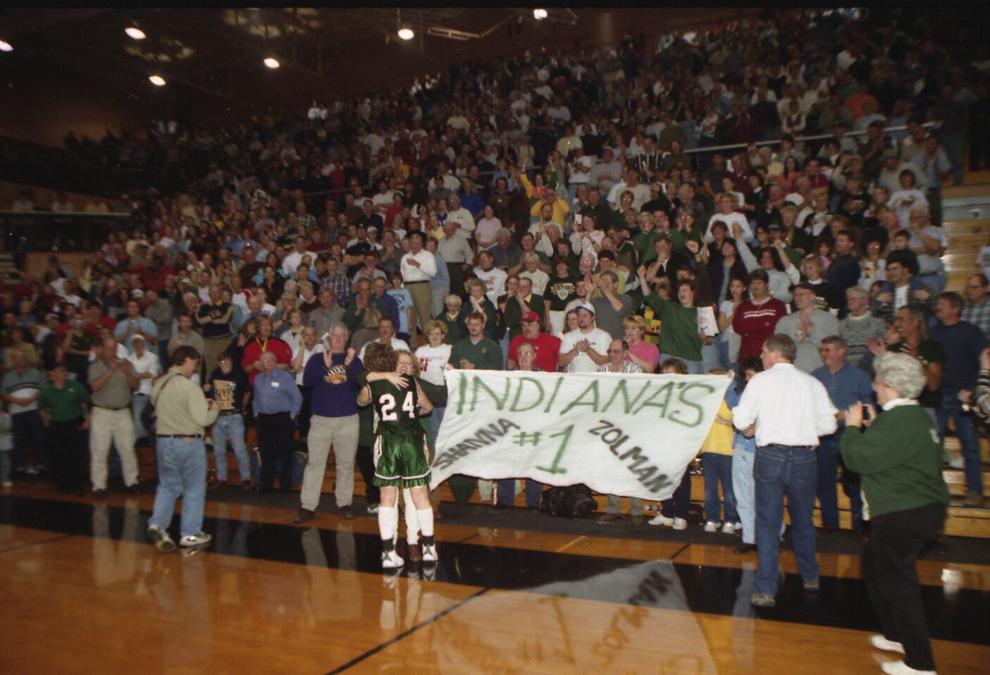 Shanna: "They stopped, and I remember running over to the crowd and hugging family and friends and, obviously, hugging my dad and teammates. And then, at that point, he took me out, and at that point the crowd subsided. (Memorial) were a class act; I do remember them being a very class act for us. They presented me with the game ball with the AD and principal at that point out there with me, and recognized me with my mom and dad. And that's when I really wished my brother could've been there because I really wanted him out there, too."
Kem: "I guess when she came over to hug me, a lot of pride came out. I was just very proud of her because I had seen, more than anybody, the hard work she had put in to do that. This was just one of those things she got to experience because of that hard work and the abilities God had given her. We talk about that a lot; the abilities God gave her. He also gave her the ability to work hard."
Shanna's final stat line from the game: 50 points on 19-of-24 shooting (seven '3's'), 17 rebounds, five assists and five steals. Wawasee won the game, 82-40.
Geist: "We had our best defender on her and making every shot difficult, and so it's not like she was getting all of her points from the line. … She worked hard for her 50, but what I think caused her to get her 50 that game was she was 'on.'"
The postgame party went on for a long time inside the gym.
Kem: "One thing that I thought was kind of funny: they moved the game to North Side Gym, right? It's an afternoon game, and a lot of the big wigs from the IHSAA are down there. I remember the officials there at the building, they had to get ready for a boys game there that night, and people just kept hanging around. We were there, I don't know how long after the game; it was quite a while. Maybe another hour-and-a-half, two hours. And finally, they came on the floor and said, 'We don't want to push you all out, but we have to get ready for tonight's game.' So, that's when the girls finally went back to the locker room, we got ready and we left."
Shanna: "Just the build-up and the constant talking about it, and then celebrating on the floor. I remember sitting in the stairwell on the stairs, by myself, just sitting there because I was so exhausted and I just wanted to eat my sandwich. You just wanted to be alone in your own thoughts. Family was so important to me, and I just wanted to be with my family and my friends. … At that point, you're just a kid. I wasn't treated like that, but I was just a high school kid. I was tired of being around people (at that moment), just to be honest."
20 YEARS LATER
Shanna finished her career with 3,085 points. She would hold onto that record until Princeton's Jackie Young surpassed it nearly 14 years to the day that Shanna broke the original record (Jan. 14, 2016). Young finished her career with 3,268 points, the most of any Indiana high school basketball player, male or female. Shanna is third on that list, trailing Bedford North Lawrence's Damon Bailey by 49 points. Her and Young are the only two females with 3,000 or more career points in their preps career in Indiana history.
Even though she's not the career scoring leader anymore, the memories created in North Side Gym that January afternoon remain with everyone who was in that building that day.
Mullins: "I actually lucked out that year because there was a guy named Scott Davidson … he was on the beat the year before, and I think he left The News, so I kind of inherited the girls beat, and I was pumped because, 'Shanna's senior year?' My whole three or four months, I was able to just write about her and her season. It was really fun."
Geist: "Obviously, I think everybody in the gym on both sides got chills when she did it. At that point in time, you're kind of rooting against her, but you're also kind of rooting for her. Now that I'm not coaching, I can probably say that. But it was definitely, definitely cool."
Lynette: "To think of all the hard work — we never, ever told her to go to the gym. That was just a love she had. She just wanted to be in there working and practicing, and so looking back on all of those years of her hard work, I know that was something she wanted to accomplish … seeing her get to experience breaking the record and having her dream come true, those memories are very special."
Kem: "You know at the time that it's really special, but you really don't respect how special it was until years later when you look back at it and go, 'Wow.' She never got out of the regionals. … So, that's not much more than 22, 23 games a season at most that she ever played in a season, and she still got over 3,000 points. That to me may be a special as anything."
Shanna: "That was one of the best pure basketball memories that I've ever had throughout my entire career playing at any level. That was such a special night — or day. The timing of it all, the people that were there, the amount of people that were there, how it happened — it was kind of like God reached down and said, 'Here, I want to give you this for the rest of your life and bless you.' It was just that sweet of a moment for me and my family."