Club News
Club reports are due at The Goshen News no later than four days after a meeting. This is a firm deadline.

The first and last name of all persons noted on this form must be given. Say Mary Smith gave the treasurer's report, not Mrs. Robert Smith gave the treasurer's report.

Please keep descriptions brief. Do not list names of every person who attended, only those who led activities and discussions or gave reports. Guests and guest speakers, as well as prize winners may also be listed.The Goshen News reserves the right to edit all informarion according to editorial needs.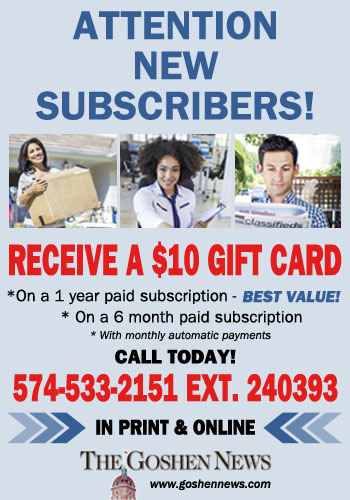 MISSION, Texas [mdash] Henry "Harry" Polderman, 82, Mission, Texas, formerly of Kalamazoo, Michigan, and Goshen, Indiana, died Tuesday. Visitation is from 11 a.m. to 2 p.m. Monday, Sept. 23, followed by a 2 p.m. funeral service at Miller-Stewart Funeral Home, Middlebury.
ELKHART [mdash] Robert L. Barnes, 88, Elkhart, formerly of Middlebury, died at 12:30 a.m. Friday, Sept. 13, at East Lake Nursing and Rehabilitation, Elkhart. He was born April 3, 1931, in Chicago, Illinois, to Roy and Elvira (Tdeschi) Barnes. On Aug. 5, 1951, he married Gloria M. Phipps; she…
SHIPSHEWANA [mdash] Wilbur R. Lambright, 88, Shipshewana, died at 4:30 a.m. Wednesday, Sept. 18, at his residence. He was born Feb. 20, 1931, in LaGrange County, to Edward J. and Polly (Slabach) Lambright. On Dec. 11, 1952, in LaGrange County, he married Wilma Carolyn Lehman; she survives. S…