More than 22,400 people in Elkhart County had contracted COVID-19 by late December and another 310 had died.
2020 was a year of sorrow for many, a year of learning and a year of protests.
From the time the novel coronavirus made its way from Wuhan, China, in late 2019 to Europe and then the United States, the world has dealt with fear of the unknown and then the challenge to beat it.
In Indiana, Gov. Eric Holcomb set in place a five-phase reopening plan following the shutdown of the state in the spring. In late June, the Elkhart County Health Department mandated face masks be worn in public and businesses when less than 6 feet of social distance could not be maintained. And then in November, as cases spiked, the county commissioners and health department instituted fines as an incentive for people to follow the COVID mitigation rules.
EFFORTS TO CONTROL THE SPEAD
Elkhart County Commissioner Mike Yoder is one of three commissioners who approved the fines and other mitigation mandates and was part of the Incident Management Team that has been meeting regularly during the pandemic.
"Since no one in leadership had experience with a pandemic before, there was a lot of learning on the fly," Yoder stated in an email. "The commissioners had dealt with public health emergencies before (EEE) and had experienced collaborating with ISBH, CDC and our county Health Department. The pandemic, however, required expanding our immediate collaborating partners to include mayors and school superintendents. The ISBH said our collaborative structure was not typical in other counties and commended us for working together in this manner. I can't imagine tackling a community wide public health emergency in any other manner."
Since so much was unknown at the beginning of the pandemic, Yoder said, "I think a frustration shared by many leaders was the lack of consistent information and data to help us make the best policy decisions. For commissioners and mayors we need to balance protecting our community's public health with protecting our community's economic health. Because both are important. From my perspective, local leaders across the U.S. struggled with similar issues derived from the lack of leadership, and apparent lack of preparedness, at the national level.
"From the very first meetings in March, I think almost every perspective, idea and theory I have heard in the community throughout the pandemic was represented in local policy discussions. Some of my early positions changed as we learned more information, some of my ideas were not supported by others on the decision team and some were supported. In these situations, we are responsible to make a decision and we did. These decisions were made using the best information we had at the time and with a goal of protecting our community's public health and long term economic health."
Not all of their decisions were appreciated or supported by the public.
"The personal responses I received were similar to what all the mayors, superintendents, public health officer/staff and commissioners received during the entire pandemic," Yoder said. "Whenever a decision was made that people disagreed with, we received emails, texts, letters and phone calls. We were called Nazis, Communists, Socialist, murderers and judged to have abandoned our personal religious faith and succumbed to the will of Satan. And we also received messages from many that thanked us for our efforts, and I personally received calls from individuals indicating they were supporting our effort with prayer. Specifically to the fine ordinance, most individuals that contacted me were not well informed about what had been in place for months, including the enforcement options and how the commissioner's ordinance changed what had been in place."
During this pandemic, the United States held an election, which included county officials. Yoder lost his seat to in the primary to former Republican sheriff Brad Rogers.
We asked Yoder: what he would like the community to know concerning the pandemic and the county's response to it?
He wrote, "Individuals in national media and national leadership roles are making substantial money by seeding doubt and chaos in local communities. We all know it's possible to find facts that support almost any position you choose to take on this pandemic. Who we chose to believe is important. Will it be the professionals that live and work in our community every day? I remain hopeful our community's response to this pandemic will soon begin to mirror the response I have witnessed in this community my entire life. When a disaster strikes us and threatens members of our community, we respond with grace and generosity. No matter how inconvenient it may be at the time, or whether we agree on politics, religion or who has the best basketball team. Whether it's the big things or small things, we think of others first."
EMERGENCY MANAGEMENT
Another member of the Incident Management Team is Elkhart County Emergency Management Director Jennifer Tobey.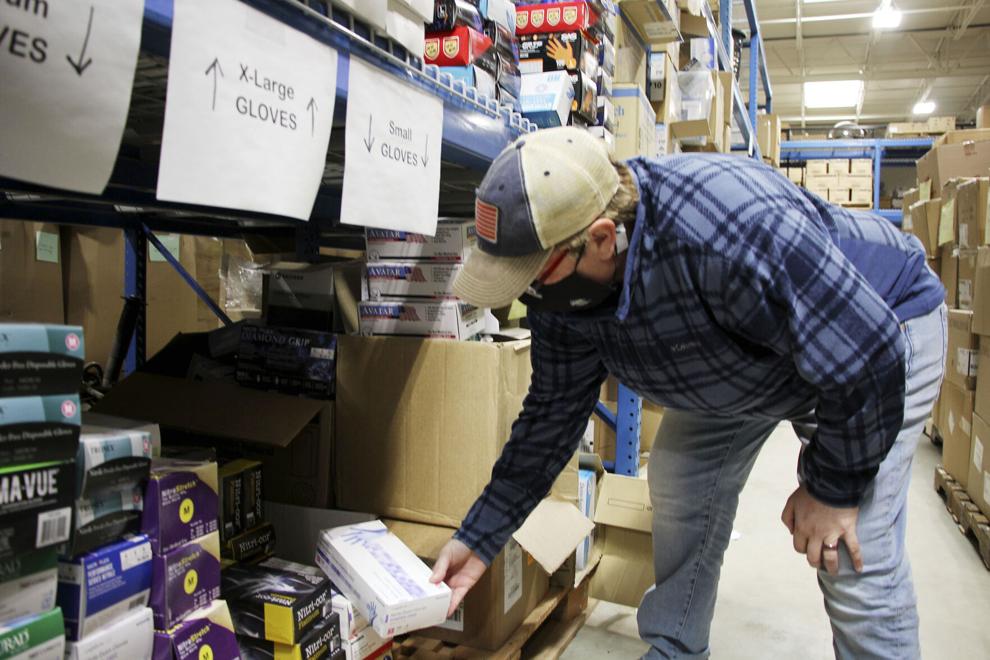 COVID popped on her radar in February, but more so in March.
"I remember the calls and the comments I got really hit home on March 18 or 19, where it was more of the commissioners asking me: What are you hearing? What are you doing? What are we going to do? And I think there were some concerns … about what it would entail for the health department and how were we going to work together."
She called a meeting with her Incident Management Team on a Friday. They mustered the team to determine their involvement, who was available, who was going to do what and put the team together. It was determined that Friday that they would start fresh on the following day with a full Incident Management Team.
The commissioners went public with the situation concerning the virus and let people know that the health department and IMT would take the lead.
"That's what caused us to muster on the 20th, and we started fresh on that Saturday with a 10-hour shift," Tobey said. "And boy that went, I would say that went every day for months. And when it was finally here and we knew more about and learned more about it that's when we kind of backed it off a little bit."
Realism set in that although the coronavirus was in Elkhart County, they still had other jobs and responsibilities to tend to. So they backed off the IMT to just a couple of days per week and introduced WebX and conference call meetings to "create this new normal world, which is where we are today," Tobey said. The unified command still does Tuesday and Thursday WebX conferences, and a Wednesday morning WebX meeting with school superintendents, mayors, commissioners, herself and the health officer. That is followed later in the morning with the IMT meeting.
They have these meetings scheduled through June or July of 2021 "because that's the new normal," Tobey said.
Every day, more and more is learned about the novel virus, she said. And the team is learning right along with Indiana Health Commissioner Dr. Kristina Box, Homeland Security and Elkhart County Health Officer Dr. Lydia Mertz and Goshen Hospital's Chief Medical Officer and infectious disease specialist Dr. Dan Nafziger.
So there was this learning curve and now everything is headed into this new vaccine world, Tobey said.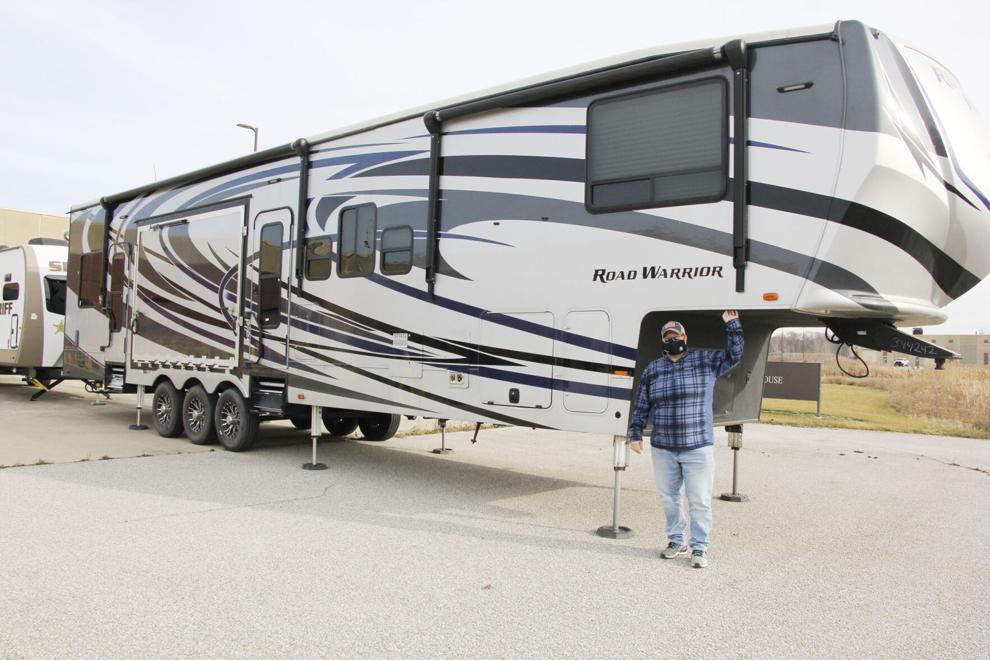 "It's been amazing — that whole transition and the cooperation from businesses and other departments," she said.
Never in her life has she done what she's had to do during this pandemic.
"I got a call from a local hospital ... saying that we are at our morgue capacity and we need somebody to help and get some bodies," Tobey said. "I just remember hanging up the phone and looking at my wife and was just like, I can't believe this is a responsibility of Emergency Management. Don't get me wrong, I'll do whatever — even if it's not my responsibility, I'm here for the citizens. I'll do whatever I need to do. But you know you preplan, you talk about that stuff and when it actually happens, it's a whole different feeling in your gut that you just can't explain. And to have done that twice now, I'll never forget that."
Tobey said she remembers asking the house supervisor of the hospital, who had called at 10 p.m., if it could wait until morning. Tobey said the nurse said, "Jenn I can't. ... I have a floor right now and the potential for five or six to go tonight is present."
Tobey said she made some phone calls immediately and was able to get someone on their way to help free up space at the morgue.
She said such actions are the type of stuff that people don't see during this pandemic or don't want to see nor process it.
One of the jobs Emergency Management was tasked with at the beginning was finding enough personal protective equipment — masks, gowns, gloves, shields and more — for first responders, workers at local long-term care facilities and hospitals.
Local companies donated their N95 masks, others ramped up production to help make PPE, sanitizer and even ventilators. Local people sewed masks by the thousands to donate to hospitals, first responders, schools and more.
All donations, Tobey said, were appreciated.
"Locally, it was amazing," she said. "We were thinking about today and tomorrow, not even a week ahead of time."
Tobey said she and the commissioners were getting calls about people who had masks available to donate.
EMA has a donation plan, "But we really hadn't exercised it or put it into place," she said. "It was words on paper. And then organizing the warehouse — there was a lot involved with that. And then we started getting into, well, these masks are expired but something is better than nothing. But having to get letters from the state saying that these masks can be used for this level; this mask can be used for that level."
There was new terminology and research.
Tobey's main responsibilities were looking at providing PPE to the jail, police and fire departments, but not the general public.
"It was challenging," Tobey said. But it was also great to watch the companies step up. RV companies loaned Emergency Management RVs to operate out of and to hold clinics in.
And then there were the shortages — shortages of toilet paper, hand sanitizer, and even spray bottles when people began making their own sanitizer, she said. "It just morphed into this huge, huge challenge every day for different little types of things."
"I think today, as of now, we're sitting pretty good," she said of PPE and equipment. But the whole next step is vaccines and she learned from the health department that there is a shortage of medical gloves. Although they have some, now they have to put some back for nursing staff.
THE EDUCATION EFFORT
Along with supplies, one of Tobey's concerns was helping disseminate information on how to avoid contracting COVID-19, especially to the Amish and Latino communities. Information centers were set up in Nappanee, Millersburg and Middlebury — and the effort seemed to work.
For a time during the summer, infection numbers began to trend lower. But then, September saw a sharp increase in COVID cases. People were getting together with family and friends in gatherings, which is where health officials believe people were spreading the virus, creating the community spread.
"And I don't know how to break people of that," Tobey said. "It's hard. I get that. People miss friends. People miss family. They miss that normal — the old normal. And I'm afraid the old normal is gone. Until we get vaccines in, and until we get people to stop the social gathering, this is where we're at right now."
It's because of these social gatherings and people not wearing masks that the commissioners and health department passed the fines ordinance, Tobey said. The ordinance was never about the money, she explained, adding that it was a tool to help businesses get people to wear masks.
That said, after being educated and violations continue, fines will take place, she said.
The county ordinance does not include cities. Elkhart has passed its own ordinance with lesser fines than the county. Goshen and Nappanee pulled their ordinances, opting for more education instead.
HEALTH DEPARTMENT
Elkhart County Health Officer Dr. Lydia Mertz got the news on March 21 that Elkhart County's first case of COVID-19 was recorded.
"From the very beginning you're always second-guessing yourself, because it is a new virus," Mertz said. "So you don't know for sure. You know what other respiratory viruses have acted like, and you expect this virus to act in a similar way, but you don't know if it's going to act that same way. A lot of the things we did in the beginning, we later found we could have done differently. But you don't know then."
One of those things was all of the cleaning. "You should clean," she said, "But we probably didn't need to be quite so intense about that."
One positive thing from the anti-COVID sanitation efforts, according to Mertz, is a decrease in flu cases.
Mertz said that although it is early in the influenza season, the flu counts are down, as are other respiratory viruses.
"Part of that is because we're wearing masks; we're cleaning," she said. "We're not sneezing into our hands and then shaking somebody else's hand."
At the end of June, Mertz said she put a mask order into place with guidance from the Centers for Disease Control and the Indiana Department of Health.
There was a controversy at the time about whether masks should be required or not, she explained. People were doing studies to see if masking really made a difference to the transmission of the virus.
"We knew masks were not harmful," Mertz said. "That was never a question. A mask will not make you sick, but we wanted to know if it was a useful thing. It just took that long to find out."
Both she and Tobey agreed that the national stockpile of PPE and ventilators was terrible.
"It was really insufficient for the needs," she said. "It had been so long since anything like this had happened — a real public health emergency. So people really kind of put it in the back of their minds and forget it ever happened."
Although people see hurricanes and other natural disasters yearly, they are not prepared for pandemics, which tend to happen every 100 years, the doctor said.
During the summer, when the COVID-19 infection numbers were lower, Mertz said the focus was on education and contact tracing, plus getting back to normal work for the department, such as childhood immunizations. But there was always an eye on a possible second wave in the fall.
And when it happened, it was like a perfect storm, she said.
Labor Day came. People were tired of being told to wear a mask, social distance and to wash their hands; the weather was getting cooler and people were moving indoors. Then Indiana went to Stage 5 of the reopening plan.
Within the leniency of Stage 5, the governor still said people needed to wear masks and social distance.
"People didn't hear that part," Mertz said. "Stage 5 — It's all over! It was bad news. Two weeks after he said that, we were in the sky with the rates."
Deaths climbed.
"About the time we saw a rise in cases, we saw a decrease in testing rates," Mertz said. "And people, we're starting to go back up in testing now. But for the last several weeks the rate of testing has been significantly lower, and that's part of the reason we can't get out of the red (the county's ranking of infection rate). We've got to catch people early so we can keep them from spreading the virus to other people. And we can only catch them early by testing people."
Testing was limited at the beginning of the pandemic and people had to jump through a lot of hoops.
"That was unfortunate," she said. "Testing supplies held us back, and they still do hold us back in our pandemic response and that's all across the nation."
Other countries have not had this problem. American companies, she pointed out, are making COVID test strips and sending them overseas.
"Those very cheap, rapid tests that people could do in their homes a couple of times a week even, and really bring this under control," she said. "I don't understand that at all."
CALL THE DOCTOR
Mertz explained that people should see their health care provider before they become really sick. At that point, there's little doctors can do.
"We really need to catch people early in the disease and try to keep them out of trouble instead of when they're really sick," she said. "The other thing we found is that people can get really sick rapidly. So when somebody has COVID, they need to monitor their symptoms all the time, and if they're getting short of breath, they need to call a doctor right then. Don't wait until it gets bad. It may be too late then."
When people are experiencing symptoms, it's easier for them to talk themselves into believing it's just a cold instead of going to get tested for COVID, she said.
VACCINATION PLANS
However, the vaccines have arrived.
The health department has plans to set up clinics to vaccinate the public. The first clinic will be at the Lincoln Center in Elkhart. Others will be announced. Because people need to be observed for 15 minutes after they are vaccinated, drive-through clinics likely won't be used.
As for protesters and some of the pushback Dr. Mertz has received, she said, "I think that there's been a lot of anxiety associated with the coronavirus because there was so much uncertainty about how long it would last, what was going to happen next, and hoping it would just go away on its own and things would go back to normal."
With the vaccine comes some certainty. "We can see some normalcy coming to us this summer," she said.
"I would just urge folks to look at the facts first and then decide," Mertz said about taking the vaccination. "If you don't want to get the vaccine — we have people who don't want to — then that's your decision, because coronavirus will still be out there and you will still be vulnerable. But if you decide to get the vaccine, that is how we'll be able to get our lives back to so called normal again.
"So nothing will ever go back to the way it was," she said. "We've had all these people who are gone from our midst. They're not coming back. We can't get back to normal, but we can get back to doing the things we love and remembering the people that we lost and being able to mourn in a different way."
One of the biggest things Mertz learned through this pandemic is that "although the naysayers have loud voices, there was a huge amount of quiet support that really got me through some of the very rough times, because I'd get letters and emails and affirmations from friends and strangers, just appreciating all that the health department was doing and appreciating the fact that we were working to keep them safe. And so that was really heartwarming, because sometimes it really felt like the county as a whole did not care. But they do — almost everybody does."