GOSHEN — For weeks, Sherri Miller took a shot at reaching above the fray to snag a small slice of the money philanthropist Bill Pulte has given away through social media. The process cost her almost nothing — retweet Pulte's posts on Twitter, wait and hope a little, and try again when he makes another giveaway post.
This went on for a few months as Miller struggled on the long, hard road of adjusting to life outside of prison. The payoff, literally, hit Oct. 1 when Pulte selected her retweet at random to a post promising to give out $10,000.
"I finally got his attention, and he gave me $10,000 to help me get back on my feet," Miller said from where she's living in Goshen.
The money didn't come right away due to some speed bumps with her bank in verifying the transaction was legitimate. But Miller has the funds now, and with it she has two primary goals: getting a car so she can drive to work, and socking a portion away to pay the gesture forward by starting a ministry that works with jail inmates to address addictions issues.
"For right now, I don't want to spend the money," Miller said. "I'm more concerned about living a better quality of life and not living paycheck to paycheck."
'NOTHING BUT THE CLOTHES ON MY BACK'
Let's back up, understand the 53-year-old's motivation a bit better. Pursuing free money from a Twitter campaign was less of a low-effort lottery for her and more of a game-changing opportunity for a person working to beat the odds and turn her life around.
Miller, originally from LaGrange County, is a recently released prison inmate, an addict who was hooked on methamphetamine for about 19 years, she said.
A federal grand jury in Fort Wayne indicted Miller and a co-defendant on charges in a meth possession and trafficking case in May 2014. She pleaded guilty to a count of possession with intent to distribute about five months later and was sentenced to five years in prison. The sentence wasn't ordered until December 2015, court information shows.
Miller served about 21 months at the Allen County Jail until the case was decided. She was then transferred to a federal prison camp in Greenville, Illinois to serve her term. While inside, Miller went through addictions and trauma rehabilitation programs and got clean, she said.
"Really, the best thing that ever happened to me was being sent to federal prison," Miller said.
With time already served, plus credits during her sentence, Miller was released around July 2018. She transitioned through a few months of home detention before re-entering society with, as she put it, "nothing but the clothes on my back."
Over the past nearly year-and-a-half, Miller has worked to re-make herself. She said she moved about five times, including living in a halfway house, before coming to Goshen in July. She needed to leave the Wolcottville area, where she's from, to escape situations that could trigger her addictions and set her back.
Family members provided some help, as did her church, Middlebury Community Nazarene. Through church connections, Miller was introduced to a couple from another church who are on a missionary trip to Egypt. They're letting her stay in their house along Eighth Street in Goshen and manage guest stays through Airbnb there, she said.
The house provides a rent-free roof overhead while Miller works part-time at Cabin Coffee Co. She bikes between the house and the coffee shop along Lincolnway East since she doesn't have a car and hasn't yet been able to regain her driver's license, she said.
Miller has also so far avoided lapsing back into drug use, violating her probation or committing new crimes.
"My probation officer can't believe how well I've done," she said.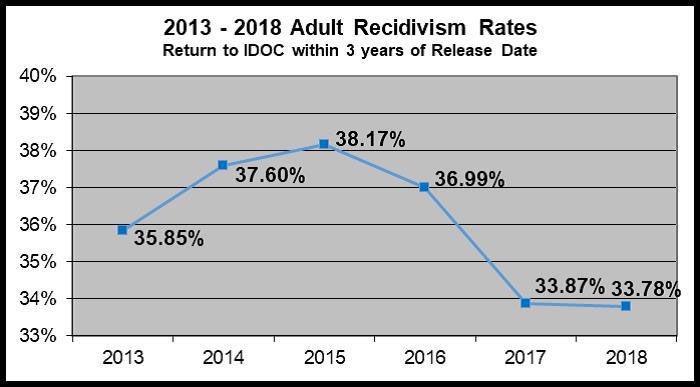 Staying clean can be tough for many former prison inmates. Indiana's recidivism rate in 2018 was 33.78 percent, a state department of corrections report shows. The figure from the report means about a one-third of offenders who were released in 2015 went back to prison within three years due to new convictions or for violating probation. The report also noted the recidivism rate last year was at an all-time low for the state.
'HE'S REALLY HELPING PEOPLE'
Meanwhile, Pulte has been stirring buzz nationwide with his Twitter campaign. In frequent posts, Pulte announces he's giving away various amounts of cash — sums of $500, $1,000 or $10,000 as in Miller's case — and encourages followers, who he dubs as "teammates," to retweet the posts as their entry into a pool of potential winners. He then chooses a retweet at random and awards the money to that user.
Pulte said the giveaways are part of a mission to forge a new route for providing charity through social media based on the philosophy that giving to others is its own reward.
"I believe that when we give, when we sacrifice for others, we actually are the ones who benefit," Pulte said. "I do it because it makes me happy and it helps other people. There's just no other way to say it."
Pulte, a multimillionaire philanthropist from Michigan, has given more than $150,000 in cash as well as a Tesla car and the cash equivalent of a Bitcoin through this campaign, he estimated. He's added he plans to release a total in the next couple weeks that's expected to be higher than his estimate.
The money Pulte gives away comes from the personal fortune he shares with his wife and is independent of the businesses he's associated with, he said.
"We have more than enough to live the life that we want to live, and we're in a position to help others live the life they want to live. And so, we're trying to help as many people as we can," Pulte said.
Through his online giving campaign, Pulte described how he's had opportunities to meet recipients like Miller and directly see how the money amounts can transform the lives of those who need it; people experiencing a variety of situations they can't afford to address.
"What I'm trying to do is change the conversation about giving in America," he said, also pointing out he's helping shine a light on what he termed the invisible poor. "I think that what I'm trying to do is expose the needs of those across America who otherwise wouldn't have a microphone to communicate their needs."
'LIFE-CHANGING' RETWEET
On Sept. 26, Pulte posted one of his giveaway tweets, offering $10,000 in cash.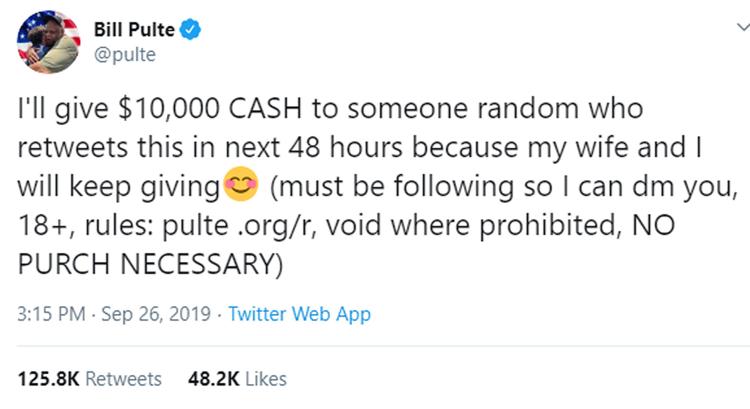 Miller, as she'd done since she started following him shortly after her Twitter account was set up in July, retweeted the message in hopes of being selected. Nothing came of it for a few days.
Nothing until Oct. 1 when Miller said she received a direct message from Pulte congratulating her as the recipient for the money from a random drawing.
The two messaged back and forth to set up a route to make the payment and exchanged phone numbers for direct conversations. Miller said family members were skeptical at first of the contact Miller received from Pulte's account, fearing she was being set up in a scam, she said. But, Miller had seen videos Pulte has posted, and she said she recognized his voice when they spoke on the phone and was certain he was legitimate.
For Miller, since she had issues with PayPal, Pulte sent her a $10,000 check. She said she tried to deposit it at her bank, but a hold was placed as bank staff were concerned about the authenticity of the check. More conversations followed, and Pulte decided to wire the funds directly to Miller's account, she said. Another hold was placed as concerns persisted.
After about a week, the bank authorized the transaction, and the money went into Miller's account around Oct. 7, she described.
"This guy's out there, and he's really helping people," Miller said. "This has been life-changing for me."
Through the experience, Pulte got to know Miller, her history, her current situation and how the money will help her build off this second chance at life she has.
"This woman is clearly well-deserving. It's a great honor to give it to her," Pulte said.
Miller intends to save much of the money to use if she decides to move back to the Wolcottville area next year. She would like to focus on starting a ministry to help jail inmates with addictions support and re-entry education that teaches social and economic skills, she said. She's built experience by currently serving as a volunteer recovery coach at the Center for Community Justice, she said.
In the meantime, Miller plans to use a portion of the funds to purchase a car and re-activate her driver's license so she can drive to and from work. She's also spent some of the funds on essential oils to help ease the effects of an autoimmune disorder she has, and she's paid back people, like family, who helped her following her release from prison, she said.
"I gave back. I've helped them in return," Miller said.