GOSHEN — Nessa Austin took action Monday night and crossed a couple legal boundaries to right what she saw as an egregious wrong.
The South Bend woman, who is white, traveled to the outskirts of Goshen in the dead of night, went onto a church's property, and altered a sign displaying what she deemed a racist message antithetical to Christian belief.
The sign originally read, "Lets be honest Black Lives Matter is African Witchcraft." After Austin was done, the message was, "Lets be honest Black Lives Matter" (sic).
Photos circulated on Facebook Monday showing Mount Moriah church's original message on its sign at the entrance to the center, 23460 C.R. 30. The images caught Austin's attention, including one shared by a friend and activist, Wayne Hubbard, on his page called A South Bend Crusader.
"Immediately, my heart kind of went into my throat," Austin said of seeing the message. "When someone of my faith, or someone who claims my faith, uses God as a reason to do something so hateful. I can't stay silent at that point, I just can't, because it speaks bad for all of Christianity. I can't have that."
Austin said she hadn't heard of Mount Moriah before photos of the sign involving BLM were shared. For her, the message was too much, and she said she was determined to do something about it.
"I talked to a couple people, and I said, 'Well, I guess I'm making a trip out to Goshen,'" she said.
Around 11 p.m. Monday night, Austin and a friend arrived at the church property. She said she went to work removing the plastic letters on the sign that spelled "is African Witchcraft."
Her plan, she said, was to take down the letters and place them in an envelope on the church's doorstep along with a two-page note she wrote to Mount Moriah Pastor Larry Troyer. The note, signed as a "heartbroken sister in Christ," stated her intent with the plastic letters and criticized the church's message as rejecting the Black community.
Things didn't quite go as planned.
As Austin took down letters, she said a teenage boy approached, recording her with a mobile phone, and told her to stop. Austin refused. She said the boy tried taking the letters from her, and she warned him not to touch her. And then she and her friend fled with the letters. She also took a photo of her handiwork and sent it to Hubbard.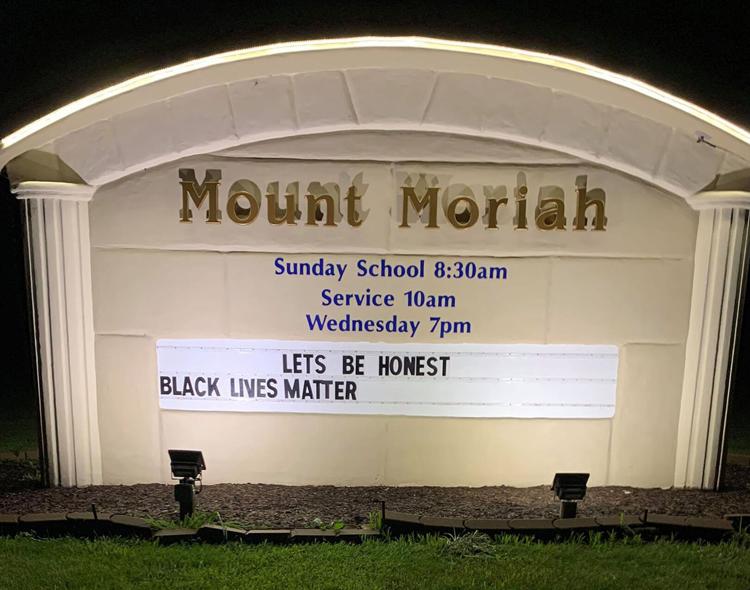 Austin said she is not prone to leading such capers, and that she called the police in an effort to proactively deal with the situation. She met an Elkhart County Sheriff's Department officer at the administration building of the correctional complex along C.R. 26. She handed over the sign letters while explaining the situation. The officer issued her a trespassing warning for going onto the church property without permission.
"I had no intent of taking the letters off the grounds to begin with. My letter proved that," Austin said, referencing her note to the pastor. "So, not allowed back on the grounds without getting arrested. But, I felt it was totally worth it."
Sheriff's Office Capt. Michael Culp confirmed part of Austin's story, saying police received a call at the church's address around 11:24 that night. He said a trespassing warning was issued, but said he didn't have the name of the person who took the sign letters. Culp also said a case report wasn't taken regarding the issue.
By Tuesday morning, the sign was blank.
AN EXPLANATION
Troyer said in an email response to questions asked by The Goshen News, that the original message was not aimed at people but at the movement that's been at the heart of protests and demonstrations since the death of George Floyd in Minneapolis in late May.
"Our sign was about the black lives matter (sic) movement," Troyer wrote. "Nothing to do with race or skin color. The statement was in response to questions about the situation and the meaning behind the sign's message. 'Use the dictionary and look up what each word means. That's exactly what we meant.'"
Austin had a different interpretation of the sign's target.
"I felt like their sign kind of spoke to the Black community as a whole, not just the Black Lives Matter organization," Austin said. "To me, that was causing a lot of damage. I don't think, especially now, that this is a good time for people to be showing that type of hate. I wanted to reach the heart of the pastor and try and change some lives."
Hubbard, who identified himself as being mixed race, said he fully supports Austin and her action as the two spoke with The Goshen News together Wednesday in South Bend. He speculated whether the church's statement about BLM was a form of defamation.
"They're trying to basically stop the support from BLM. The goal for any racist has been to stop a racial equality movement. And so, our goal is to combat that in any way that we have to," Hubbard said. "There's no way that that pastor thought everybody was just going to be on board with what he put up."
Hubbard, who also helped found the group Fixing it Forward in Michiana, said such behavior is not acceptable. He said he believes Black people are tired of being told how to feel, that more respect is needed, and that more white people need to take a stand against such injustices.
Hubbard also hoped the church members will be more open to seeing how the sign affected people.
"I'd like them to understand the type of message they were sending to the Black community. Being that BLM is a racial equality movement, that might not be the only one but it is definitely one of the mains. I feel like it was very disrespectful for them to speak about something they have no idea about. Because a lot of people will take the media's word on something, but will not listen to a Black man whatsoever," Hubbard said. "I would just tell the pastor to be more mindful as a Christian's supposed to be; be more empathetic as a Christian is supposed to be."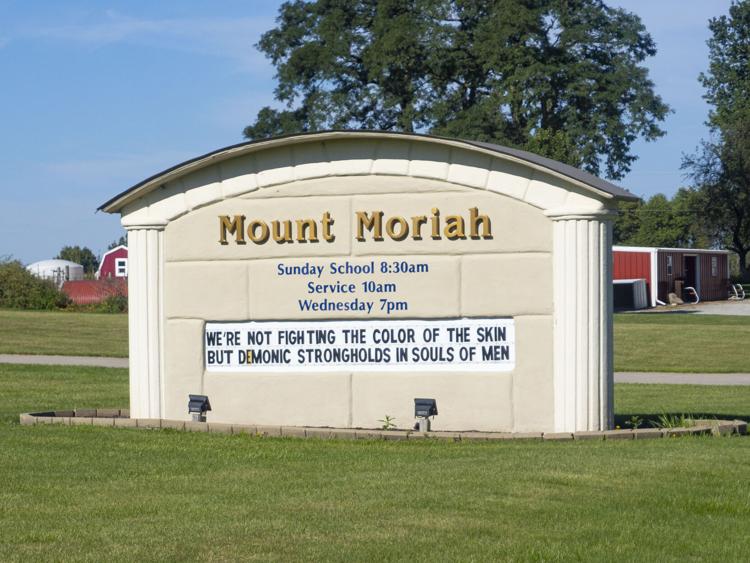 On Wednesday Mount Moriah had a new message displayed on its sign, reading, "We're not fighting the color of the skin but demonic strongholds in the souls of men."
Troyer also elaborated on the original sign message in an email to The News.
"To have deeper understanding read all of Ephesians 6," the email states. "One of the Scriptures in there says, 'For we wrestle not against flesh and blood, but against principalities, against powers, against the rulers of the darkness of this world, against spiritual wickedness in high places.'"
Hubbard replied to the new sign message, saying Black Lives Matter is about skin color and equality.
"What they don't realize is that they have taken our rights to hold ourselves accountable," he said of inequality in American social systems. "When people sit there and pull that 'All lives matter' stuff — just because all lives matter to you does not mean that they matter to the judicial system, to the police officers and to the politicians. Our goal is to make it matter to all of them, because only then can all lives matter equally. People don't realize where their privilege is and where it isn't."
Both Hubbard and Mount Moriah shared links to their respective sites as sources of information about their views. Hubbard is on Facebook at www.Facebook.com/PoliticalBoogieMan. The church's site is www.MountMoriahUSA.com.