GOSHEN — Local county fair boards are close to announcing what their annual expositions will entail and even if they will be held.
The decision on whether or not the Elkhart County 4-H Fair will be held this year, and in what form, could arrive by early next month.
The Noble County fair board has decided that event will occur in some form and the LaGrange County fair board is still working on its plan.
In a letter posted to the Elkhart County 4-H Fair website April 30, fair board president Trent Hostetler indicated that fair board members and staff are hard at work continuing to plan for this year's fair, which is scheduled for July 24 through Aug. 1, while at the same time keeping concerns about the COVID-19 pandemic at the forefront.
"We continue to gather information and evaluate probable scenarios under the constant changing CDC recommendations, along with federal, state and county guidelines," Hostetler said. "There is no higher priority for us than protecting your health and providing a safe environment.
"We will refine and update our plans as we receive advice from expert sources," he added. "The decision regarding what the fair will look like this year will become clearer in the weeks to come with a decision being made around June 1st."
Robert Kelly, director of Elkhart County Purdue Extension, confirmed that timeline in a letter posted to the extension's Facebook page Tuesday.
"Purdue Extension knows modifications need to be made for public health and safety. Whether virtually, or in-person, what we know for sure is our 4-H youth will have the opportunity to showcase their talent, learning and hard work," Kelly said in the letter. "The Elkhart County 4-H Fair will be making their announcement around June 1 on whether or not they will host an in-person fair, and we will be supportive of their decision as our groups work together for the betterment of our community."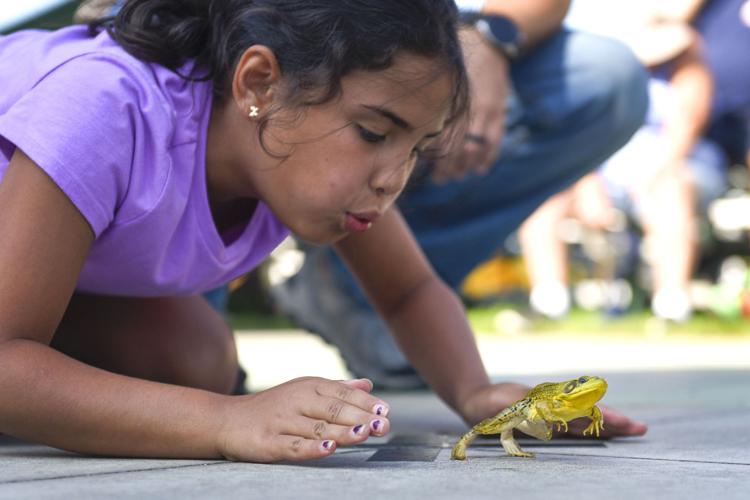 Hostetler went on to thank the fair community for its many years of support, and encouraged everyone to stay strong during this difficult and unprecedented time.
"Please understand that the fair board and staff are working hard to prepare for many different versions of what this important community tradition may look like," Hostetler said. "We covet your prayers for guidance as we face decisions we never thought we would have to face. Whether it be this year or next, we look forward to gathering together and celebrating our community once again."
ONGOING DISCUSSIONS
In a statement posted to the Elkhart County 4-H Fair website Monday, Elkhart County 4-H Fair General Manager Miranda Muir expressed encouragement over a recent announcement by the Purdue Extension that 4-H fairs around the state will be allowed to proceed after Purdue University restrictions on face-to-face events end June 30 — contingent on a county having reached Stage 5 of the state's Back on Track plan and adherence to best practices to minimize the spread of COVID-19.
However, she acknowledged that Purdue's announcement does not necessarily mean Elkhart County's fair will remain on schedule.
"Our Elkhart County 4-H Fair is a 501c3 not-for-profit organization, run separately from the Purdue Extension and 4-H programs," Muir said in the letter. "It is important we distinguish this as our executive team and full fair board will now be tasked with the continued evaluation of the COVID-19 situation, the feasibility to both financially and physically maintain necessary standards to keep our community safe, and the ultimate decision regarding our beloved summertime celebration."
Over the next few weeks, fair officials will continue to work closely with local health officials, consider the guidance of state and national publications, and brainstorm possible modifications to this year's fair, Muir explained.
TAKING PRECAUTIONS
In the meantime, fair leadership have already enacted a number of new precautionary policies governing how activities utilizing the fairgrounds will be allowed to proceed for the foreseeable future. They include:
• Sanitation and disinfection of facilities in between events.
• Sanitation and disinfection of restrooms twice daily, with additional cleanings between as crowds on the grounds demand it.
• Sanitation and disinfection of meeting tables and spaces between meetings.
• Sanitation of door handles, phones, water fountains and office spaces twice daily.
"The fair takes the health and safety of our guests and community seriously and are taking necessary precautions to protect them by ensuring our facilities are clean and well maintained," the fair's website states. "As new information develops between now and the 2020 fair, we will adjust our response plan as necessary."
For more information, visit www.4hfair.org.
ADDITIONAL FAIR INFO
In addition to the Elkhart County 4-H Fair, updates were also recently provided by representatives of the Noble County and LaGrange County 4-H fair programs.
NOBLE COUNTY FAIR
According to Janeie Meyer, 4-H program assistant for Noble County, the county's 4-H fair board has already decided that this year's fair, which is set to run from July 11-18, will look significantly different than previous years due to the coronavirus, though at this point the plan is still to move forward with at least some form of in-person fair.
"Our Noble County Community Fair Board will not be having the traditional fair like they have in the past, which is the carnival, the grandstand events, that kind of stuff. It's going to be a total 4-H fair this year," Meyer said of the board's current plan. "So, we are in the process right now of setting up our in-person, on the fairgrounds livestock shows. And then our 'static projects', which would be the posters, the foods, clothing, etc., those will be on the fairgrounds, and that will be a closed judging. So, it will be just the judges, the projects, and volunteers who will help them. But the kids won't be there for that."
Meyer noted that there will also likely need to be some adjustments made to the usual days and times of the fair's livestock shows.
"They won't be the traditional days that they have been in the past, but we have to meet with our people and set that schedule up, and we are in the process of doing that now," she said. "And of course, all of this is contingent on Stage 5 opening up on July 4. If that doesn't happen, then we will go to a virtual fair, but we are not planning on that at this time. So, we're keeping our fingers crossed."
LAGRANGE COUNTY FAIR
In a recent post to the Purdue Extension LaGrange County Facebook page, it was noted that the LaGrange County 4-H Club Association is in the process of working toward compliance, shows, scheduling and more as it relates to the county's planned 4-H Fair, which is set to run from July 11-18.
"It is our goal to have definite answers, protocol, and more released to the public on May 29th," the post states. "Please stay tuned for more details. We will send information out once it has been decided."