GOSHEN — Cancer patients don't have to take their journey through treatment and recovery alone, and they don't have to thanks to Cancer Survivor Network.
The network, offered through Goshen Health, connects cancer patients with a team of specialists and other cancer patients and survivors, and they do not have to be patients at Goshen Health. Nor is the group cancer specific, so anyone can join — and that includes family and friends who are supporting the patient. About 1,000 people use the network currently.
Working with this network of patients and survivors are Rita Gingrich, Ashley Ladig, Kristan Rheinheimer and Alyssa Yoder.
Ladig, who is a nurse manager, said, "Obviously, we are focused on survivorship as overall well-being for our survivors. A survivor is someone who has been diagnosed, and it comes from the moment of diagnosis to the end of their life."
One of the things about the Goshen Center for Cancer Care that Ladig finds to be the most attractive quality — one of the reasons she hired in at Goshen — is that they focus on the patient using a holistic approach, not just on their cancer diagnosis.
"So, we offer support for physical, mental, emotional, social and financial aspects of their care, in addition to the medical treatment itself," she said. "Within the group, they have traditional medicine, an integrative care team, a group of PNI (psychoneuroimmunology) counselors, dietitians, a naturopathic physician, and a variety of services that care for the patient so that they can be a lifelong survivor."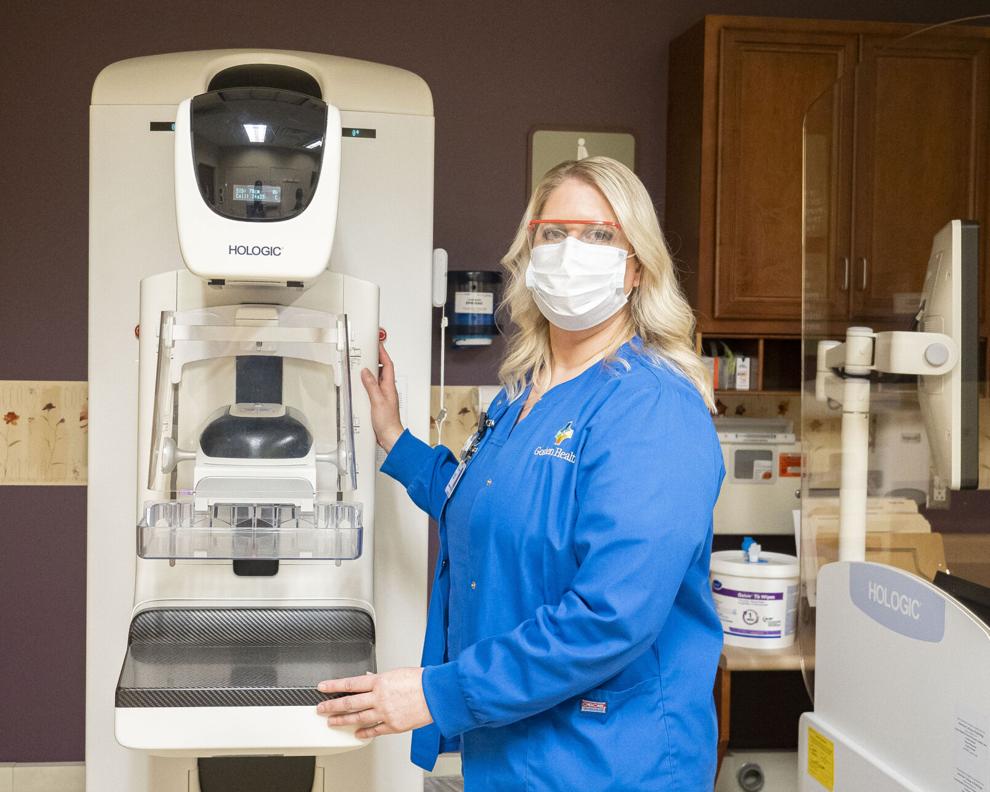 MORE THAN TREATMENT
The group also offers events to make sure that patients can feel connected and social.
Cancer Survivor Network also offers a buddy program, Ladig explained. It allows patients to talk to someone outside of their caretakers who has also been treated for cancer.
"We want to provide excellent service to our patients and we do it with our team collectively," she said.
Gingrich is a mind-body counselor at Goshen Center for Cancer Care.
"My role is to supply support to patients and their family members," she said. "Help them kind of navigate the emotional health and mental health, spiritual health and well-being challenges that a cancer diagnosis and moving through treatment brings into their lives."
There are three mind-body counselors and they work as part of an integrative team at the Goshen Center for Cancer Care. They offer interventions and strategies that can help patients manage their mood, such as anxiety and depression, which are common. They help cancer patients cope in healthy ways and manage some lifestyle changes, such as smoking cessation or incorporate calming strategies into their daily lives.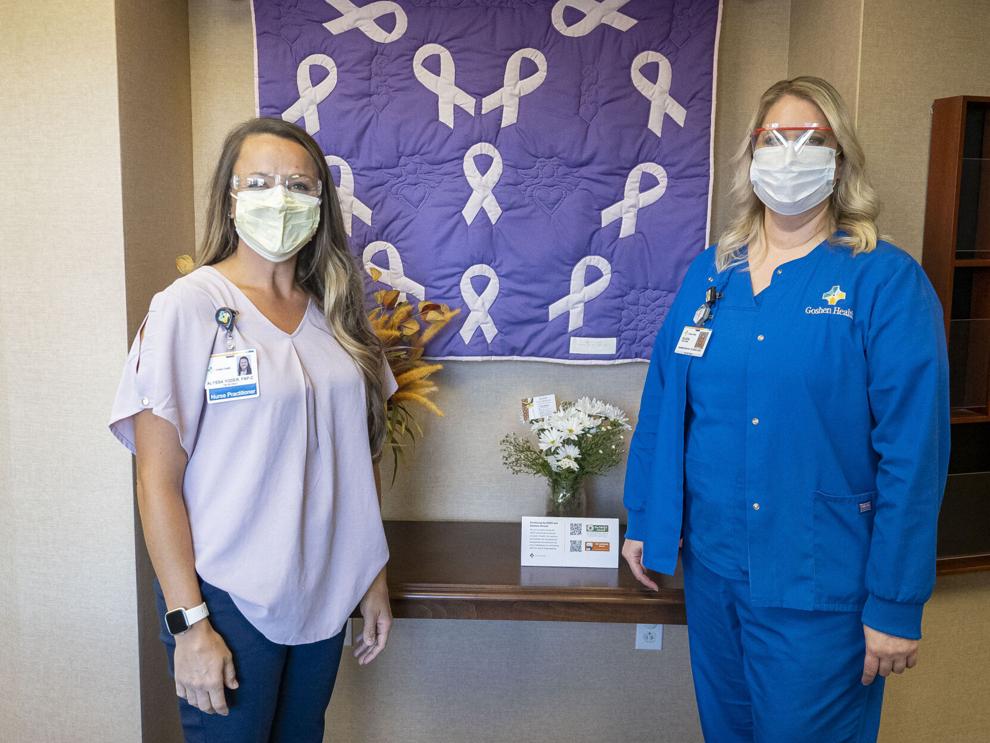 "I just think it's really important to offer those ways that they could try to manage their stress a little bit better, to offer things that can help them build confidence in their own ability to get through a cancer diagnosis and treatments," Gingrich said. "Help them tap into their strengths."
Cancer survivors can lead long and healthy lives, she said, "but sometimes there are anticipated or unanticipated consequences, I would say, of having a cancer diagnosis and treatment. So even once treatment is completed, sometimes there are emotional issues that impact them or spiritual questions about what is the meaning of all of this, what's happening with my life. Sometimes there are obviously financial impacts and sometimes there are impacts on their relationships with their loved ones. Sometimes relationships deepen through a cancer diagnosis, but sometimes, they're things that unfortunately can be divisive in families with a cancer diagnosis."
The counselors help them work through all of those types of issues.
IMAGE ISSUES
The other item they work with cancer patients on is self image. Sometimes, a cancer patient has a change in appearance that they are dealing with whether because of a surgery, hair loss or whatever it might be.
Usually, there will be events as well, but between COVID and some transitions at the Cancer Survivor Network there are not many events taking place right now. However, she does think these events are important to bring patients together so they can interact with each other. They are offering support groups via Zoom, and it lets the network introduce participants to an educational topic and get to the purpose of the meeting — peer to peer interaction.
Typical events include:
● A celebration of life event;
● Family events, which include children so they can learn they are not alone;
● A fall weekend retreat, where patients with more advanced cancer come together because they will never have the opportunity to celebrate completion of treatment because of their stage or the status of their disease, Gingrich said.
Rheinheimer, who is an oncology nurse practitioner at the Goshen Center for Cancer Care, her main role is working with the patient on a week-to-week basis or a month-to-month basis depending on how often they get their treatment.
"I recently read an article where in the 1970s, it was recorded that there were about 3 million cancer survivors," Rheinheimer said. "In 2019, the number has increased to almost 17 million."
She said that increase is due in part to earlier detection, treatments are more effective and people are living longer, but there are also more side effects and other aspects of cancer survivorship to deal with long term.
Once a patient has completed treatment, they meet with one of the nurse practitioners who gives them a survivorship care plan. "It's a concise document that goes through their treatment history, their pathology, kind of just that one document where they can pull everything together," she said.
As an example, perhaps a patient is going to go to Florida for six months or they are moving to another state to live with family members, so instead of taking a large stack of reports, they have a concise document. So, if they do need to go to an emergency room while they are there, they can pull out that document and take it with them. It outlines the kind of chemotherapy they had, types of surgeries, etc.
Rheinheimer said she thinks it's a helpful document to have.
As for side-effect management, there are various prescriptions or they make changes in treatment during treatment to help with side effects, she said. But there are side effects that can continue and go lifelong following chemotherapy. The most notable one, she said, is peripheral neuropathy. That can be related to multiple chemotherapy regimens that are prescribed. People can have difficulty with fine motor skills with their hands and/or have difficulty walking distances because of the neuropathy.
Other problematic side effects can include dry mouth for patients who have had radiation, and some chemotherapy and immunotherapy medications can cause cardiotoxicity and need a follow up with a cardiologist.
"So those are things that are continually monitored following completion of treatment," Rheinheimer said. "Specific referrals are made regarding the patient's concern."
FOLLOWING TREATMENT
Alyssa Yoder, a nurse practitioner at Goshen Retreat Women's Health Center, said she sees a lot of breast cancer survivors after they've completed their treatment, whether that is surgery, chemotherapy or radiation. Usually, she'll see them on an annual basis with their mammograms or sometimes every six months depending on the need.
"We'll go over their mammograms if they have one, do breast exams, talk about symptom treatment or other sort of side effects that they might be having," Yoder said.
She sees herself as an advocate and supporter of the patients as they come in.
"Usually, it's big news," she said. "They come off of all this treatment and now they get the relief of normally having a clear mammogram. Of course, every circumstance has a situation in which that doesn't happen. But we go over a summary of their treatments and I let them know basically we have alleyways or if they're having issues with whatever it might be — symptoms from the medication, complications for financial reasons with paying for the treatment they had."
She encourages them and hopes to provide a sense of relief in a way, because a lot of times the patient is thinking "This is new. This is different."
"And we want them to tell us all of that," Yoder said. "It's OK to ask questions. It's OK to make sure things are OK."
"It's a lot of navigation on this aftermath of treatment's over but what do we do now," Ladig said. "It's really ongoing. That's the difference I think Goshen makes in comparison to other facilities, as well, because I have been at other places and it's not the same. People are just like, 'OK, bye! You did a great job!' And that's wonderful, and I'm proud of them for that, but we don't want to do that. We don't want to stop there."