As Emily Roark strolls through her backyard filled with countless native plants, brushes and trees, it becomes abundantly clear every life form has its purpose.
Roark distinguishes which plants attract specific types of birds and insects inside the 75-foot-deep by 95-foot-wide, fenced-in area east of Kokomo, which is a certified Backyard Wildlife Habitat, Monarch Waystation and Pollinator Habitat.
"Many people think they are allergic to goldenrod, but it's [usually] not goldenrod they're allergic to," she said, explaining the misunderstood native plant. "Goldenrod blooms in the fall around the same time as ragweed, and many people, including myself, are allergic to ragweed. They grow next to each other."
Gardeners like Roark are fighting to help pollinators like honeybees and monarch butterflies survive through the use of native plants like goldenrod, as local bee populations face the loss of natural forage, mite infestations and exposure to certain pesticides.
The U.S. government estimates pollinators contribute more than $24 billion to the economy annually, of which honeybees account for more than $15 billion through their vital role in keeping fruits, nuts and vegetables in our diets.
While more attention has shifted toward creating awareness about declining populations of honeybees and monarch butterflies in recent years, solutions are just now starting to be found as honeybee colony loss rates have increased an average of 30 percent each winter since 2006, compared to historical loss rates of 10 to 15 percent.
Bees and butterflies continue to face danger as they pollinate in areas near crops covered in Neonicotinoid, an insecticide that kills all bugs, with a longer lasting effect than traditional insecticides.
Facing these rapidly decreasing populations with future crop production on the line, those using harmful chemicals to kill insects off could be doing long-term damage.
There are solutions – right in your own backyard – to creating environments that will nurture insects like honeybees, which enable the production of at least 90 commercially grown crops in North America.
---
How much do you think you know about honey bees? As the largest pollinator of food across the country, the honey bee is an important part of U.S. agriculture. Try our quiz to test your knowledge of honey bees and their impact on our food.
---
Honeybee havens
After being a longtime member and past president of the Howard County Master Gardeners Association, Cindy Rush decided to take her outdoor interests in another direction.
When she attended a master gardeners event featuring a beekeeper encouraging her and others to get into bee keeping, she was instantly interested in exploring the hobby.
She now supports nine hives on the new property she and her husband, Dave, own near Cassville. At their peak, each hive can support anywhere from 40,000 to 60,000 bees, Rush said, despite taking a major hit after a brutal 2013-14 winter.
---
"Last winter was so hard on so many beekeepers, I lost all but one hive."
---
"A couple of years ago I had a dozen [hives] but last winter was so hard on so many beekeepers, I lost all but one hive," she said. "Most people I talked to lost at least half of them."
Rush has maintained the hives along with a plethora of other pollinators like monarch butterflies surrounding their 37 acres of property.
Her secrets to providing a good environment for pollinators includes a number of native plants like milkweed, Queen Anne's lace, goldenrod and "a lot of what most people consider weeds."
Maintaining an environment equipped with native plants provides honeybees and butterflies with the same food sources they have enjoyed for many generations.
Taking those plants out of the habitat can be devastating, Rush said, which is why she worked toward making their property certified as a Natural Wildlife Habitat. The certification ensures their property provides the appropriate food, water and shelter for pollinators to raise young.
With the honeybee and native bee populations dropping, Rush worries about the potential negative impacts insecticides like Neonicotinoid and other types of weed killers and fertilizers will have in the long term.
"The chemicals don't distinguish between a 'bad' bug and a 'good' bug," she said. "If you're going to spray for bugs, you're going to kill all of them – including the honeybees and butterflies."
---
"If you're going to spray for bugs, you're going to kill all of them – including the honeybees and butterflies."
---
Neonicotinoids were present and the cause of deaths in honeybees, in the findings of Greg Hunt, a honeybee specialist and professor of behavioral genetics at Purdue University. Hunt submitted his findings in 2012, gathered over two years along with Purdue associate professor of entomology Christian Krupke, showing the insecticide was present in dead and dying bees, which are commonly used to coat corn and soybean seeds before planting.
While there isn't clear enough evidence to place the blame of declining honeybee and native bee populations squarely on the insecticide, there is no question it is lethal to all insects.
"Neonicotinoids are insecticides designed to kill insects, so it kills bees," said Cliff Sadof of the Purdue University Department of Entomology. "The question is do usage patterns which are common kill bees? I think the whole issue of the bee population decline adds another level of complexity.
"I don't think you'll find an entomologist say they don't kill bees, the question is if they're contributing to the decline of the bee population," he added.
Sadof said Neonicotinoids have become so common because they stay in the soil for a longer period of time in agriculture turf and ornamentals.
Because it has been successful in other capacities like killing the invasive emerald ash borer, Sadof said he can see a reason for occasional use of Neonicotinoids, but it should be avoided if possible.
"You want to be careful and use alternatives when possible," he said. "There is a use for it, but there are enough other options that homeowners should use before it."
Hunt said other critical factors in the colony losses of honey bees and many other species of native bees include starvation and parasitic mites.
Bitter cold killed off so many different types of native bees that starved when faced with the difficulty of moving in the hive due to below freezing temperatures during the 2013-14 winter.
"I can't say pesticides are a big issue in the decline of the honeybee population, but it's probably a bigger issue with the decline of moths, butterflies, and the thousands of species of wild bees," Hunt said. "These bees are solitary, so the female makes a nest, collects the pollen and nectar and as she's killed the whole nest is wiped out. Honeybees can afford to lose 1,000 individual bees and come back [because of migration], but solitary bees are different."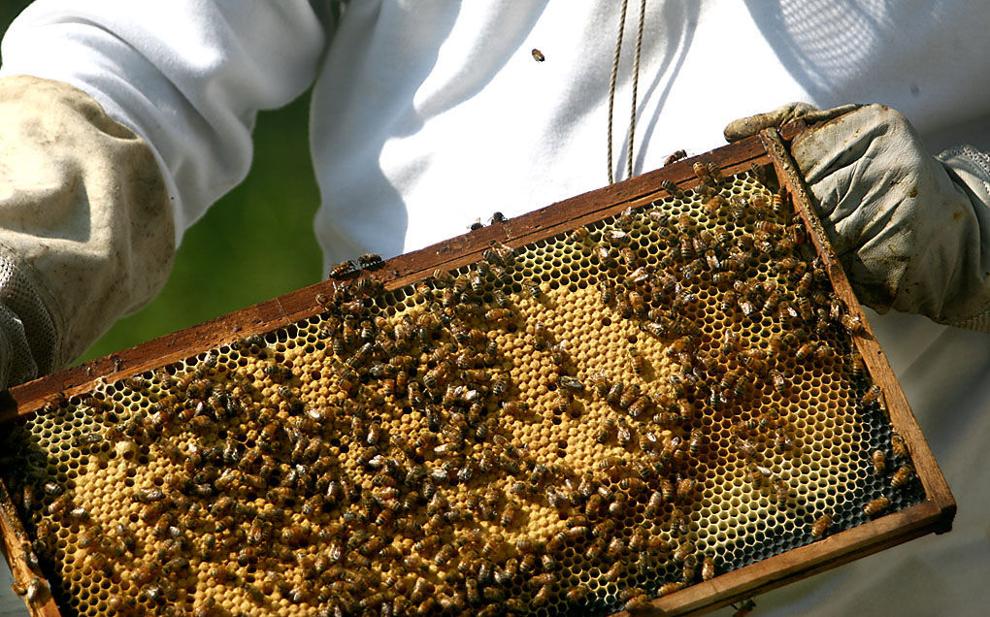 In this file photo, bees are held by a Miami County beekeeper.
Promoting pollination
Roark has built her garden around the principles of sustaining the wildlife population, providing plants that are both sources of pollen and nectar while many are native to the area.
Her backyard consists of native plants like butterfly weed along with marsh and common milkweed, daylilies, crocus, Joe-Pye weed, New England Aster, goldenrod and plenty of others, alternating native and non-native plants. The area is watched over by a red bud tree, a favorite for local wildlife.
The key to maintaining a balanced environment of native and non-native plants consists of quite a bit of thought in terms of planning out how to contain certain types of wilder growing native plants.
"I like the idea of mixing native and non-native plants together," Roark said. "You can have a backyard that is full of nothing but natives, but natives have the tendency to be more exuberant and a little messier than non-native plants, which are grown to only be so big or so tall or a particular color. Native plants are not as controlled.
"I mix both together," she added. "I think somebody who has never tried using native plants before would be happier with the results if they just mixed some in with their existing plants."
Milkweed is essential to maintaining the monarch butterfly population in particular, Roark said, estimating she had 48 Monarch caterpillars in her yard last year.
Roark said maintaining a balance of native plants is essential to providing for an animal that is instrumental to food production.
"Insects, primarily pollinators, but all insects have evolved over millions of years with their native plants," she said. "It's a relationship between the two, the insects and plants, that are beneficial to both."
Roark recommends organic farming when possible, or at the very least avoiding pesticides.
"Organic gardening goes along with not using pesticides," she said. "I do use Roundup occasionally when opening up a new bed. Other than that, I don't use pesticides or any other kind of herbicides."
Garden solutions
In maintaining a space conducive to attracting pollinators, Brent Cossell of Cossell's Creative Landscaping and Garden Center said there are plenty of native options that don't take up too much room in the yard.
Cossell said popular selections include butterfly bushes or butterfly weed, coreopsis, purple coneflowers, Annabelle Hydrangeas and spicebushes, which are either native to the area or provide a source for nectar or pollen.
"The main benefit is the natives are suited for our soil and weather conditions," Cossell said. "As a result, you don't have to water, fertilize or trim them as much. They tend to take care of themselves."
Although natives tend to require less maintenance, Cossell said many avoid using them because it is often easier to seek out flowers from big box stores without taking the environment and other factors into consideration.
"The main thing you need to take into consideration with any plant, but specifically natives, is where it grows best," Cossell said. "Does it grow in the full shade or does it need only some shade? Red buds, for instance, will not grow in the shade in the woods or thrive in the sun. They only want slight exposure to the sun. You also need to know if it's a traditionally wet or dry area and what they require."
Indiana Department of Natural Resources Chief Apiary Inspector Kathleen Prough suggests homeowners do their homework before purchasing flowers, but there are a few general things to look for when trying to promote an area conducive to pollination.
---
"The main thing any homeowner can do is get plants that are flowering at all times from April through October."
---
"The main thing any homeowner can do is get plants that are flowering at all times from April through October," she said. "Honeybees are going to want something fragrant or sweet smelling and something that is blooming at all times."
When gardening for honeybees, Prough suggests striving for a set-up that provides an abundance of flowers, typically clumped together.
Planting for bloom succession from spring to fall so there are overlapping blooming periods, selecting plants that will provide both pollen and nectar and avoiding using pesticides whenever possible are other factors to take into consideration, Prough said.
"The more flowers you have, the better," she said. "There are certain types of flowers bees like to go after, in terms of color, shape and smell. They typically like the bright blues, yellows and whites and purples."