GOSHEN — Shopping local was on the minds of many in downtown Goshen Saturday as deal hunters turned out in droves to support their local merchants during the annual post-Thanksgiving shopping day known across the country as Small Business Saturday.
First conceived by credit card company American Express in 2009 as a way to remind shoppers to show their love and support for small, local businesses, Small Business Saturday officially launched in 2010 to great response.
Jump forward to today and Small Business Saturday continues to be an annual holiday shopping tradition both locally and across the nation, with spending having now reached an estimated $103 billion since the day began in 2010 — that's $103 billion over just nine days total, according to the credit card company.
"You might not realize it, but every time you take a yoga class at your neighborhood spot or buy a gift from the local artist down the street, you're shopping small and making a difference," the company states on its SBS website. "In fact, for every dollar spent at a small business in the U.S., approximately 67 cents stays in the local community."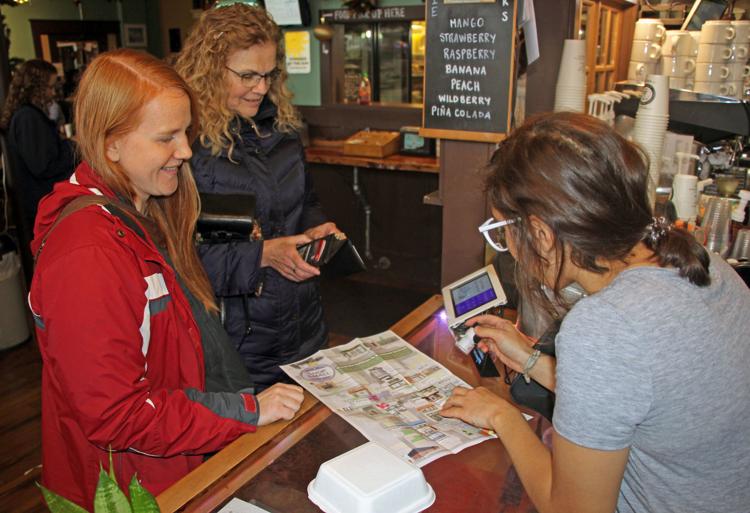 During this year's festivities, participating local shops throughout downtown Goshen offered extended store hours and exclusive sales and promotions on gifts.
A sampling of the more than 25 downtown businesses participating in Saturday's event included Bee Season Floristry, 119 E. Lincoln Ave.; The Electric Brew, 118 E. Washington St.; Fables Books, 215 S. Main St.; Ignition Music Garage, 120 E. Washington St.; JoJo's Pretzels, 136 S. Main St.; and Ten Thousand Villages, 206 S. Main St.
SHOP SMALL MAP
As an added incentive for continuing to shop local this year, downtown shoppers were also able to pick up a special "Shop Small" map featuring the location of all participating downtown businesses which they could then use to collect stamps while shopping at each of the various shops.
While the event officially began Saturday, map holders were encouraged to continue collecting stamps throughout the holiday shopping season, as those who collect at least 22 stamps by the Dec. 24 deadline will be able to turn their maps in at any participating downtown business for a chance to win a basket filled with local goodies. The prize drawing for the map-stamping event will be held Jan. 3.
For a full list of participating downtown businesses, visit cityonthego.org/small-business-saturday/promotions/.
And while downtown merchants are the focus of the map-stamping event and drawing, many other local merchants also took part in Small Business Saturday this year. Examples included Cycle Works, 1210 E. Lincoln Ave. in east Goshen, Northside Appliance at 1501 Elkhart Road and Erv's Vac Shop in Linway Plaza.
LOCAL SUPPORT
Over at Jules Boutique, 130 S. Main St., store employees Tiffany Culp and Carley Christner were keeping busy with a healthy crowd during Saturday's event.
"Small Business Saturday is sort of like Black Friday, but specifically for small businesses," Culp said of the annual event. "It's something where we can support small businesses in the community and really give back to them, because when you're supporting a small business, you're supporting a family in your community. When you support a big chain, like Target or Walmart, you don't really know where that money is going. It's just like supporting a faceless corporation. So it's definitely important to shop local."
Christner was quick to agree.
"And I think with small businesses, I think a lot of times, they're the ones selling the more unique things in a community, more handmade things and things you won't find other places," Christner added.
As part of its participation in the annual event, Jules Boutique offered 25 percent off all items in the store in an effort to reward customers for turning out to support Small Business Saturday. The store was also among the variety of downtown businesses to take part in the new map-stamping event.
"I think it's a cool thing," Culp said of the event. "I think that it's encouraging people to go to a bunch of different places they might not necessarily check out otherwise. So it's just a cool way to get the word out."
Chelsea Younghans, a Washington, D.C. resident in town visiting her in-laws, was among the many shoppers taking advantage of some of the sales at Jules Boutique Saturday.
"I think it's really important to support small businesses, because a lot of them are friends and family in the community, and it's important to support each other," Younghans said. "And when we support our small businesses, they're also the ones that support our schools, our libraries, etc., and a lot of that money ends up going right back into the community. So I'm a big supporter."
Goshen resident Cheryl Hochstetler Shirk, browsing for gifts Saturday at the nonprofit fair trade retailer Ten Thousand Villages in downtown Goshen, couldn't have agreed more.
"It's absolutely important to support small businesses, because if we don't support them, they won't be here anymore," Hochstetler Shirk said, noting she and her family have made an annual tradition of taking part in the Small Business Saturday event. "So we're out here with family just shopping and having fun."
Danny Jones, owner of Lincoln Avenue Cycling & Fitness, 430 W. Lincoln Ave., included himself among the many local small-business owners to see a nice bump in business as a result of Small Business Saturday.
"When people need questions answered, or specialty things dealt with, it's not easily done over the internet or at a big-box store where you have a turnover of employees who are not consistently knowledgeable of what they're dealing with," Jones said of the importance of shopping local. "With local stores or specialty stores, they know what they're selling and what they're taking care of, and they can service it and handle it and be here for the long haul. So that's why supporting local small businesses is so important."