CHICAGO — Striking teachers marched in picket lines outside hundreds of Chicago schools on Thursday after their union and city officials failed to reach a contract deal in the nation's third-largest school district, canceling classes for more than 300,000 students for the duration of a walko…
GOSHEN — Early voting for the 2019 elections appears on track to have higher turnouts than the past couple municipal elections in Elkhart County. Races in Elkhart may be driving much of the absentee activity, followed by interest in races in Goshen.
When the baseball playoffs really get going, Sue will sometimes watch four games in one day. If I watch with her, I am not allowed to speak, because that would spoil the spell.
WASHINGTON — The U.S. ambassador to the European Union said Thursday that President Donald Trump instructed him and other envoys to work with his personal lawyer, Rudy Giuliani, on Ukraine policy and that he was "disappointed" by the directive and disagreed with it.
CLEVELAND — A jury was seated Thursday for the first federal trial on the opioid crisis, but the push to settle the case before opening arguments next week continued, with company officials expected to gather for further talks.
CEYLANPINAR, Turkey — The commander of Kurdish-led forces in Syria on Thursday said they will abide by a cease-fire agreement announced in Turkey by U.S. Vice President Mike Pence. But his comments suggested a smaller "safe zone" than Ankara has demanded, underscoring the ambiguities in the …
I celebrated my birthday earlier this week. However, I'm still celebrating because I didn't take my birthday off like I vowed to do many years ago.
FORT WORTH, Texas — Yashunn Hale isn't sure he would call the police to report a crime. Not since an officer killed Hale's neighbor in her home.
GOSHEN — Iman Gregory sat in Elkhart County Circuit Court for the first time Thursday since she was charged with murder and arrested in Georgia.
An Elkhart man is jailed, suspected in an armed robbery in Elkhart Wednesday night.
There is a great desire to discover one's family tree, background and roots.
GOSHEN — A disagreement between two neighbors got a public hearing Wednesday evening.
MILAN — European producers of specialty agricultural products like French wine, Italian Parmesan and Spanish olives are facing a U.S. tariff hike due today with a mix of trepidation and indignation at being dragged into a trade war they feel they have little to do with.
BRUSSELS — British Prime Minister Boris Johnson's career of disdain for the European Union was a thing of the past Thursday as he and the bloc's leaders celebrated their tentative Brexit deal. He now faces an opponent closer to home: his own Parliament.
DETROIT — On the picket lines at a General Motors transmission plant in Toledo, Ohio, passing cars honked and striking workers celebrated a tentative contract deal by munching on 10 pizzas dropped off by a supporter.
FORT WORTH, Texas — Community leaders on Wednesday called on the Trump administration to open a civil rights investigation into the Fort Worth Police Department in the wake of a white officer's fatal shooting of a black woman in her home, saying the goal should be a far-reaching police refor…
BRUSSELS — The European Union and Britain inched ever closer to a Brexit deal, with the leaders of France and Germany saying they expected an agreement could be sealed at Thursday's EU summit.
GOSHEN — An event being held Monday will offer voters a chance to meet candidates running in the Nov. 5 election.
INDIANAPOLIS — Indiana Attorney General Curtis Hill is trying to block two women from testifying about allegations of sexual misconduct from when they were employees under him as the Elkhart County prosecutor.
Baby found alive in bag along road
ELKHART — The 64th Annual Midwest RV Super Show and Sale begins Thursday at the RV/MH Hall of Fame & Museum. The Super Show is the first RV consumer show to be held at the expanded RV Hall of Fame.
A Goshen man is jailed following a police pursuit that ended in a crash.
CEYLANPINAR, Turkey — Syrian forces on Wednesday night rolled into the strategic border town of Kobani, blocking one path for the Turkish military to establish a "safe zone" free of Syrian Kurdish fighters along the frontier as part of its week-old offensive.
editor's pick
topical
alert
featured
top story
GOSHEN — For weeks, Sherri Miller took a shot at reaching above the fray to snag a small slice of the money philanthropist Bill Pulte has given away through social media. The process cost her almost nothing — retweet Pulte's posts on Twitter, wait and hope a little, and try again when he mak…
WASHINGTON — The House impeachment inquiry is exposing new details about unease in the State Department and White House about President Donald Trump's actions toward Ukraine and those of his personal lawyer Rudy Giuliani.
DETROIT (AP) — Bargainers for General Motors and the United Auto Workers reached a tentative contract deal Wednesday that could end a monthlong strike that brought the company's U.S. factories to a standstill.
MILFORD — Milford Town Council members adopted the $2.1 million 2020 budget in their meeting Oct. 7, with Council President Doug Ruch abstaining. The total budget is $2,112,561 with a levy of $629,425. The budget is a 6.8% increase over last year's budget, and that increase amounts to $40,22…
GOSHEN — Goshen College is offering a new program for Elkhart County's racially and ethnically underrepresented local students who want to be teachers in local schools.
GOSHEN — The ongoing construction of a new Starbucks on the city's south side took another step forward Tuesday during a meeting of the Goshen Plan Commission.
FORT WORTH, Texas — The furor Tuesday over the killing of a black woman by a white Fort Worth officer became increasingly about a gun pointed at a bedroom window. But the police chief and activists said the focus was on the wrong gun.
SAN FRANCISCO — Google's latest phone and smart-home devices came packaged with a not-so-subtle message: Google cares about your privacy. Does it?
The opioid crisis cost the U.S. economy $631 billion from 2015 through last year — and it may keep getting more expensive, according to a study released Tuesday by the Society of Actuaries.
GOSHEN — A Goshen Democrat seeking to become the city's next clerk-treasurer was called out by his Republican opponent Tuesday regarding an allegation he violated a Fair Campaign Pledge he'd signed in mid-September.
MIDDLEBURY — Despite warnings from judges against cheater pumpkins, telling racers the Mallet-O-Justice would be brought out, a fraudulent fruit was spotted at the 3rd annual Pumpkin Race Saturday in Middlebury.
Fire kills nearly 2,000 racing pigeons
A Goshen man is accused of injuring a girl in a hit-and-run crash as she biked near Nappanee Tuesday.
NAPPANEE — Things got tense at Monday's Nappanee Board of Works meeting when two downtown business owners had a disagreement, which caused Mayor Phil Jenkins to gavel the meeting back to order.
ELKHART — Forest River Inc. is pledging support to KOA Care Camps that is expected to exceed $1 million.
Public invited to VFW events
Maybe — just maybe — Americans will get some relief from the relentlessly rising prices of pharmaceuticals.
Trivia night being held Oct. 25
FORT WORTH, Texas — A white Fort Worth police officer who shot and killed a black woman in her home while responding to a call about an open front door acted without justification and resigned Monday before he could be fired, the police chief said.
AKCAKALE, Turkey — Syrian government troops moved into towns and villages in northeastern Syria on Monday, including the flashpoint region of Manbij, setting up a potential clash with Turkish-led forces advancing in the area as long-standing alliances in the region began to shift or crumble …
GOSHEN — Elkhart County joined the ranks of local communities with federal congratulations for embracing solar energy.
GOSHEN — Goshen Board of Public Works and Safety members approved several temporary road closures connected to city projects during their meeting Monday.
One person was injured in a shooting at a house in Goshen Monday morning.
WASHINGTON — Fiona Hill, a former top National Security Council expert on Russia, was testifying to Congress behind closed doors Monday, the latest former Trump administration official to be subpoenaed as part of the House impeachment inquiry into President Donald Trump.
SYRACUSE — Travel Lite RV has begun rehiring production staff and is planning to reopen its Syracuse-based production facility in the coming weeks.
NEW YORK — Facing intense scrutiny from President Donald Trump and his Republican allies, Hunter Biden says he will step down from the board of directors of a Chinese-backed private equity firm at the end of the month as part of a pledge not to work on behalf of any foreign-owned companies s…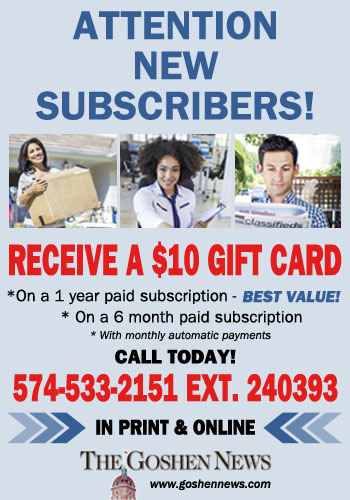 GOSHEN [mdash] Harry A. Rhodes, 78, died Friday, Oct. 11, at Elkhart Hospice House. He was born Jan. 27, 1941, in Colesburg, Pennsylvania, to Warren and Anna Mae (Ben) Rhodes. On Oct. 24, 1998, he married Janice Marsh. She survives along with three children, Donna (Malcolm) Gordon, Dusty (Pa…
LAGRANGE [mdash] Daniel King Jr., 62, LaGrange, died at 12:45 a.m. Wednesday, Oct. 16, at the Center for Hospice Care in Elkhart. He was born on Nov. 28, 1956, in Dover, Delaware, to Daniel and Polly (Mast) King Sr. Daniel moved to LaGrange County from Dover, Delaware, in 2015. He worked as …