NAPPANEE — Lynn Bontrager's eyes sparkled when asked about Harry Potter.
Imagination flaring, the 10-year-old from Millersburg launched into conversation about her love of the book and film series after stepping away for a few moments from magic wands for sale at Prof. Pemberton's Wands & Accoutrements table.
She didn't blink, didn't hesitate when she declared matter-of-factly, "My house is Gryffindor."
Bontrager and her brother Bowen, accompanied by their grandmother, were among the families who traveled to Nappanee's West Park Pavilion to enjoy the city's second Harry Potter Day Saturday.
The pavilion was transformed with Potter-themed memorabilia and activities in celebration of the story about a British boy who grows into his heritage as a wizard; studies with other young wizards at Hogwarts Castle, their exclusive school for magic; and fulfills his destiny to thwart an evil sorcerer's attempt at domination.
"We're just kind of bringing things to life," said Tiffany Salyer, director of programming for the Nappanee Parks and Recreation Department, which sponsored the event.
Details in the decorations highlighted references from the books and movies. Banners bore the crests of the four houses where students live at Hogwarts, the walls were adorned with images of paintings from the castle, winged keys hung from part of the ceiling, and replicas of two magical creatures — Dobby the house elf and the Sorting Hat — were on display.
Families could also purchase tickets for activities arranged as classes from the books, as well as Potter-themed or related items from vendors. Among the activities, "Potions Class" let children mix substances like glitter and water into a vial. Children could also make small planters in "Herbology Class." "History of Magic" took kids on a scavenger hunt to find the letters of a magic word. And the "Care of Magical Creatures" was a presentation of small animals by Silly Safaris Inc. from Indianapolis. A volunteer dressed as a Hogwarts professor also read children their fortunes in the form of positive affirmations.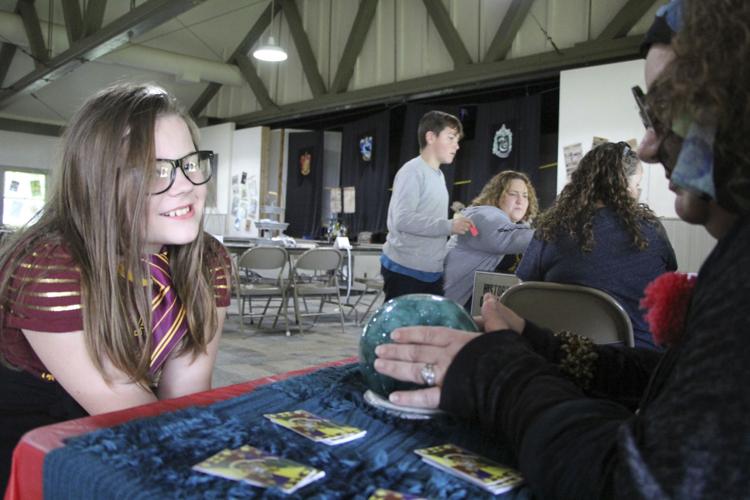 Many children went to the event in costumes or apparel to resemble students and their school dress code from the movies.
Bontrager had on a Hogwarts sweatshirt with a red Gryffindor tie and a gray skirt, as well as a lightning bolt scar painted on her forehead in reference to the one Harry Potter bore.
"I just kind of pulled stuff out of my wardrobe, and just kind of said, 'This is kind of Harry Potter-themed, and this is Harry Potter-themed.' So, I just kind of threw it together," Bontrager said.
She said she feels like she would belong in the Gryffindor house like Harry Potter, saying her parents were sort of brave from stories she'd heard.
"I feel like it would kind of just be in nature, kind of, to be in Gryffindor," she said.
Potter fan Karina Janowski of Osceola and her 6-year-old son Logan also went dressed in character garb.
"I'm a die-hard Ravenclaw, so I went with a Luna Lovegood costume," Janowski said.
"I'm Harry Potter," Logan stated, wearing a Hogwarts robe, loosened Gryffindor tie and signature round Potter glasses, as well as his own painted-on lightning bolt scar.
While Janowski referenced Ravenclaw, one of the other Hogwarts houses, Gavin Hawkins showed love for a third, Hufflepuff, by wearing a yellow tie with the house's crest.
Decked out in a black robe, the 9-year-old fan from Nappanee volunteered at the event, working the "Potions Class" table to help his mother, Sarah Hawkins, who's on the organizing committee.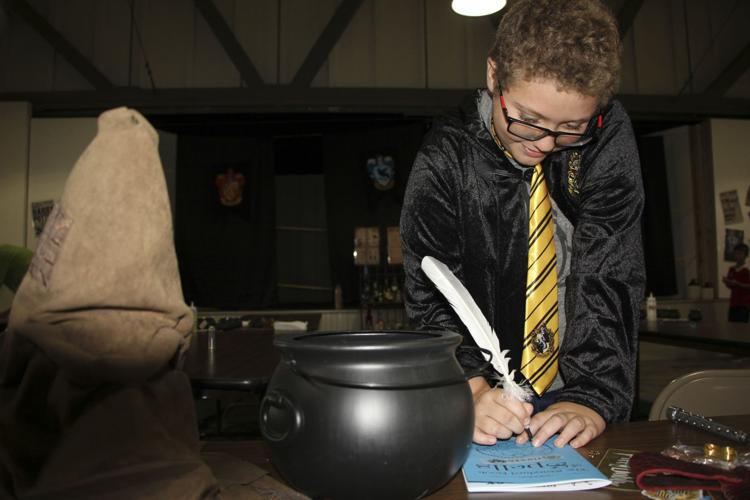 "I'm just here taking care to see if anybody wants to do it and tell them what they need to do," Gavin Hawkins said.
Lennon Geyer of Nappanee carefully arranged a planter at the "Herbology Class," working through the steps laid out on a sheet at the table with his father Jan.
When asked, the 10-year-old identified with Harry Potter and Gryffindor house.
"I like Harry Potter because he is kind and friendly to friends, and he cares about other people. And he's brave," Geyer said.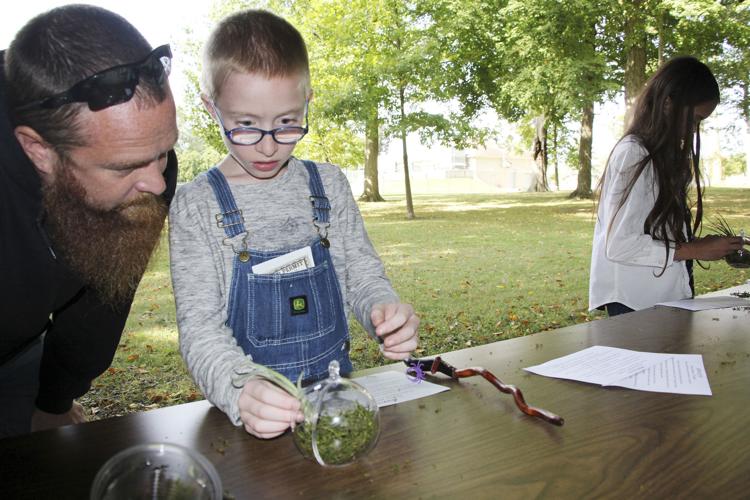 Geyer also had a wand he purchased at the event — a 14 1/2-inch willow wood wand with dragonheart strings, referencing wand construction details from the story.
"The reason I picked it is because it was like it was calling to me. I like gave it a twirl, and I felt like I had to have it," Geyer said.
Bill Pemberton of Yspilanti, Michigan, sold an array of magic wands he crafted and other items under the heading, Prof. Pemberton's Wands & Accoutrements. He shared space with his wife, Amy Balzer-Pemberton, who had her own table as Clever Creations by Amy that sold fairy garden items and little collectibles.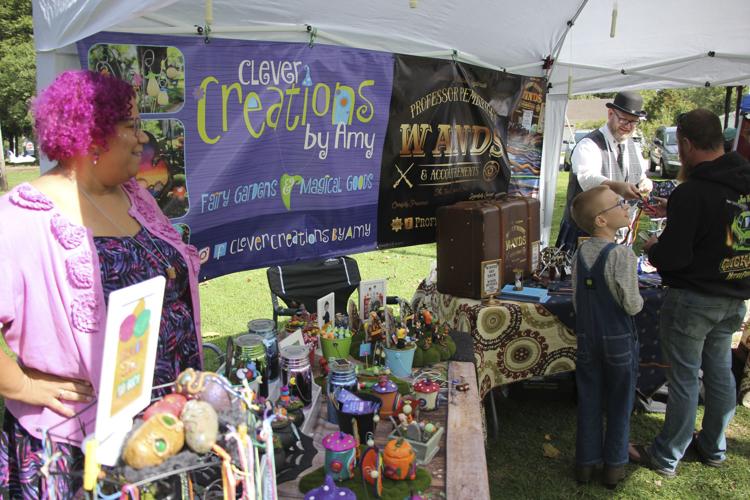 Both Harry Potter fans, and in Potter-esque wardrobe, crafted items to sell at their combined pop-up stores as a way to raise money to visit the Wizarding World of Harry Potter attraction at Universal Studios in Florida.
"We started doing little things here and there, selling wands, and it's just kind of grown out of our love of Harry Potter and magical things," Pemberton said.
The decision for the trip came last year, and the couple took their businesses to different shows across Michigan throughout the summer before they were asked to come to Nappanee.
"We were invited to come to this, and we thought, well sure because we're big Harry Potter fans," Pemberton said.
Meeting cool new people and making children happy has been a prime highlight of the journey for the couple.
"The joy on their faces of getting their wand and '(wand) permits'," Pemberton said.
"OK," Balzer-Pemberton interjected. "My favorite thing is watching him sell because it's so cute. And I like him a little bit."
Harry Potter Day grew a little this year from the event's inaugural run in 2018. Hosting it derived from a shared fandom of the series by organizers.
"Our committee has a passion of Harry Potter. So, when you get a lot of like-minded people together like, 'We're doing this!' And then they really poured their hearts and souls into it," Salyer said.
The busy crowd of attendees came from a mix of those who registered ahead of time online and those who showed up to the park. Many came from outside Nappanee, including a couple of fans in their 20s who drove about an hour from North Judson to check out the event based on a poster for it they recently saw at a coffee shop in Nappanee, Salyer said.
She expects Harry Potter Day to continue evolving in the coming years.