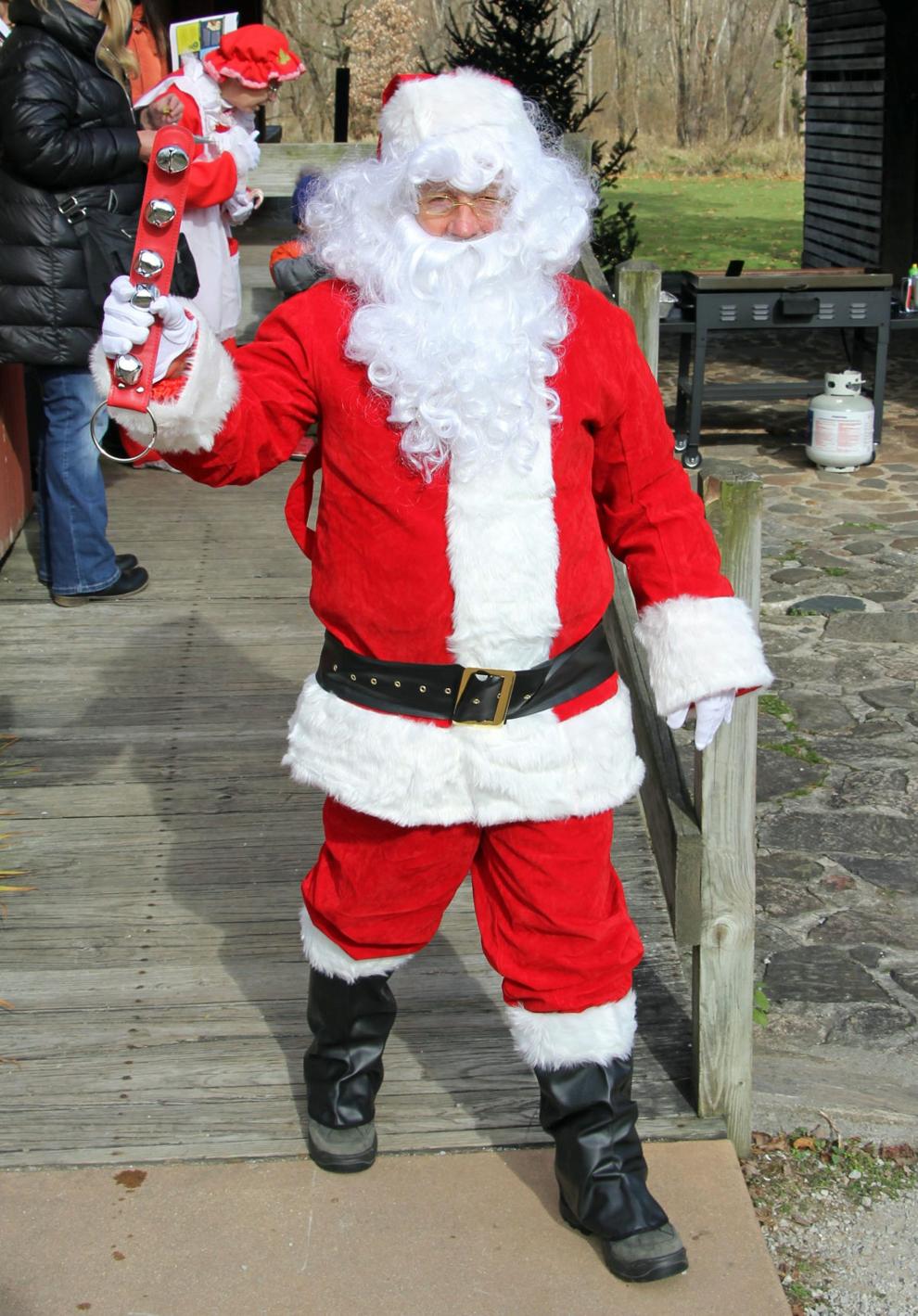 NOW THROUGH DEC. 31
Drive-Thru Light Display — Shipshewana will once again become home to more than two million LED Christmas lights displayed in a mile-and-a-half long symphony of various light scenes this Christmas season. Shipshewana's Lights of Joy will be open every Tuesday through Sunday from Nov. 26–Dec. 31.
Shipshewana Trading Place and Blue Gate Hospitality partnered with Winterland Inc. to bring the annual holiday experience to town, and there will be even more lights this year. This year's display features a mile and half of holiday scenes and special features.
"Last year this proved to be a safe experience for families because they didn't even have to get out of their car to enjoy the annual event," said Brian Lambright, Business Development director of Shipshewana Trading Place. "We anticipate families continuing this new favorite Christmas tradition and are pleased to once again open this fun drive thru experience for their enjoyment."
Shipshewana's Lights of Joy will be set up on the grounds of the Shipshewana RV Park and will wind back and forth through dozens of displays. Visitors will enter at the grounds of the Shipshewana Flea Market on Ind. 5 and drive through the 1.5-mile course of Christmas light scenes, exiting onto C.R. 200 North.
The display will be closed Christmas Eve and Christmas Day. The cost is $20 per vehicle. Hours are Sunday, Tuesday, Wednesday and Thursday from 6–9 p.m. and Friday and Saturday 6–10 p.m. Tickets may be purchased at the gate upon entry or online at ShipshewanaLightsofJoy.com.
Lights of Joy supports local non-profit organizations, with a portion of the proceeds going to seven different featured local non-profit organizations. For more information about the organizations, go online to the event's Facebook page.
For more information on Shipshewana's Lights of Joy, visit www.shipshewanalightsofjoy.com or find the Shipshewana's Lights of Joy page on Facebook.
---
NOW THROUGH DEC. 19
• The Gift of Lights — This special holiday lights event continues every Friday, Saturday and Sunday from 5-9 p.m. through Dec. 19 at the Potawatomi Zoo. This is the fourth year the zoo has partnered with Indiana Michigan Power to present the event. Regular admission for The Gift of Lights is $11 for adults ages 15 and older, $6 for children ages 3-14, and babies 2 and younger will be admitted free. Admission for zoo members is $8 for adults and $4 for children. Advance tickets are not required, but they can be purchased at www.potawatomizoo.org/lights.
Santa will be in the River Run Yurt every night from 6-8 p.m. Every Sunday night from 6-8 p.m., visitors will be able to Meet A Princess. There is no charge to visit Santa or the princess.
The Potawatomi Zoo Express train tickets are $5 (over 2 years old) and include a lighted route, a Christmas present and hot chocolate sample. The train will run as weather permits. The carousel will not be running in winter.
The Congo Café will be open with hot drinks and a limited menu. The Otter Outpost will be open with snacks, beverages, and special seasonal adult drinks. The Round Barn Monkey Bar will be open as weather permits with seasonal adult drinks and snacks as well.
The Zoo Gift Shop is open from 5-9 p.m. during The Gift of Lights.
Some parts of the Zoo are closed after dark and in cold weather.
---
FRIDAY
• It's a Wonderful Market — 5–9 p.m., Southgate Crossing, 27751 C.R. 26, Elkhart.
"It's a Wonderful Market" is a holiday shopping event featuring more than 50 Michiana artists, crafters and antique dealers. Hours are 5-9 p.m. Friday and 9 a.m.-2 p.m. Saturday. Admission is $3 for people 18 and older. Children younger than 18 will be admitted free. This is a new location for It's a Wonderful Market. They will not be at Coppes Commons in Nappanee this year.
---
SATURDAY
• Christmas with the Super Heroes! — Noon-4 p.m. at the hall of Heroes Super Hero Museum, 1915 Cassopolis St., Elkhart.
The public is invited to meet Santa and their favorite DC & Marvel heroes, plus view the special Hero Christmas tree with all of the DC and Marvel Hallmark ornaments from the past 35 years. 
Regular admission of $9 is required for those 10 and older and $6 for children ages 3-9.
• Breakfast with Santa — 8-11 a.m., LaGrange Volunteer Fire Department, 1201 N. Townline Road, LaGrange.
Santa is coming to the LaGrange Fire Station. Pancakes and sausage will be served and children can get a photo with Santa. Gift bags will be available for the children. Donations (cash or nonperishable pantry items) will be accepted and will be given to the LaGrange Food & Clothes Basket.
• Miracles at Main & Market Street Holiday Celebration — 7-9 p.m., downtown Nappanee
This annual celebration kicks off the holiday season in Nappanee. The celebration begins with a holiday parade and continues with cookies, hot chocolate, holiday tunes and the mayor reading the Christmas Story.
• All Aboard with Santa — 10 a.m.-4 p.m., 721 S. Main St., Elkhart
All about at the National New York Central Railroad Museum for milk and cookies with Santa in a real train car. Music and other activities will take place throughout the museum. Tickets can purchase online at www.nycrrmuseum.org and in person. Admission is: adults, $6; seniors 61 and older, $5; children ages 4-12, $5; children 3 and younger, free. For more information, contact the museum at 574-294-3001.
• WinterFest — downtown Elkhart
The public is invited to a new and improved Winterfest in downtown Elkhart.
— Breakfast with Santa — 8 a.m. to noon at Central Fire Station, 500 East St.
— Premier Arts Holiday Windows Tours and free pictures with Santa — noon to 5 p.m. at The Lerner Theatre Lobby
— Ice skating at Nibco Water & Ice Park — 1-2:30 p.m. and 3-4:30 p.m.
— Ralph Hartnagel Memorial Skate — 7:30-9 p.m. (weather permitting, skates free for children ages 12 and younger)
— Ugly Sweater Fun Run & Stroll hosted by the Elkhart Education Foundation — check-in from 11 a.m.-2 p.m., run at 3 p.m., stroll at 3:05 p.m. and awards at 4:15 p.m. Register at https://onecityonemission.org/events/
— Winterfest Market featuring local and craft goods — Elkhart Health & Aquatics from 10 a.m.-2 p.m.
— Friends of the Lerner presents "Elf" the movie — The Lerner Theatre at 8 p.m., free admission
— Winterfest Parade & Tree Lighting — 6-7 p.m. at Civic Plaza, parade runs on Main Street from Harrison to Lexington
— Letters to Santa — drop off at mailboxes around downtown Elkhart before Dec. 14 to receive a response from Santa
— Downtown Merchant Open Houses featuring deals, discounts, gift buying and kids crafts.
---
DEC. 9
• Holiday Sip & Stroll — 4-8 p.m., downtown Elkhart
Downtown merchants will host the inaugural Holiday Sip & Stroll. It will be a night of sips, shopping and fun.
---
DEC. 25
Christmas Day Brunch — First Presbyterian Church will be hosting a Christmas Day Brunch of pancakes and sausage links. The free meal will consist of four pancakes and three sausage links with prepackaged butter and syrup, and choice of milk or orange juice. Prepackaged silverware will also be included.
The drive-through, carry-out only meal will take place Saturday, Dec. 25, from 10 a.m. to noon. Delivery options are also available for the same meal.
• For delivery, call the church office at 574-533-7845 between 9 a.m. and noon Monday through Thursday. In order to plan the routes for drivers, all delivery orders will need to be received by noon Tuesday, Dec. 21.
• For same-day carry-out, arrive between 10 a.m. and noon Saturday, Dec. 25th. Follow the traffic as directed by a volunteer. Someone will take your order and bring your food to your car. No one will need to get out of their car; you will stay in the car line throughout the entire process.
• If you are on foot and desire a carry-out, you'll need to line up on the north side of the building (by the playground). You'll need a mask and need to physically distance. Someone will take your order and bring you your food. Then the food can be taken to a different location to be eaten.
There are limited volunteer opportunities and those are available by calling Karen Wellington at 574-849-0195. Any other questions may be answered by either Karen or by calling the church office.
First Presbyterian Church is located at 215 E. Lincoln Ave., Goshen.
To submit a holiday event, send an email to news@goshennews.com.