On one end of campus, middle school students Max Hood and Tavien Gust faced the moment of truth for the physics of their model glider. On the other end, high school students Ky Duong stood outside a classroom lab, readying to solve a crime through chemistry.
The youths were among more than 200 students from 12 local and regional schools competing in the brain games of the 2020 Science Olympiad regional tournament at Goshen College Saturday.
Teams put their skills to the test in a variety of disciplines. Several events went hands-on, challenging teams to develop contraptions and put them to work. Others were more cerebral, testing students and their skills in quiet environments.
Physics took center stage at the college's Recreation-Fitness Center. One event called for sling-shooting model planes with an elastic band to see how long they could glide in the air.
Hood and Tavien, sixth-graders at Northridge Middle School in Middlebury, partnered in that event.
The two worked with kits since the beginning of the school year to build their glider in preparation for the tournament.
"We've been spending a while making it," Hood said.
The work culminated as the two went before a table of judges. Hood, striking an archer-like pose, pulled the glider back with one hand and held a small rod to stretch the elastic with his other hand. With a 3-2-1 countdown, he let the model fly over a couple tries. Each time, the glider circled above Hood and Gust a few moments before landing on the floor.
Hood said the model was judged on height and performance.
"Like, how high up it went, how it was spinning around," he said.
Hood also self-critiqued the flights, speculating the glider was either too heavy in the front or the back for why it didn't remain aloft longer.
"That's why it wasn't truly gliding forwards and backwards, really," he said.
Jerry Glass, Northridge's coach at the olympiad, elaborated this event was a test of balance and proportions in assembling their small gliders to fly with the least amount of weight on them. And then they have to gauge the best angle at which to launch them.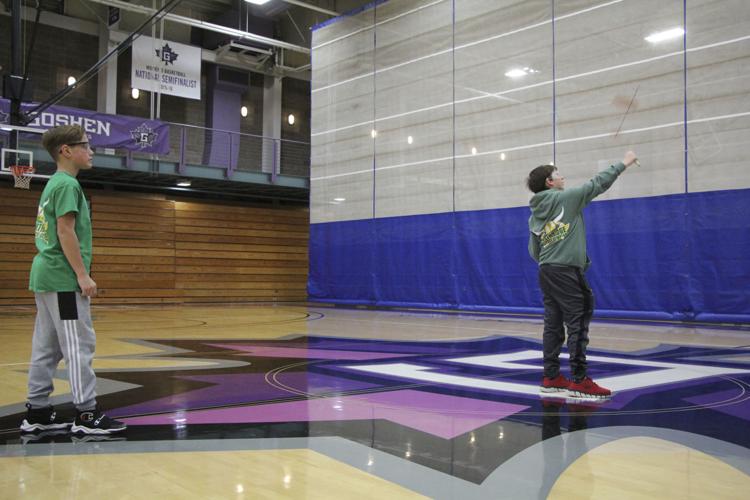 "What the kids have to do is they have to learn basically how to build it, how to use clay, glue, everything to get the glider into balance. And once they have it in balance, they have to learn how to launch it," Glass said, adding some of these kits are built with miniscule amounts of glue. "So when you look at these things, sometimes you look at it and you go, 'God, don't let the wing fall off.'"
Holding their glider taut brings months of hard work down to a single moment for each student. Once the model's airborne, Glass said their expression gives away how the youths feel about the flights.
"You know when they've had a good run, and you know when things have kind of gone wrong," said the longtime coach.
Other events in the gym included launching small bottle rockets topped with a ping pong ball that would float to the floor in a makeshift parachute; releasing model vehicles down a ramp to speed them across the floor; powering vehicles with the energy from a mousetrap; and floating gliders with a propeller wound by an elastic band.
Across the Goshen College campus, the olympiad presented more events in fields including circuitry, fossils, anatomy, DNA, meteorology, building musical instruments and detective work.
CSI SLEUTH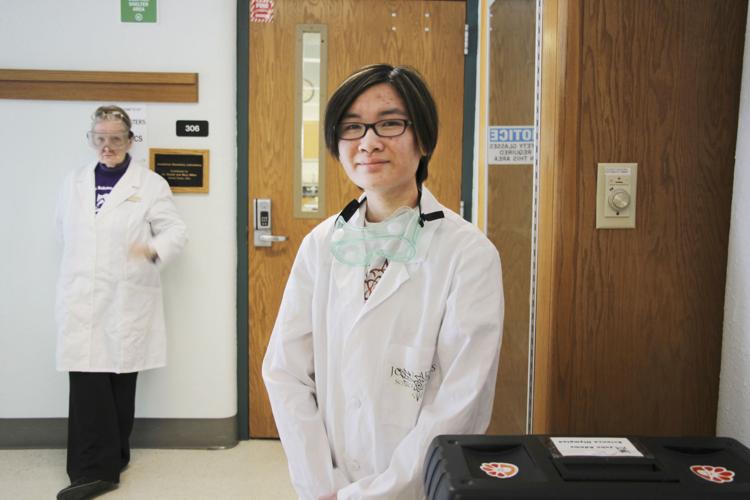 Ky Duong, a sophomore at John Adams High School in South Bend, pursued a mystery by participating in the forensics test.
At the science building, Duong waited with cases of equipment for the classroom lab to open at noon. The test called for using information provided about a crime and identifying a suspect primarily through chemistry. That included testing items like powders, plastics, hairs and fibers.
"You basically take evidence from a crime scene and try to figure out who the culprit is," Duong said.
Participating for the first year in the forensics event, Duong bided time outside the lab preparing mentally to tackle the challenge with confidence.
"If you're panicking throughout the whole entire thing, you're not going to get anything done," Duong said. "You have to actually have to stay concentrated. Make sure you know exactly what you're identifying, like, what you think this is, and make sure you're confident in your answers."
The Science Olympiad scored teams along middle school and high school levels with middle schools in Division B and high schools in Division C.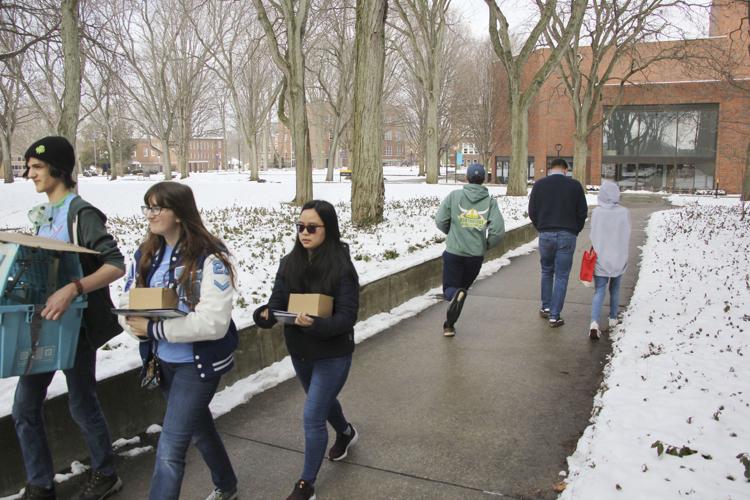 Results from the tournament ranked performances by team name without listing student names as well — students participated in multiple events. So, in the elastic-launched glider event in Division B, Northridge's green team ranked fourth, while the gold team ranked sixth. And in Division C, John Adams' red team ranked second in forensics, while the blue team ranked fourth.
John Adams ranked first overall in Division C. Manchester Jr./Sr. High School ranked first overall in Division B.
Four high school teams and five middle school teams from Saturday's regional tournament will advance to the state tournament. The 2020 Indiana State Tournament is scheduled to be held March 21 at Purdue University in West Lafayette, the event's website shows.