GOSHEN — On his last day as a Goshen firefighter, Craig Hursey expected to do fire training at a house on Seventh Street.
So on Thursday after a school tour of the fire station had ended, Craig walked into the physical training room with his squad to get a quick bit of information about some equipment before heading out to Seventh Street.
When his brother, Dolph, walked into the training room during the briefing, the surprise was worth all of the planning his brother and fellow firefighters had gone through.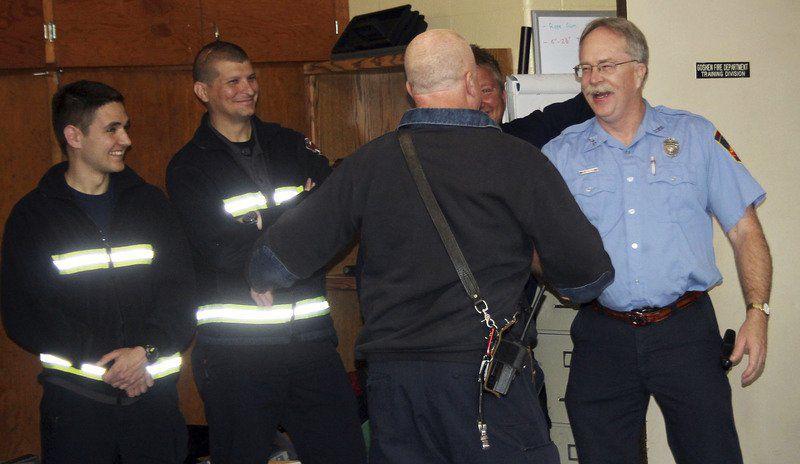 Craig, grinning and shaking his head, walked over to hug his brother to the claps of the other firefighters. He also learned that Dolph, a full-time Ligonier firefighter, would be training with him for his last shift.
"I can't believe it's 25 years already," Craig said.
He remembered staying his first night at the station. "I thought, 'I can't believe I'm a career firefighter.'"
Dolph isn't ready to retire yet, but he's not far behind his brother in years of service. He has been with the Ligonier Fire Department for 24 years. The two grew up in between Ligonier and Cromwell with four other siblings and their parents, Dick and Jane Hursey.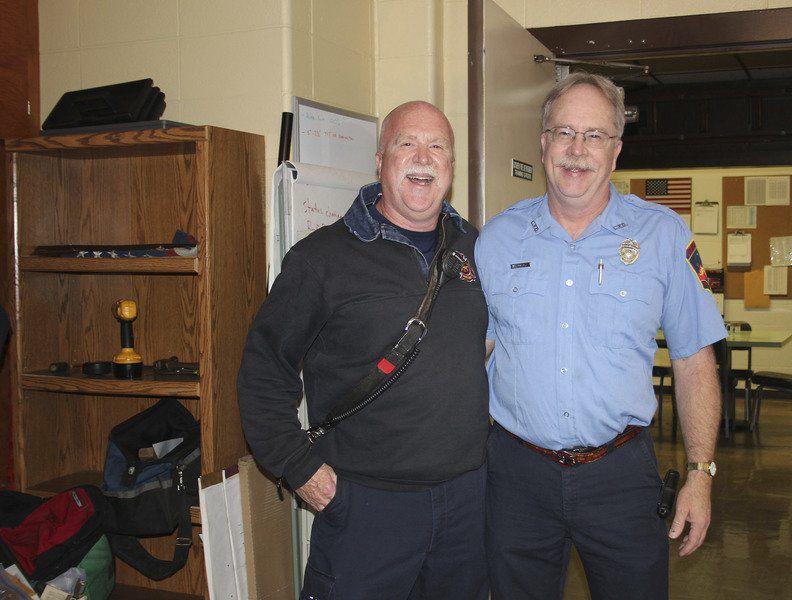 As boys, the two went to kindergarten at the Cromwell Fire Department because there wasn't room anywhere else, they said.
Maybe that's where their love of firefighting started, they conjectured.
Craig started as a volunteer firefighter in Ligonier in 1978. He was there 13 years before going to Middlebury in 1988. In 1991, he became a full-time firefighter for Goshen.
In those 25 years, a lot has happened.
His best moment? "I helped at Hoosier Burn Camp for eight years," he said. This is a camp for children ages 8 to 18 who have survived being burned.
"It's a real pinnacle for my career."
Craig also worked in public education for 18 years. One day, while Chief Larry Gill was still around, a dad stopped by the station and told him about how something had flared up on the stove at home and his first-grade daughter yelled for her parents to get down on their hands and knees and crawl out of the house — just as Firefighter Hursey had taught her.
"You don't know who you've helped," he said, adding, "You don't need to know."
For Dolph, the best moment is when he gets thank yous from people for helping them in their time of need.
And going along with the best is the worst.
For Craig, it was a triple fatality. "That was a tough one," he said.
He had met the family of one of the victims while he was the education officer. "I took it personal," he said. "You always think you can do more."
Dolph remembers his worst day vividly. It was June 22, 2001. He was called to a fire in Kimmell. "It was my wife's sister. She had been killed by her husband," he said. Her husband then set fire to the home and then killed himself.
With Craig retiring, he said it's hard to believe he won't be walking into the fire station for duty anymore.
However, he's not giving up work entirely. Craig will be working for Tri-County Ambulance Service — two 24-hour shifts a week. His official last day isn't until June 17, but he's taking some vacation time.
He and his wife, Becci, also plan on traveling and visiting her family.
Pointing to his brother, Craig said laughing, "He is not going. I am not having that."
As for his firefighting brothers, Craig said he will miss the camaraderie and friendships. "Driving up here and knowing I won't have a hand in helping the city," he said is another thing he will miss. But he will leave that to the "younger guns."
"It hasn't been a job," Craig said of his career. "It's been 25 years of absolute enjoyment. It's been awesome."