ELKHART — After visiting 450 Cracker Barrel Old Country Stores around the country during a 30-year span, Ray and Wilma Yoder decided it was time to set a goal of visiting all of the company's restaurants.
Now, the Goshen couple is just one stop away from enjoying their favorite foods at all 645 Cracker Barrel locations in 44 states. In less than two weeks, on Aug. 26, they'll mark off the last location when they visit Tualatin, Oregon, a suburb of Portland. Company officials will send them to Portland to visit the nearby Tualatin Cracker Barrel location, as a way of thanking them for visiting the 644 sites.
"We realized we were onto something and decided to see if we can do them all," said Ray, 80, during an interview Wednesday with Wilma, 81, inside the Cracker Barrel at 110 Northpointe Blvd., Elkhart.
As long as their health allows, the couple plans to check off any new Cracker Barrel locations added in the future, he added.
The pair couldn't recall when they started to gain attention from Cracker Barrel employees and leadership.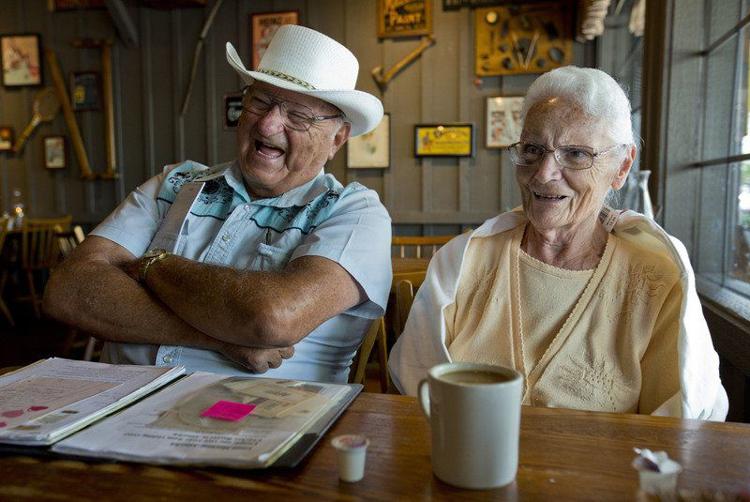 "We like being their 'celebrities,'" Ray said, and occasionally they have received gift baskets and exclusive information about new openings and ribbon-cutting ceremonies.
"Through their travels across the country, Ray and Wilma have inspired and delighted thousands of the people who work in our stores," said Janella Escobar, director of corporate communications. "To the people who have welcomed and served them over the years, Ray and Wilma are more than valued guests. They are our family within our home."
ADVENTURE BEGINS
The couple's Cracker Barrel adventure began 40 years ago when Ray delivered recreational vehicles across the country for Coachmen RV. He liked stopping at the stores for the food, atmosphere and convenient locations next to interstate exchanges.
"The food was like being at home while away from home," Ray said, chuckling.
Wilma said she likes the restaurants because the food has always been good and she doesn't recall any bad experiences in their many miles of traveling during their Cracker Barrel adventures.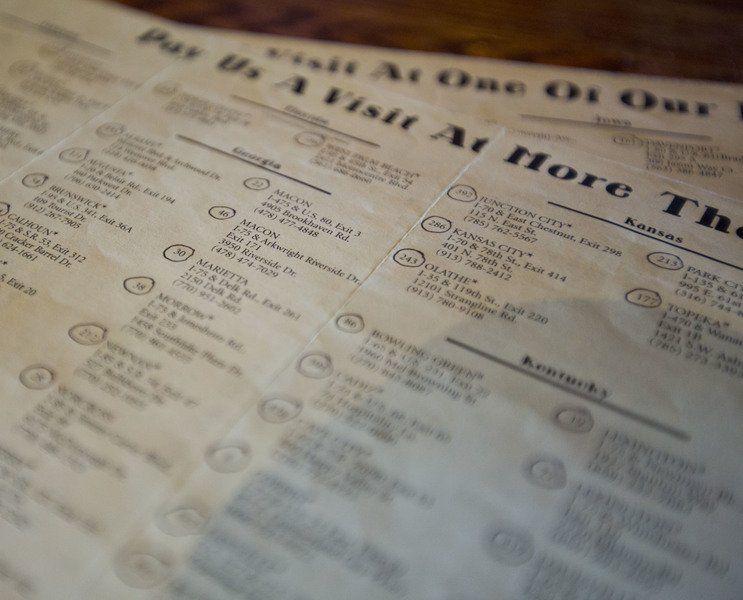 They have tried different meals from the seasonal and traditional favorite menus, but typically order certain favored foods. Ray and Wilma prefer to start their mornings with a breakfast of blueberry pancakes topped with blueberry syrup and a side dish of the hash brown casserole. For supper, the couple enjoys the meatloaf dinner with green beans and baby carrots.
"We pretty much stay with food we always love," Wilma said, looking at her husband of 60 years. The couple will celebrate their 61st anniversary in October.
Once, during a cross-country trip delivering vehicles, they visited eight restaurants in a single day while driving from Orlando, Florida, to Canada. They didn't eat full meals at all of them, Ray added.
"We ate a little at each one or got a coffee-to-go to stay awake. Sometimes we got a Coke out of the cooler or bought some candy," Ray said. "Our rule has always been to buy something and leave a tip."
MANY MEMORIES
They have a folder filled with letters from Cracker Barrel officials and their business cards, newspaper clippings, copies of stories from television interviews, as well as maps of locations with store numbers circled.
"They use to have these maps at the front counter for customers, but they don't make them anymore so our kids help us keep track now," Ray said.
The couple has four children, four grandchildren, four foster grandchildren and three great-grandchildren.
"We were Amish when we got married but we wanted to be more modern so we call ourselves liberal Amish," Ray said. "It's been a good life and we give all the credit to the Lord."
Sherry Van Arsdall can be reached at sherry.vanarsdall@goshennews.com or 574-533-2151, ext. 317. Follow Sherry on Twitter @svanarsdall_TGN