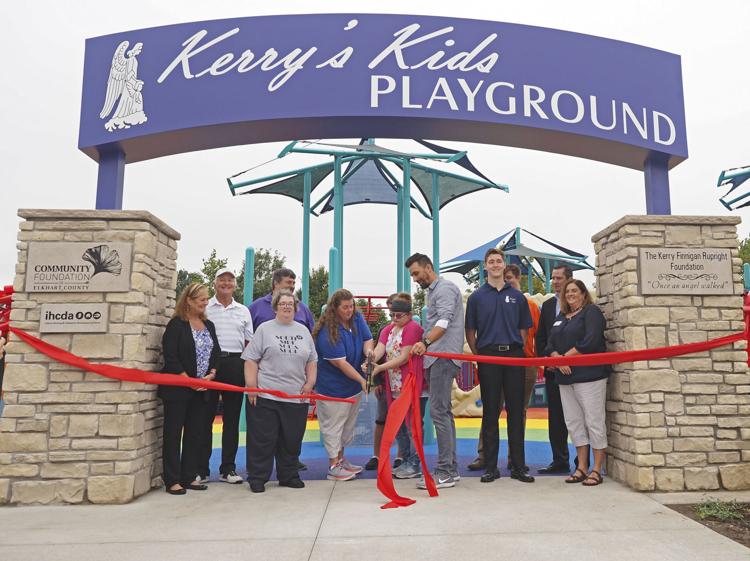 GOSHEN — Smiles and laughter were in plentiful supply at Hay Park on Goshen's southwest side late Thursday morning during the official ribbon-cutting ceremony for the city's first fully inclusive playground.
"I'd like to welcome everybody, and thank you for coming out to join us for the opening of our first inclusive park," Goshen Mayor Jeremy Stutsman told the gathered crowd of community members, city officials and project stakeholders. "We know this park will be great for all ages and all abilities, and will help us all become closer together and play together."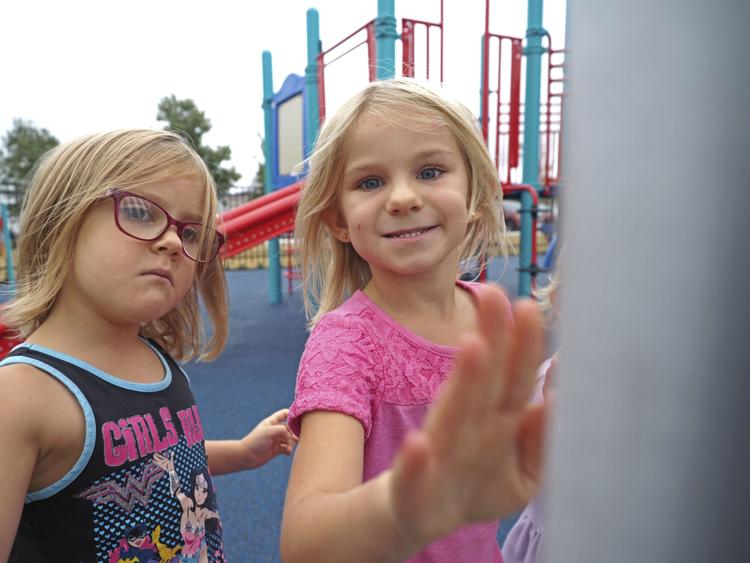 According to Tanya Heyde, superintendent of the Goshen Parks & Recreation Department, planning for the playground, known as Kerry's Kids Playground, began in early 2017 after the city received a letter from Goshen High School student Laura Elliott campaigning for the city's first all-inclusive playground.
Following receipt of that letter, Stutsman, who had previously expressed similar interest in such a project, immediately threw his support behind Elliott's plea, Heyde explained, and it was from that point that the project really started to gain momentum.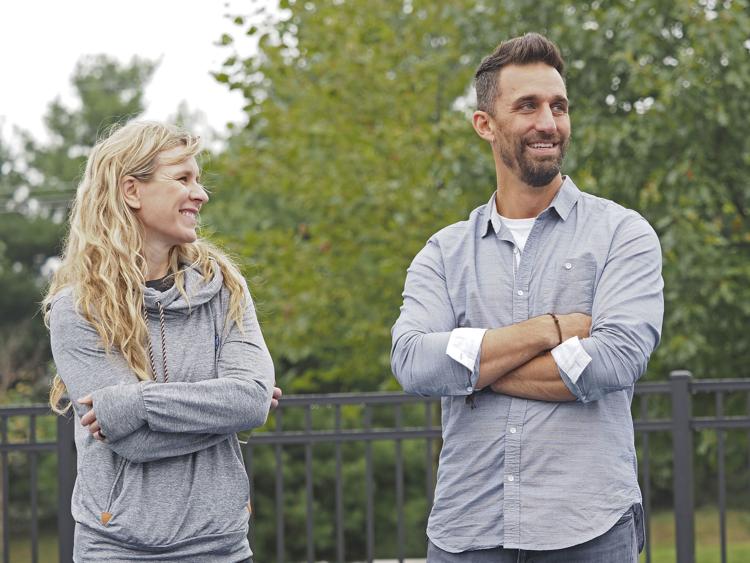 "We formed a design committee made up of many community members and experts who donated their time for well over a year in putting together exactly what you see here," Heyde said of the planning process.
Once formed, the playground committee set out to identify and list all of the resources that would be needed in order to see the project completed, Heyde explained. Designs were created, and Hay Park, located at 1414 W. Plymouth Ave. near Black Squirrel Golf Club, was identified as the best location for the new playground.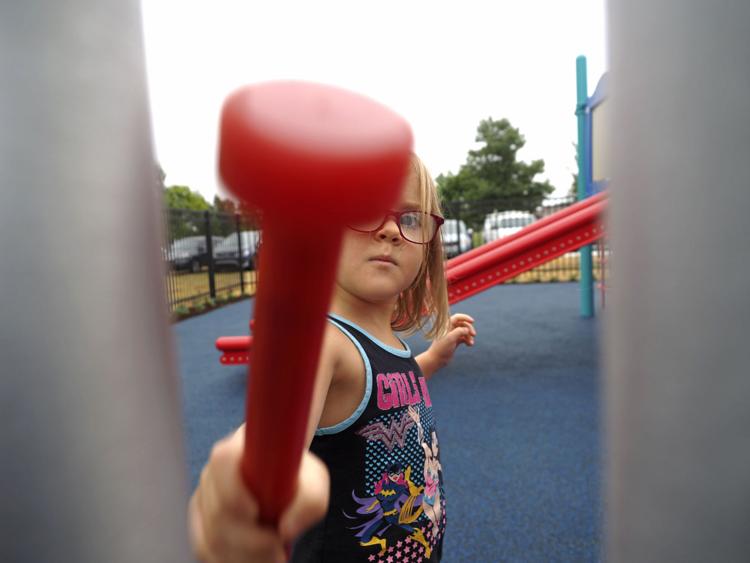 Designed to accommodate residents of all ages with mobility or developmental challenges and other disabilities, the brightly colored, fully inclusive playground features ramps, wider sidewalks and special equipment that give users access to any part of the playground, including the highest points. Work on the project began in the spring and concluded late last month.
"We have been working on this park for just over three and a half years, and it warms my heart to know that it is now completed," Stutsman said of the project. "I am grateful to the park superintendent, Tanya Heyde, and all the park staff for their hard work to put this together and bring it to completion. This would not have been possible without the generosity of our donors, volunteers and community members."
Speaking to that generosity, Heyde made a point of thanking the project's primary donor, the Kerry Finnigan Rupright Foundation, whose initial support she said was instrumental in laying the groundwork for the project's ultimate success.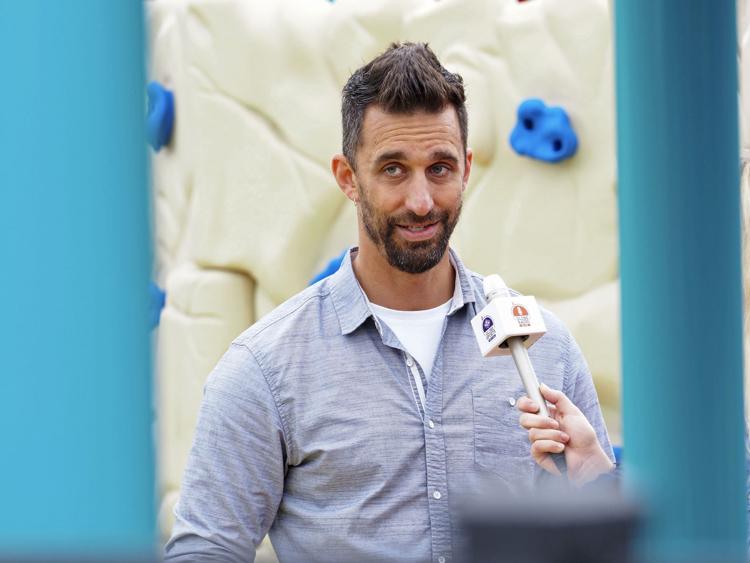 "After that donor committed, we sought a community investment grant through the Community Foundation of Elkhart County, and we were awarded that grant," Heyde added of the project's supporters. "And then our final leg of funding for the playground came from the Indiana Housing & Community Development Authority, and a crowdfunding initiative began from that, where all of our funds that were raised were then matched through the Housing Authority. And not only did we meet, but we exceeded our goal for that, so we're pretty proud of that also. And what that means for us is that this playground was a fully-supported project from the community and our many generous donors and sponsors."
In addition, Heyde made a point of thanking the many city departments, such as the engineering department, the utilities department, the street department and the stormwater department, for all of the associated work they put in to help get the various site improvements and amenities at the park in place so that the new playground could be fully realized.
"Everybody truly came together to make this project possible, so we want to recognize that community effort as well," Heyde said. "This project is truly a community project. None of it would have been possible without the support of all of those people that really made this happen. So thank you to everyone."
Stutsman offered a similar sentiment, while offering a special word of thanks to Elliott and her decision to submit her letter campaigning for the new fully inclusive playground.
"Just a few years ago, we received a letter from a very thoughtful and caring community resident. This letter — Laura's letter — turned into a $1 million park in the city of Goshen," Stutsman said of Elliott's efforts. "Laura, thank you for your work and passion. Please know that we are grateful of your efforts, and are proud that you are a member of the community of Goshen."
Two special dedications were made in connection with the playground. They included a plaque placed on a bench near the playground's entrance in honor of Elliott's father, Rusty A. Elliott, who passed away while the design planning process was ongoing, and an accessible drinking fountain dedicated by Goshen Hospital in honor of having received its fourth Magnet recognition for providing the highest quality of nursing care to patients.