GOSHEN — Masks and the mail look to play certain key roles in the upcoming general elections, each influenced by the ongoing COVID-19 pandemic.
The issues were among the list of items the Elkhart County Election Board tackled during their meeting Tuesday.
With Election Day looming Nov. 3 — driven by the presidential race, congressional races, state races, and a very nearly full ballot of contested local races — elections staff are working to ensure vote centers will be prepped with sanitary and social distancing measures. At the same time, county Clerk Christopher Anderson anticipates a record-smashing deluge of mail-in absentee ballots this year.
Anderson said the county's 29 vote centers will be equipped with plexi-shields to separate clerk staff and voters. Floors will be marked to ensure social distancing guidelines are followed. Staff will be provided gloves, masks, face-shields, hand sanitizers and disinfectant spray. A battalion of cotton swabs will also be on hand as an option for keeping hands off the touch-screen voting machines.
"We've purchased another 60,000 Q-Tips to utilize on the voting machines to keep them as clean as possible without the voters visibly touching them," Anderson said, adding the county has also purchased disposable stylus pens for voters to sign electronic poll books.
The discussion on personal protective equipment prompted Daniel Grimes, the Democratic member of the election board, to ask whether the county has authority to require poll workers, such as facilitators and supervisors, to wear face masks as people vote. A view he expressed is workers who don't comply could be dismissed.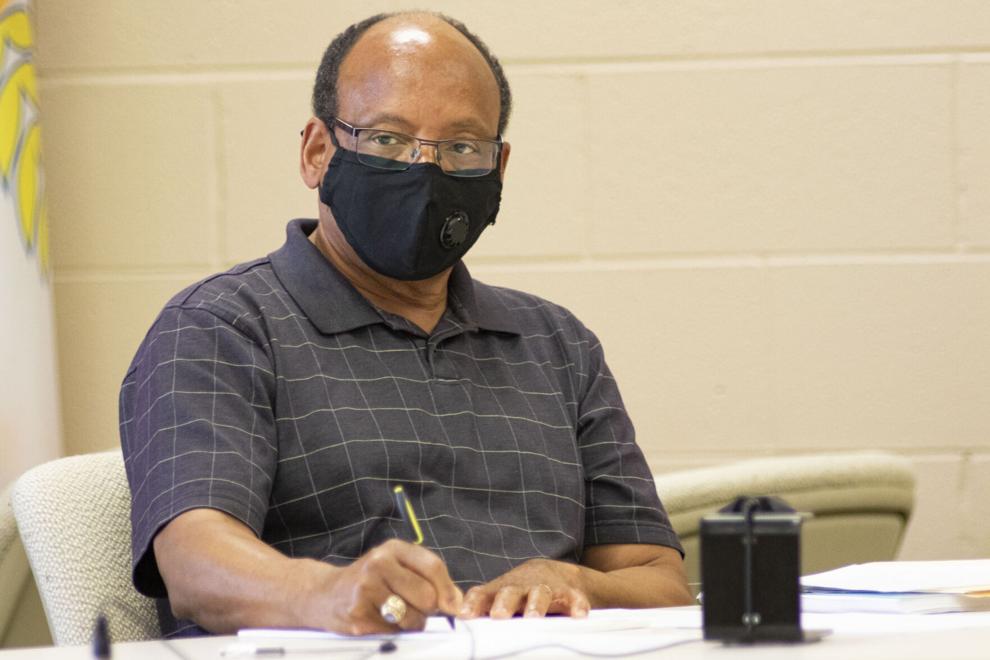 Describing a scenario where a worker would choose to not wear a mask, against current federal and state guidelines, Grimes said he could view that as intimidation if voters felt such a decision made them unsafe in a voting center.
"I think it's very imperative that every voter in Elkhart County feels that they have the right to vote and access to vote without intimidation," Grimes said. "We need to be concerned about all of the citizens of this county, not a select few."
Wayne Kramer, the Republican member of the board, disagreed that he doesn't see that scenario as intimidation so much as a health issue. He cautioned that a heavy-handed approach could drive away needed poll workers who don't believe they have to wear a mask.
"We may have some people, as workers, who decide that that's not within their personal right to be mandated to wear a mask. And, we may have worker problems," Kramer said.
He pushed to have the authority issue resolved before the end of the month, preferring clear direction from Indiana leaders on whether or not to require masks for poll workers.
Anderson said he's working with local legal counsel and the state election division on receiving a unified decision. So far, he said, he's heard different responses, including whether poll workers are considered county employees since they're appointed by political parties. He noted the county remains under a health mandate requiring face masks for employees. For now, the county is encouraging mask usage.
"It is going to be strongly, strongly, strongly, strongly urged that every single poll worker wear a mask or a face shield," Anderson said.
Where the discussion was focused on workers wearing masks, Kramer said voters will not be turned away from polling places if they choose to not wear masks.
"I think it's important to somehow make it known that wearing a mask or not wearing a mask does not disenfranchise from the right to vote," Kramer said.
MAIL-IN BALLOTS
Thousands of people likely won't even show up at vote centers in person, preferring instead to vote by mail this year.
"This is going to be another very large year for absentee-by-mail," Anderson said.
Anderson anticipated mailing between approximately up to 8,000 absentee ballots to voters Friday and Saturday as staff work this week to process that volume of applications for mail-in ballots his office has received so far. Another 3,200 to 3,300 applications that were sent out have not yet been returned.
Depending on various circumstances, Anderson said there's an easy potential for the county to receive approximately 11,000 mail-in ballots this year. If so, he estimated the figure could be about five or six times higher than what the county's dealt with before.
He said 3,381 absentee-by-mail ballots was the previous record for the county in a general election. By another comparison, the last largest mail-in ballot record locally for a primary election was 1,181 such ballots. In the primaries this year, the county received 10,684 mail-in ballots.
Anderson believes the county will be prepared for counting a drastically larger volume of those ballots.
"We will have 16 bipartisan teams on election day that will be counting absentee ballots. Each party has been requested to supply us with 16 names," he said.