ELKHART — A near-lifelong drummer, David Hilliker has learned lessons for days.
Perhaps one of the most important in his career? Pick up the phone.
It's how Hilliker met pianist-keyboardist Tom Vaitsas, he explained, sitting in a cushy Martin's Side Door Deli booth.
The manager of now-shuttered Basil's on the Race, a former South Bend eatery, passed to Hilliker a CD of Vaitsas, drummer Bob Guthrie, guitarist Bill Boris and tenor saxophonist Duke Payne, all Chicago-based, heavy-hitting jazzers.
It could have been loaned or gifted (Hilliker isn't sure), but what was certain is his finding a "musical soul brother" among the album tracks.
"I'm listening to it and I'm just knocked out by Tom because Tom is playing keyboards but he's playing basslines with his left hand," he recalled. "… He's the kind of pianist who's freaking amazing."
This was 2000, a time when landlines were still the standard and a call to information could connect two strangers.
"I said, 'My name's David Hilliker. You don't know who I am, but I've been digging this CD and I wanted to let you know I like your playing and I'd like to meet you,'" Hilliker said. "He called me back, we met and we played a duo gig together; that was our first gig together and that was almost 20 years ago."
The pair will join bassist-vocalist Katie Ernst June 21-22 for two sets at the 32nd annual Elkhart Jazz Festival, performing interpretations of classic tunes from "The Great American Songbook" as the David Hilliker Trio. The group has paid tribute to luminaries Wes Montgomery and Mile Davis during Elkhart Jazz Fests past.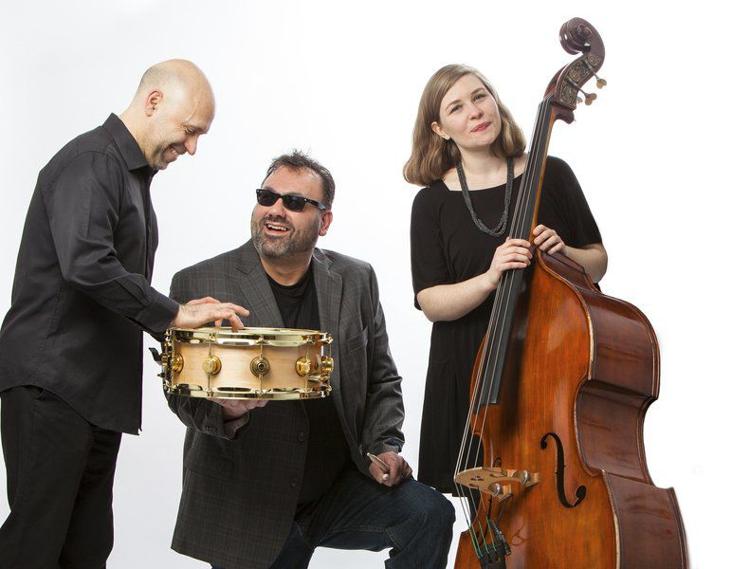 "From the first time that we played together, man, it was just like we locked in. It feels so comfortable, it's just amazing," Hilliker said of Ernst, a longtime friend and collaborator of Vaitsas. "She's incredible, man. When I first heard her, I was just knocked out.
"… She plays hard, but she doesn't rush. It's so comfortable, man. It's like I've been waiting for this all my life."
Hilliker's phone calls didn't stop at Vaitsas.
"Music, for me, is life. When I latch onto something, I just go for it. I did the same thing with Ed Thigpen," he said. "I got his phone number. He lived in Copenhagen, Denmark. I called him up. I said, 'Hey, man, you don't know who I am, but I've been listening to you since I was 8 years old with Oscar Peterson and Ray Brown.'"
Before his 2010 death, Thigpen would travel from Denmark to his hometown of Chicago, where the two would link and talk shop.
"He would say things like, 'You have this drummer who goes out and buys this $10,000 drum set,' but he's like, 'I don't hear anything coming out of it.' Then you got the cat that spends 250 bucks at a pawn shop, and he's just absolutely killing it. So, I just think, for me, my idea and role as the drummer is I want to make the rest of the band sound better," he said.
"I wanna be almost like this couch kind of thing, where they can sit on. Not lean into so much that they're not thinking about their own responsibility about the time — because I do believe that everybody's responsible for the time, not just the drummer — but I want to be a cushion where they can lean on and make the music feel good, because it's not about me."
Lobbing musical philosophies isn't uncommon during a players' hang. In between talk of mindset, maintaining a positive attitude and his never-ending quest in learning, Hilliker dropped a bomb.
"There was a 17-year period where I didn't play music, from 1980 to 1997," he said.
"The reason for that was because — and I want to be careful in how I say this because I've had plenty of time to deal with it and get through the emotion of it — but it was a religious group of people that basically told my whole family … we got involved in a Baptist church that just had no appreciation for art or music, and basically you were told you couldn't do it. We didn't know. We just ignorantly bought the whole thing."
The 12-year-old kid who'd incessantly hole up in his room, spinning pop 45s, who, at 10, was sitting in on the kit at proper gigs with the guidance of his older brothers — they once toured and recorded with famed jazz organist Brother Jack McDuff — was told to put his talent on hold.
"The idea was, if you weren't a pastor or a missionary, you were pretty much useless, and that all this other stuff didn't mean anything," he said. "And maybe for some people, that's true, but we didn't know. So we took that attitude, and my brother (bassist) Tom, he was playing jazz gigs and working a lot in New York. He quit playing and went to Bible college, ya know?
"I remember my dad saying later on that my brother made a statement to him that while he was in college, he then knew what it felt like to go through a divorce."
Hilliker himself eventually remarried the music and wed his now-wife Tammy. The couple have four children, Ashley, Aaron, Andrew and Anna.
"I think it was more traumatic than we realized," he said. "It wasn't until I got older and got married that I went through this angry stage, like, man, I missed out on all these years where I could've been practicing."
The drummer is still of the faith, with an adjusted approach to his relationship with music.
A player with a habit of making calls, Hilliker re-answered his.
"You never arrive," he said of the journey. "You just keep plugging along and learning."
Geoff Lesar can be reached at geoff.lesar@goshennews.com or 574-533-2151, ext. 307.