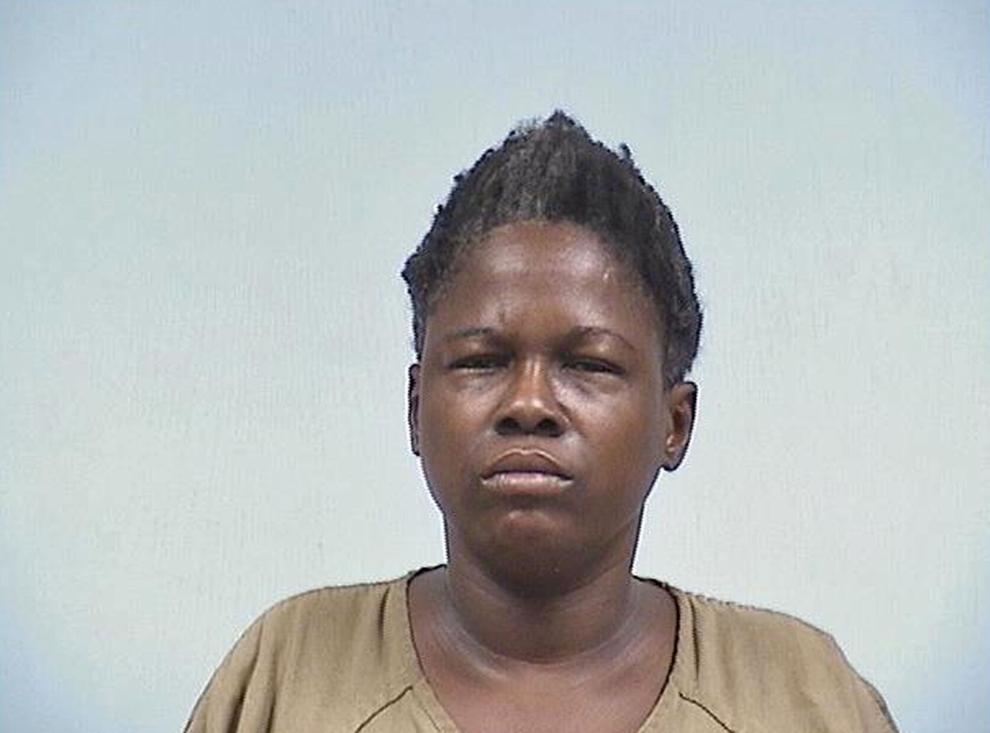 GOSHEN — An Elkhart woman who recently pleaded guilty to starting a house fire that killed two people, including a child, was sentenced to 110 years in prison during Elkhart County Circuit Court proceedings Thursday morning.
Genessa Jones, 48, who was sentenced by Judge Michael Christofeno, had been facing two counts of murder in connection with the deaths of 51-year-old Dennis Witte and 8-year-old Nyshaun Finch which occurred during an alleged arson in the early morning hours of May 23, 2021.
According to court records, the fire damaged a two-story house at 1824 Oakland Ave. As Elkhart firefighters responded, they had first rescued a woman from the roof. They then followed the woman's direction to find an adult and child still in the house and rescued them from the situation. A firefighter was also reportedly injured during the response.
Witte and Finch were first taken to a local hospital for emergency treatment. They were then transferred to a hospital in Chicago, but died from their injuries, according to details in the probable cause affidavit in the case.
Under the terms of her plea agreement, Jones received a 55-year sentence for each count of murder to be served consecutively, for a total of 110 years in prison at the Indiana Department of Correction.
Before Jones' sentence was announced, the prosecution invited several witnesses to come forward and share a final statement about how Jones' actions have impacted their lives.
Included among those who spoke was Roscoe Finch, father of victim Nyshaun Finch.
"First, let me say that it's hard to lose a son, especially a child," Roscoe said. "It's been very, very hard on our family on both sides — his mother's side, as well as mine. Every day he's missed.
"He was an energetic, beautiful child," he added of Nyshaun. "He did nothing wrong to anybody, children, adults. He didn't talk crazy. He was just the sweetest. Everybody loved him."
Speaking of Jones, Roscoe said she deserved to receive the maximum amount of jailtime possible for her crimes.
"She doesn't have any remorse for what she did," Roscoe said. "You can tell in her face, there is absolutely no remorse for what she did to these families."
Nyshaun's mother, Showntala Gillam, was barely audible as she fought through tears while speaking of the loss of her son due to Jones' actions.
"It's affected me bad — very, very, very bad," Gillam said. "She took innocent lives for no reason, and it's not right."
Last to speak was Witte's eldest daughter, Trina Singh, who read a statement to the court reflecting on the impact her father's death has had on her and her family.
"The amount of hate and darkness you must hold inside you to kill a man and child the way you did is revolting," Singh said. "Because of you, I now forever dream of angels, yet live with demons. I suffer from night terrors and PTSD. I hear my dad constantly in my head, and I see him everywhere I go, only to realize that he isn't there, and he never will be again.
"My dad once told me when I was 16 that he couldn't fathom what a horrible place the world can be, and how unfair and unjust it can be," she added. "It turns out he was right. Sadly, you had to be the one to teach me this lesson by taking my dad away."
Singh went on to note that she forgives Jones for her actions, even if she will never understand them.
"I forgive you, but I hate what you did," Singh said. "I've spent a year angry, and hurting — a year hating you and what you did. But no longer, after today, will I let this consume me.
"I've spent a year trying to find answers for what you did, or why you did it, and how you could justify it in your mind," she added. "But the truth is, there is no justification for what you did, no matter the reasons why. You could have gotten professional help, but instead, you chose murder."
Jones herself was then allowed a moment to speak prior to her sentencing. She apologized to the families affected by her actions and thanked her lawyers for their efforts in her case.
"I just want to say to all the families, I am so sorry," Jones said. "My actions caused a lot of pain to a lot of people. It was never my intention to hurt anyone, but I did. The pain that I was having I bled on everyone else around me, and I did not mean for this to happen.
"I take full responsibility for my actions," she added. "I had no right to not think about what I was doing. I ask that the families forgive me."