ELKHART — Dr. Michelle Bache, vice president of medical affairs for Elkhart General Hospital, said in a recorded interview Friday that COVID-19 rates have dropped significantly at EGH, about 60%, since November.
"Obviously, the situation in our county has improved significantly since the dark days of November when we were really dealing with the significant COVID surge," Bache said. "The hospital has really benefited from that. We've seen a significant decrease in the number of COVID patients that we have in the hospital. Our census today of COVID patients is down 60% from where we were in the middle of November. Our deaths are going down, and this is really great for the community as a whole, not just the hospital. This has allowed us to really ramp back up our surgical services. We're able to provide additional health care services to the population besides just COVID. So, it's been really great."
Bache said she thinks the community heard the pleas of health care workers and took the message to heart on what to do to stem the COVID tide. In November, both Elkhart and Goshen hospitals were diverting ambulances to other hospitals because they were full. Elkhart opened an additional wing and a refrigerated truck was called to help store the bodies of people who had died. Non-emergency surgeries were delayed not only by hospital officials, but the governor mandated it through Jan. 3.
"I think the community took the message we tried to deliver to heart and really listened to what we said," she said.
Because the state had limited gatherings, people did not group together as normal. People did not travel, she said, adding, "and mask usage has really gone up."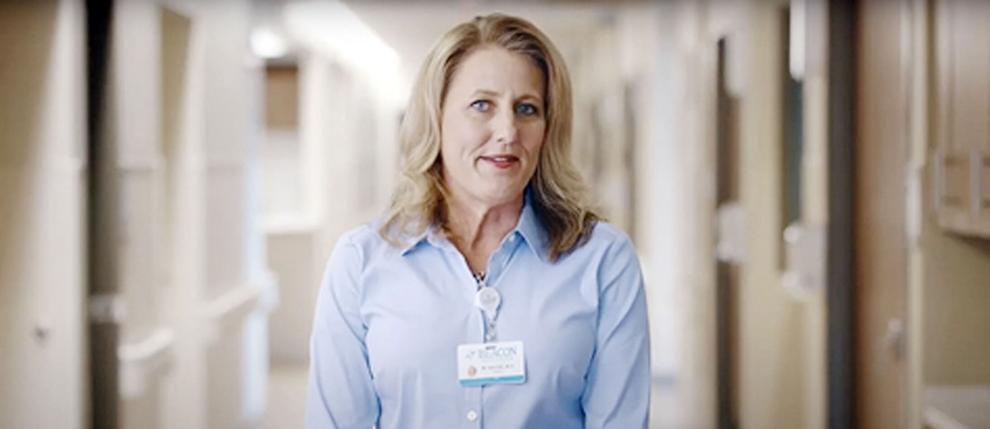 Bache said that in walking through her community, she's seen more people wearing masks.
"The masks are working," she said.
To the community, Bache gave "a huge, huge thank you. Thanks for all your efforts. I know what we've been asking for is really difficult. I know it's really hard. It's hard right now, and nobody wants anymore than me to get through this, to get back to life as normal.
She wants everyone to hang in there, wear their masks, limit their travel and limit their gatherings.
"You have made the difference for us," she said to the public. "You have done this, and I just can't thank you enough."
Although numbers are down and vaccinations are underway, Elkhart County is not out of the woods.
"COVID-19 is going to be with us for the foreseeable future," Bache said. "COVID-19 has the ability to really spike out of control very rapidly, and I think that's what we're seeing in other parts of the country. Frankly, that's where we were back in November. So, once you have a local infection that really takes off, that spreads very rapidly and it becomes very, very difficult to rein that back in. It becomes difficult to contact trace. It becomes really hard to interact at all. So, if we can stay at the level we're at now, I think, and we can hopefully make further improvements, you know I think we could have maybe some sort of a normal life. But it's going to be a while yet before we're able to get rid of the mask and really have the life that we knew before."
Her advice is to keep doing what everyone knows works: masks, social distancing, washing hands and staying home while sick.
"We do not want to get back to where we were in November," Bache said. "We want to be able to have our kids in school. We want to able to have smaller gatherings and do these sorts of things safely. Yeah, it's probably going to be the end of the summer or late into 2021 before we can really hope that our vaccination will get to enough people that we can begin to relax a little bit."
Riverside Village begins COVID-19 vaccine administration
ELKHART — Riverside Village announced recently that it has begun administering the COVID-19 vaccine to its seniors.
The vaccine is being administered by CVS and its long-term care pharmacy Omnicare.
"We are thankful for all who worked to bring the vaccine safely to us," Riverside officials stated in a press release. "The vaccine is being offered free of charge to all residents and staff in two doses, given 28 days apart. Our goal is to have 100% of our residents and staff vaccinated. We have aggressively provided education and counseling to ensure compliance."
Riverside Village is part of American Senior Communities, which has a vaccine awareness campaign titled "Gimme a V!"
Since the pandemic began, Riverside has had 45 residents and fewer than five staff members test positive for the novel coronavirus and 12 residents have died from the virus.