GOSHEN — When the leadership at Faith Lutheran Church decided to stop operating out of two churches and sell its historic building at 406 S. Fifth St., the timing couldn't have been better for RESTōR church.
Call it a God thing.
Lead pastor of RESTōR, Gene Troyer, said his congregation of 230 to 300 people were out of room at The Goshen Theater, the church's home since its inception in January 2018. The theater has recently been undergoing major renovations and it was time for the growing church to move.
On May 22, Troyer got a random Facebook message. "An acquaintance of mine — I don't think I've ever met her outside of Facebook — but she said, 'There's a lady in my office who said she attends Faith Lutheran downtown and they're about ready to vacate that building and I just thought maybe you should know,'" Troyer said. "The truth is, I have driven past this building over the course of the last 10 years and I would say things to myself and I suppose to God like, 'Wow, if I could ever do church in that building it would be so cool. And I love the architecture. I thought it was just a beautiful building. Faith Lutheran had done a phenomenal job with maintaining it and keeping it looking great, and then to get that Facebook message was pretty sweet."
So, Troyer emailed Faith Lutheran Co-Pastor John Hickey right away and about two days later Troyer was in the building. Groups of leaders from RESTōR went through the Lutheran church to discern whether pursuing purchasing the building would be the right thing to do or not.
That was in May, and on Sept. 16 RESTōR took possession of the church.
FAITH LUTHERAN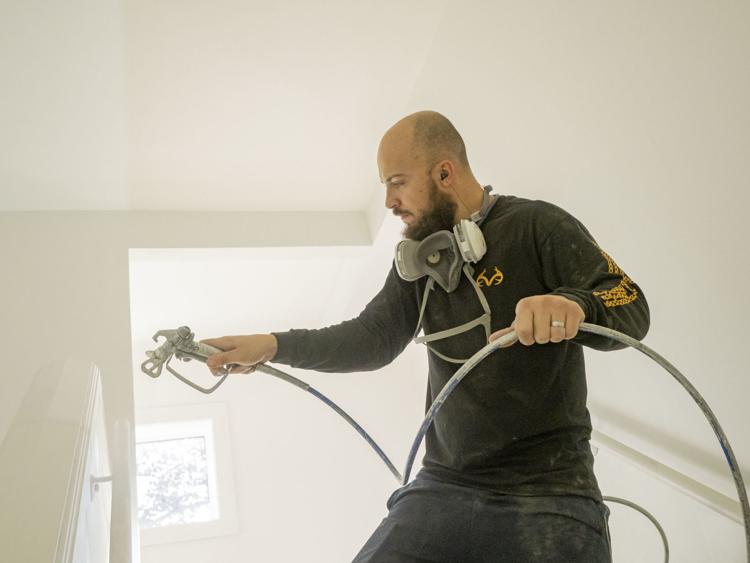 In the meantime, Faith Lutheran had to move out and combine everything into its church at 202 S. Greene Road.
Co-Pastor Jessica King said, "This decision was both joyful, but also full of grief. We, the staff and the congregation, are excited about being together in one building and continuing to live out our mission and ministry. Yet, we also have grief as we closed and sold one of our church buildings. Our downtown location held many memories for our members; memories of baptisms of children and grandchildren, memories of marriages and funerals of loved ones, memories of children crawling under the pews and friendships that were built. While we can take these memories with us, letting go of the space where they were created has been hard."
For the past five years, Faith Lutheran had been operating out of two churches following a merger.
King explained that Faith Lutheran was formed from two congregations of the Evangelical Lutheran Church in America (ELCA) in March of 2014: First English Lutheran (406 S. Fifth St.) and Trinity Lutheran (202 S. Greene Road). "Both First English and Trinity had deep and rich histories of mission and ministry in the Goshen community," King said.
"Actually, if you go way back in the histories of First English and Trinity you will learn that almost 200 years ago they were one congregation," she said. "They separated at that time over what language was spoken in worship: English or German. While they split, literally moving blocks from each other at that time, they continued to do things together like Sunday school, confirmation and other fellowship events. That relationship continued for these two congregations even after Trinity built a new facility in the 1970s out on Greene Road, where our church sits today."
It's with that history and relationships that one day in 2012, over cups of coffee, First English Pastor Gene Hollingsworth and Trinity Pastor John Hickey began talking about merging their congregations.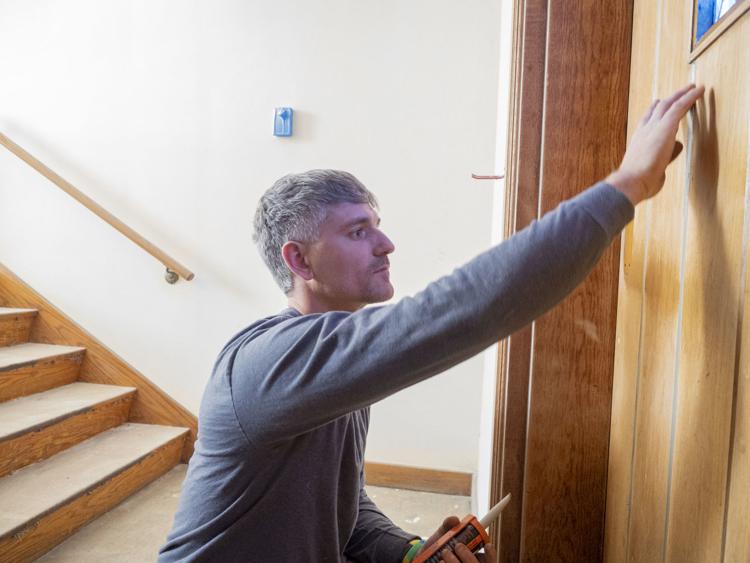 They wondered what it would look like to fulfill the mission and ministry of these two congregations more effectively and with a greater impact to their members and the Goshen community if they came together as one, King said, adding they also wanted to be good stewards of the resources God gave them.
"That began a two-year discernment process where First English and Trinity tested what this 'new thing' could look like," she said. "Their discernment ended in November of 2013 when the two congregations voted on a resolution to consolidate as one multi-site congregation in Goshen. As I said before, they officially became Faith in March of 2014."
Hollingsworth retired and King joined the team in November 2014. Hickey is the pastor to the community and King is the pastor of youth, young adult and family ministry.
The downtown site housed Good Shepherd Preschool, a ministry of the church. The Greene Road site provided the church with space for youth ministry, Wednesday night Christian education and hosting Interfaith Hospitality Network before that agency moved into a fixed site.
The church members continued to worship out of both sites each Sunday, offering three different worship styles between the two sites on Sunday mornings.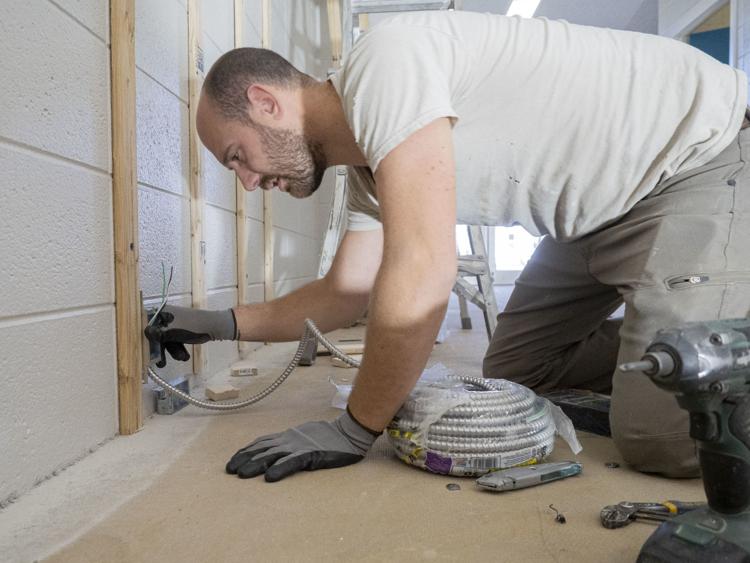 "How that all worked was a dance and a bit on the chaotic side for the pastors as we traveled between the two sites each Sunday morning, but we made it work," King said. But after five years, the time had come for a hard decision.
"In order to be good stewards and think toward our future, the church council felt it would be best for us to move into one facility," King explained. "After that recommendation passed, we spent the next six months having conversations and listening posts, meeting and research about what that one facility was. We were open to looking for a totally new location for our church as well as keeping one of them and selling the other. Ultimately, the church council recommended that move our church to the 202 S. Greene Road location and sell our 406 S. Fifth St. building, as we discerned that the Greene Road location provided us with the most potential for expansion and ministry in the future."
At a special congregational meeting in May, the congregation approved that recommendation. A closing worship service took place June 16 at the Fifth Street church.
PROVIDENCE
At RESTōR, which is nondenominational and has a ministry especially geared toward millennials, being in downtown Goshen has always been important. The Lutheran Church fit the bill.
Troyer also explained that the church has a goal of keeping things simple for families and not overburdening them because many have families and little time.
"We don't believe church has to be complex," he said.
"People started showing up," Troyer said. "And we have quickly outgrown our kids' space."
So, purchasing the Lutheran church also made a lot of sense with the timing, he added.
At the Fifth Street church, which has been undergoing a transformation, Troyer said the space is great.
"And our kids are going to thrive and grow here, where we were simply running out of space at the theater. It's pretty providential, I think, the timing of all of this. It's a very, very exciting time."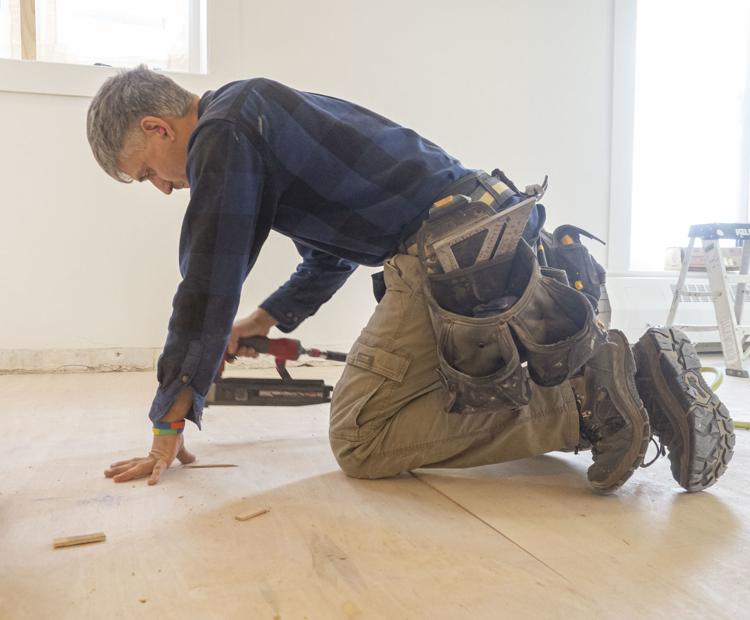 Cosmetic improvements have been made throughout the church, from new coats of paint to fixtures. A restroom was added downstairs with a family room. There is a nursery that was built that also has a nursing mothers room, he said. What was the fellowship hall is now a large group meeting space where casual connections can take place in a warm, inviting atmosphere.
"We really want to keep — we talk about the blending of the ancient and the new, so the auditorium or the sanctuary was built in 1876, and so there's a lot of history there; and while we haven't retained the altar space the way it was, we're rebuilding that for our purposes and still retaining the stained glass windows and trying to honor what was as well as bringing in what we believe is suitable for our congregation."
The lobby downstairs has been completely opened up.
"It is going to be a gathering space as well." They wanted to make sure they had as much floor space free and cleared up as possible to allow adequate movement.
The whole second floor will be for children, except the balcony. The organ has been removed, with some of the pipes being moved to St. John the Evangelist Catholic Church in Goshen. The other pipes are in storage, Troyer said.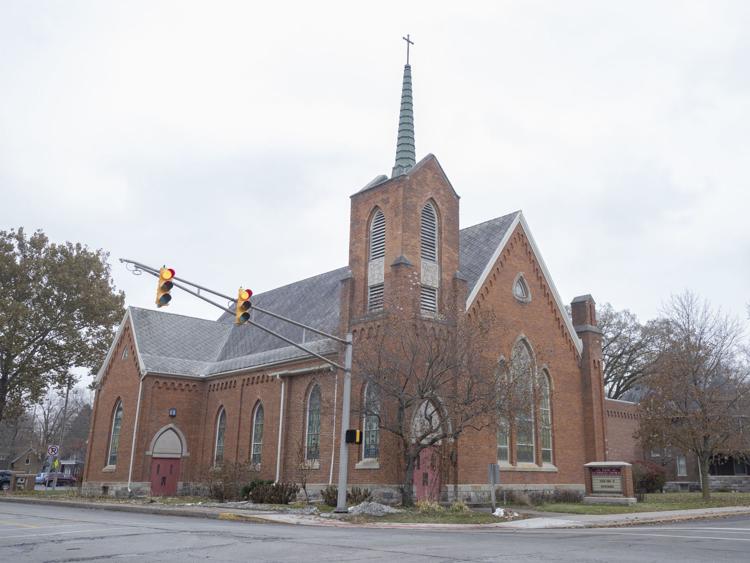 Like any change, for those who came before, it can be bittersweet. Pastor King said, "We have been encouraging our members to not go and see all they have been doing. Not because we aren't excited for RESTōR but because the renovation themselves might trigger more grief for them; a beloved space being changed is hard. We are aware of some who have stopped by and looked around; their responses range from excitement for RESTōR and deep grief. I do hope to see what RESTōR does with the space and look forward to seeing how their ministry grows in that location."
The goal is to have the first service in the church Jan. 5. "Which is cool," Troyer said, "because our second anniversary will be Jan. 12."
The last service at the theater will be at 5 p.m. Christmas Eve. There will be no services the following Sunday, Dec. 29, and then RESTōR will launch at the new location with a dedication service Jan. 5.
And in his quest to combine old and new, Troyer has asked that Pastor Hickey from Faith Lutheran join them and be a part of the dedication.