GOSHEN — What started as the Elkhart County commissioners' weekly meeting ended with the county's health officer assuring a packed room COVID-19 vaccines won't be mandated by local government.
A dozen people, from a crowd of an estimated 60 or so people, spoke at the end of the commissioners' meeting Monday. Those who stood at the mic raised complaints, concerns and questions about COVID-19 vaccines being administered as well as ongoing criticisms of local health orders, such as requiring face masks in public places.
Most of those in the crowd did not have masks on, and several of those spoke said they would not take a vaccine.
Some, like Maggie Judd, voiced concerns about vaccines relying on mRNA — a process aimed at helping bodies develop immunity to diseases — that the vaccines are still experimental, and have the potential to affect fertility or cause death.
"I say stop the craziness. It is craziness. And I am totally opposed to anything like this ever being mandated," Judd told the board.
Etta Stoltzfus expressed fear people will lose the ability to decide on their own whether or not to be vaccinated.
"Are we going to be pushed into making it mandatory, and if you don't, you can't go here, you can't do this," Stoltzfus asked.
NO MANDATE
As Stoltzfus spoke, Elkhart County Health Officer Dr. Bethany Wait stood to address her concerns. On the question of if vaccinations could be mandated, Wait said not on the local level.
"From a medical standpoint, I don't want to tell anybody what they need to do. I think we all understand this virus at this point in time," Dr. Wait said. "I have no interest in mandating a vaccine. I have absolutely no interest."
Wait cautioned she can't speak to what employers would require as Stoltzfus also talked about how she's afraid of being stigmatized if businesses prevent the unvaccinated from entering. Wait had stated earlier in the meeting she won't mandate vaccinations in the county.
Wait also said her key concerns in weighing decisions on COVID-related health orders are preventing deaths as much as possible and keeping hospitalization rates from rising. Saying while the number of people who've died from the coronavirus amounts to a small percentage of the population, Wait's goal is to prevent any deaths.
"I'm sorry, but I'm here for that percentage of people, I have to be. I've signed an oath to respect that, and I will continue to respect that," Wait said.
Stoltzfus pointed out she'd asked the commissioners months ago their feelings about whether they would receive a vaccine, and she claimed Suzanne Weirick and Frank Lucchese had said they wouldn't take it. When she asked them the same question again Monday, Lucchese said he might wait for when the Johnson & Johnson product is available, while Weirick said she was enthusiastic about getting hers when the time comes.
"So you changed your mind," Stoltzfus said.
"I changed my mind," Weirick replied.
When asked, Wait also indicated she's confident in having people close to her take the vaccine.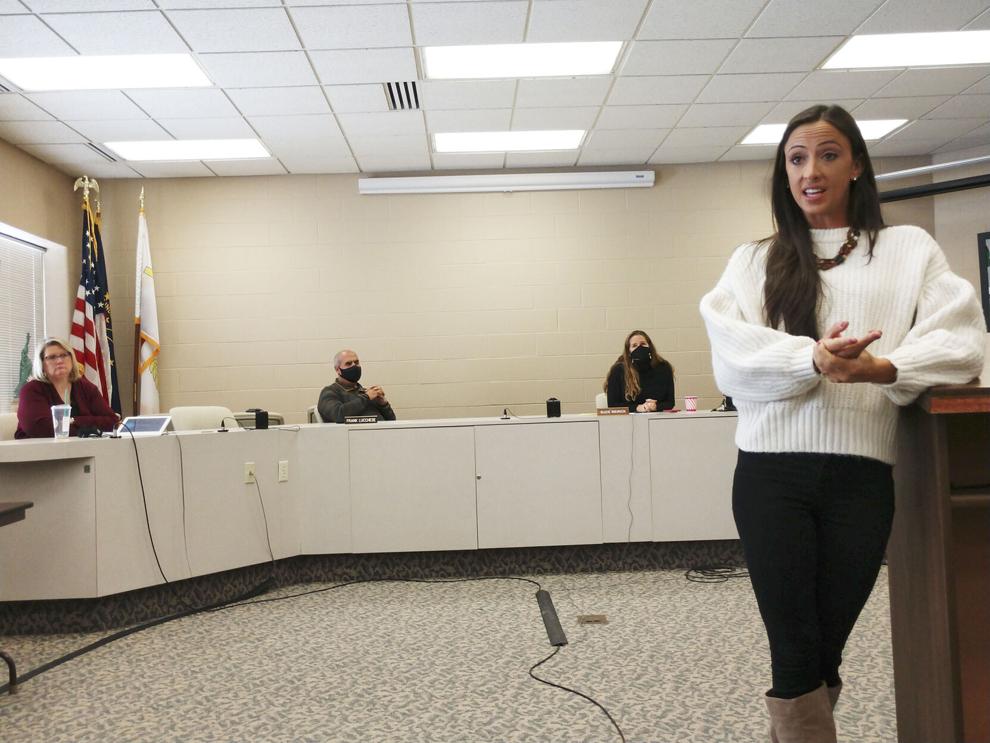 ALLEGATIONS
Meanwhile, Cassie Radelich alleged the health care community is not providing the public all the information about risks and issues while maintaining a repeating "narrative" on COVID prevention. Radelich identified herself as an intensive care unit nurse who's treated patients who couldn't understand how they became infected despite wearing face masks and taking other precautions.
"I don't believe we're being honest as medical professionals. I think, again, it's about choice," Radelich told the audience.
She also alleged seeing hospital leaders tout vaccines as the only safe and effective way to attack the virus while withholding other information.
"That is not true. This is still under clinical trials. If you are not informed of that, you don't have informed consent. You don't have medical freedom, then, if you don't have informed consent," Radelich said.
Stephanie Kauffman of Middlebury, who identified herself as a nurse as well, also warned COVID vaccines carry potential dangers, and she expressed further concerns employers could require such shots for people to keep their jobs, or businesses to provide services, similar to current mask requirements.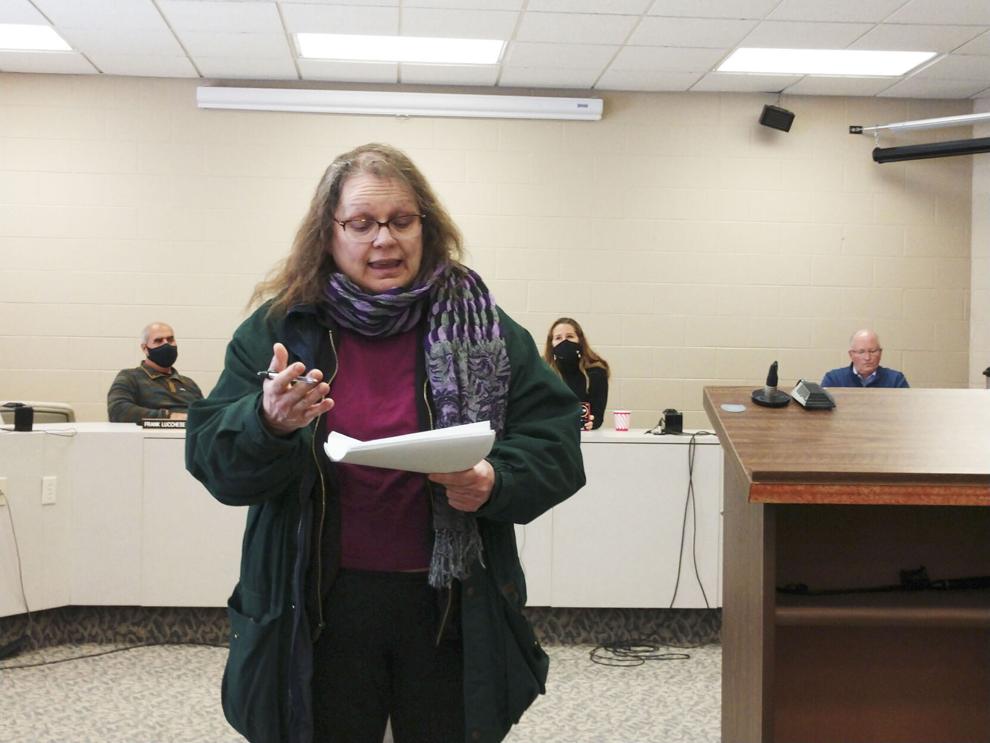 Vanja Haarer was another person concerned about vaccines and the potential for people to lose the ability to decide whether or not they want one.
"I'd like to recommend that you consider reopening fully, do away with the restrictions, provide the education needed for businesses and residents alike to make the best choices for themselves and their organizations," Haarer said.
COUNTY UPDATE
Prior to opening the floor to comments by attendees, the commissioners had Dr. Wait provide an update on the county's COVID status.
Wait said case numbers continue to decrease and hospitalization rates have declined. She pointed out local intensive care units are full, but primarily with patients receiving treatment for issues unrelated to COVID-19.
Figures from the Indiana State Department of Health Monday showed Elkhart County counted 10 new cases of the virus Sunday. The weekly positivity rate was at slightly below 8% with the county sitting at a "yellow" status, the second lowest of the state's four-stage advisory levels.
Wait said the status opens the way for public places to increase their capacity to 50%, and the health department is reviewing safety plans that have been submitted to move forward.
"It's not that we don't want to not reopen, and it's not that we don't want people to be able to do activities, it's just we have to do it safely. And that's the best way to keep our numbers where they are," Wait said.
She also expected state officials to decide this week or next week to widen vaccine distribution by opening availability from the current range of residents aged 65 or older to those aged 60 or older.
Wait said she's looking toward a goal of eventually having approximately 70% of the county's population vaccinated or have had a natural infection in order to reach immunity in the population. More immediately, her hope is that the current push to vaccinate senior citizens will help reduce deaths in a population as vulnerable as those age groups, as well as lower hospitalization rates.