EEE Spray News Conference 10-01-2019
Elkhart County Commissioner Frank Lucchese, Mike Yoder, and Suzie Weirick speak about the effects of the EEE virous spray during a news conference at the Elkhart County Administration Building in Goshen, IN on October 1, 2019.
As featured on
GOSHEN — The Elkhart County Commissioners issued an emergency declaration amid the apparent …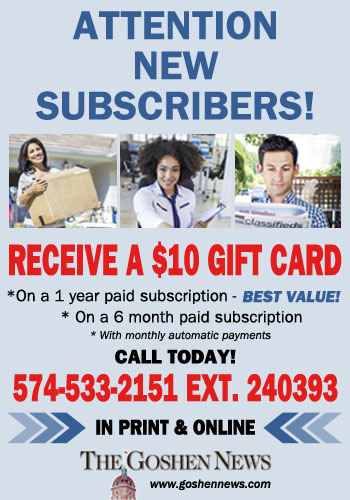 GOSHEN [mdash] Clark Earl Hamilton, 84, died Nov. 15, 2019. Surviving are his wife, Joyce; children, Scott, Heidi and Kimberly; and five grandchildren. A celebration of life will be 1-4 p.m. Sunday, Dec. 8, 2019, at Rieth-Rohrer-Ehret Funeral Home. Visit www.rrefh.com.
MIDDLEBURY [mdash] Zachary Lynn Otto, infant son of James D. and Brenda (Schwartz) Otto, Middlebury, was stillborn at 1:24 p.m. Thursday, Dec. 5, 2019, at New Eden Care Center, Topeka. Survivors, in addition to his parents, are brother, Jeremy Duane Otto, and three sisters, JoLinda Beth, Jay…