Krishawn Hogan.jpg
Heather Bremer | CNHI Sports Indiana
As featured on
The threat of rain forced the Colts indoors for their final practice before Cleveland arrive…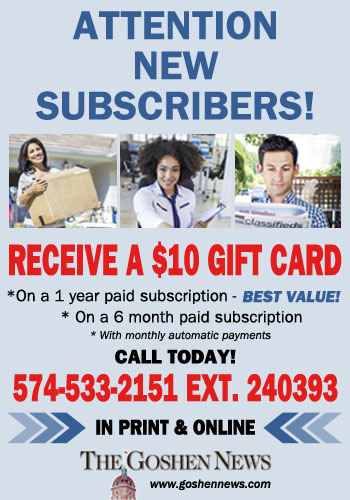 SHIPSHEWANA [mdash] Sandra Felder, 70, of Shipshewana, died Friday, Aug. 9. Visitation will be from 2 to 5 p.m. Sunday, Aug. 25 followed by a 5 p.m. memorial service at Miller-Stewart Funeral Home, 1003 S. Main St., Middlebury.
SHIPSHEWANA [mdash] David W. Schmucker, 85, Shipshewana, died at 9 a.m. Tuesday, Aug. 20, at his residence. He was born Sept. 4, 1933, in Nappanee, to William D. and Fannie D. (Miller) Schmucker. On Feb. 24, 1955, in LaGrange County, he married Mary N. Bontrager. She survives. Survivors in a…
SHIPSHEWANA [mdash] David Schmucker, 85, died Tuesday. Visitation after 2:00 pm Wednesday, all day Thursday at the David Beechy residence, 1365 N. 500 W., Shipshewana. Funeral services at 9:30 am Friday also at the residence. Miller-Stewart Funeral Home, Middlebury, handling arrangements.
NORTH FORT Myers [mdash] Lois M. Rickard, 84, formerly of New Paris, Indiana, died June 24. A visitation will be at Rieth-Rohrer-Ehret-Lienhart Funeral Home, 117 W. Waterford St., Wakarusa, 1-3 p.m. Saturday, Aug. 24. Online condolences may be sent at www.rrefh.com.