Jeffersonville "Progression" Hymn
Locations
As featured on
JEFFERSONVILLE — Jeffersonville High School senior Zachery Abrams observed the crowd that gathered along Riverside Drive on Monday afternoon from his location down at the Ohio River bank.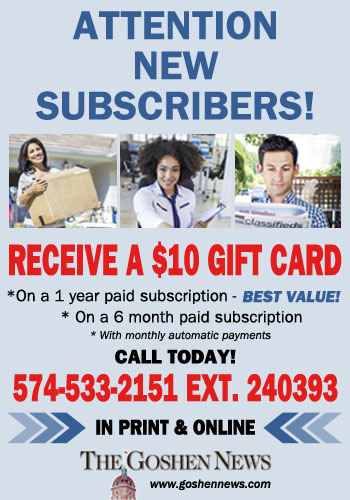 GOSHEN [mdash] Rosemary Fry, 86 died Monday, Sept. 9, 2019. Visitation will be Saturday, Sept. 28 from 2:30 until the 4:30 p.m. memorial service at College Mennonite Church. Visit www.yoderculpfuneralhome for full obituary.
GOSHEN [mdash] Anne Marie Yoder, 94, died Friday, Sept. 20, at home. A memorial service will be held at a later date. Yoder-Culp Funeral Home is assisting with arrangements.
COLON [mdash] Marie Catherine Bontrager, 89, of Centreville, Michigan, passed away Friday, Sept. 20, 2019, surrounded by her family at her daughter Orvin and Miriam Bontrager's residence. Marie was born Feb. 19, 1930, a daughter of the late William N. and Lydiaann (Miller) Bontrager. On Feb.…
PLYMOUTH [mdash] Lena Miller, age 69, of Plymouth, died at 3:05 p.m. Friday, Sept. 20, at her residence after an extended illness. She was born Aug. 10, 1950, in Bremen, to Tobias and Anna Bontrager Borkholder. On Nov. 6, 1975, she married Daniel Miller in Nappanee. Mrs. Miller was a lifetim…
HOWE [mdash] Velma Miller, 69, of Howe, died unexpectedly at 5:07 p.m. Friday, Sept. 20, at her residence. She was born Dec. 8, 1949, in Marshall County, to Oscar and Katie (Schmucker) Schmucker. On July 30, 1969, in Nappanee, she married Ray J. Miller; he died April 26, 2016. Surviving are …