Haven House transitioning to new ownership
Locations
As featured on
JEFFERSONVILLE — For the first time in more than three decades, Jeffersonville's only homeless shelter will be transitioning to new leadership — a move current and future owners say will help strengthen support for homeless and for affordable housing in the community.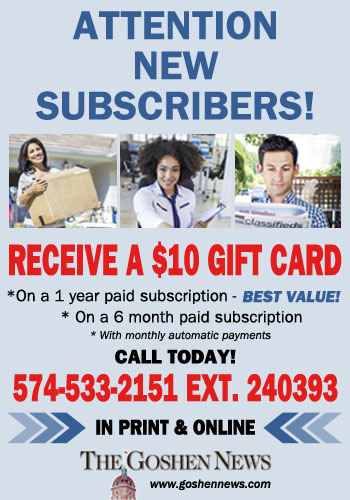 CAMBRIA, Wis. [mdash] John S. Whetstone, 102, Cambria, formerly of Indiana, died Thursday, Aug. 15. He was born March 9, 1917, in LaGrange County, to Samuel J. and Lena (Shrock) Whetstone. On Jan. 31, 1946, he married Rosa M. Eash. She preceded him in death March 25, 2011. Surviving John are…
SHIPSHEWANA [mdash] Janelle Diane Miller, 19, Shipshewana, died Tuesday evening, Aug. 13, at Long Lake, Union Michigan, from an apparent drowning. She was born Dec. 27, 1999, in Topeka to Wayne R. and Karen Sue (Yoder) Miller. Survivors in addition to her parents are four brothers: LeWayne (…
SHIPSHEWANA [mdash] Janelle D. Miller, 19. Visitation after 2 p.m. Friday, and all day Saturday, at the family's residence, 3695 North 850 West, Shipshewana. Funeral 9:30 a.m. Sunday, at John Mark Yoder residence, 3555 N. 850 West, Shipshewana. Miller-Stewart Funeral Home, Middlebury.