Adoption Day ceremony creates new families in Madison County
Andy Knight | The Herald Bulletin
Zachary Sparks and his wife Janelle explain why adopting 1-year-old Abigail is so special to them.
As featured on
Several families finalized adoptions as part of the Madison County Circuit Courts' celebration of National Adoption Month.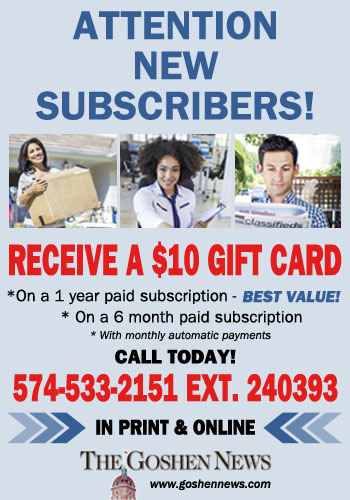 BREMEN [mdash] Leroy D. Hochstetler, 80, Bremen, passed away at the scene of a truck/buggy accident in Marshall County, Tuesday, Dec. 10, 2019. He was born Jan. 1, 1939, in Marshall County to Daniel H. and Lovina (Hochstetler) Hochstetler. On June 18, 1957, he married Malinda Schmucker in El…
GOSHEN [mdash] On Friday, Penny passed away at the age of 61. Surviving are husband, JR, and children, Jason and Melissa; six grandkids; and sister, Linda Stroud. A celebration of life will be held at Greene Road Church, 7 p.m. Dec. 20. www.rrefh.com.
INDIANAPOLIS [mdash] Nancy Rae Meyer, 73, of Indianapolis, passed away Friday, Dec. 6. She was born May 11, 1946, in Goshen, to the late Orville C. and Lavon E. (Wideman) Inbody. Nancy was a 1964 graduate of Elkhart High School, where she met the love of her life, Robert E. "Bob" Meyer. They…
GOSHEN [mdash] Terry Lee Roig, 64, Goshen, died at 2:10 a.m. Saturday, Dec. 7, at his home. He was born April 12, 1955, in Goshen, to Clotilde Gonzalez and Judith Ellen (Bailey) Roig. On July 9, 1983, he married Linda Sue (Bellman) Roig. Surviving are his wife, Linda, Goshen; brother, Tony R…