GOSHEN — The last night of 3-on-3 basketball at the Elkhart County 4-H Fair saved some of the best performances for last on Wednesday.
Eighteen teams — six from the 16-18 age group and 12 from the 19+ age group — showcased their skills in front of hundreds of fairgoers to close out the 2021 rendition of the fair's 3-on-3 tournament.
Team Bryce Schrock won three straight-games to earn the 16-18 age group crown after outlasting Team Braedon Helms 18-11. Team Helms was within a couple points midway through the contest before Team Schrock ran away with it behind the shot-making ability of Ben Byrkett, Lyndon Miller and Luke Miller.
All four players have been playing with each other in the tournament over the last few years, and that chemistry was on display throughout the night.
"It's a lot of fun coming out here," Luke Miller said. "Everybody competes so hard, and there's always a lot of talent that comes out and plays."
Luke and his twin brother, Lyndon, just graduated from Westview High School, along with Byrkett. Schrock played at Elkhart Christian, but he became friends with Byrkett through Tipping Point Basketball, a training academy in Elkhart.
"We play like everyday together," Luke Miller said. "2-on-2 and stuff like that. … We knew we had a good shot (of winning), but we knew that the team we played in the finals had a lot of talent too."
That team had four familiar faces that Byrkett, Schrock and the Miller twins had seen throughout their high school careers. Dawning an array of different NBA jerseys from Memphis Grizzlies guard Ja Morant to a vintage Los Angeles Clippers Shai Gilgeous-Alexander, Mason Yoder (Westview), Chaz Yoder (NorthWood), Cade Brenner (NorthWood) and Helms (Fairfield) put eight of the area's more well-known high school players under the basket at one time.
"We all knew them and their style of play pretty well," Luke Miller said. "It really just became a battle to the end out there."
NO SUBS NEEDED
In the 19+ age group, teams had to earn a championship with 12 total in the bracket. For Team Levon Parker, that challenge was even more difficult with only three players and no extra man to give anyone a break off the court.
Despite that, Team Parker shot their way to four straight wins and a championship.
"We've all been playing together for a while," said Ramon Johnson, one of the members of Team Parker. "We've been in a lot of 3-on-3 tournaments lately, so we decided to put it together again for the fair. We've won the last two or three tournaments we've been in, so we're just on a hot streak right now, I guess."
Johnson, 25, grew up playing with the other two members of the team in Rodney Lee (35) and Parker (38). Johnson's a 2014 Concord graduate who played basketball at the school before walking on the team at Central Michigan.
The trio gelled well together on the court, led by a sharpshooting Parker from deep who received plenty of praise from the crowd with each passing possession.
For the group, this was the second time participating in the tournament at the fair. On Wednesday night, they won it for the first time.
"We just came out here to have some fun," Johnson said. "We're just trying to make the most out of it while we can still play, because when I was 18, 19, 20, I could run all day. Now after a few games of 3-on-3, man, I'm tired."
---
3-ON-3 BASKETBALL TOURNAMENT RESULTS — WEDNESDAY, JULY 28
MEN AGE 16-18 (6 TEAMS):
First round: Team Bryce Schrock def. Team Brady Yoder 18-15; Team Dalton Cripe def. Team Zach Subera 19-7
Semifinals: Team Bryce Schrock def. Team Trevor Brown 20-18; Team Braedon Helms def. Team Dalton Cripe 18-14
Finals: Team Bryce Schrock def. Team Braedon Helms 18-11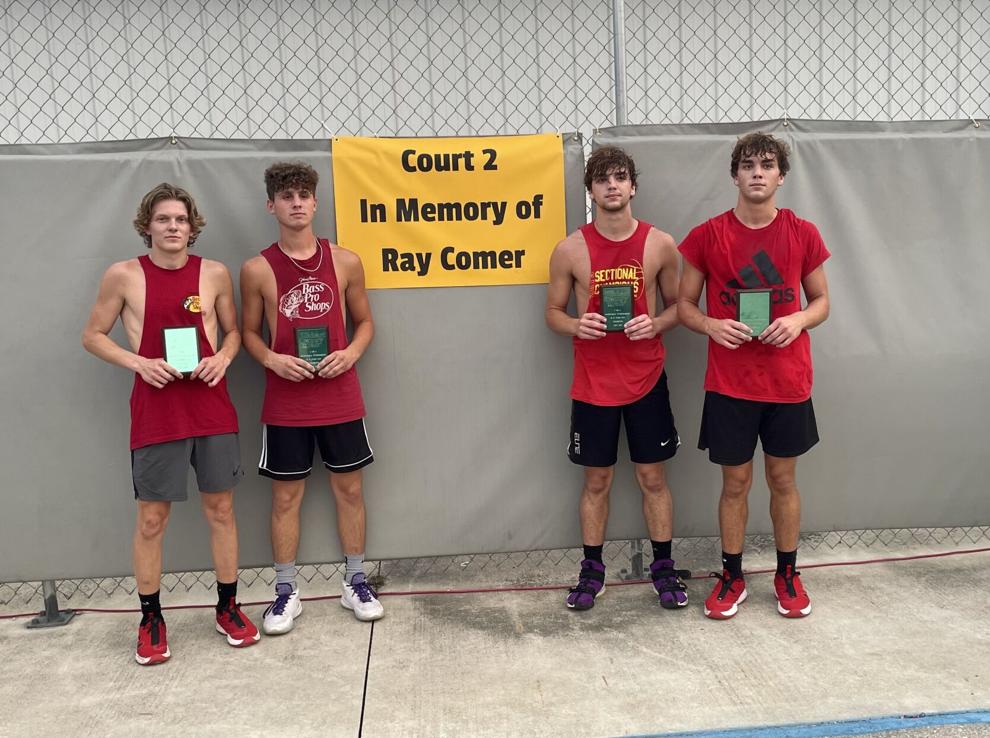 MEN AGE 19+ (12 TEAMS):
First round: Team James Robinson def. Team Jon Aguilar 18-14; Team McCray Wenger def. Team Josh Bevier 18-1; Team Levon Parker def. Team Jared Fox 18-5; Team Nolin Sharick def. Team Micheal McKibbin 18-5.
Second round: Team Ryan Charles def. Team James Robinson 18-10; Team John Miller def. McCray Wenger 18-14; Team Levon Parker def. Team Trey Salisbury 18-9; Team Nolin Sharick def. Team Lance Martin 18-5
Semifinals: Team John Miller def. Team Ryan Charles 18-12; Team Levon Parker def. Team Nolin Sharick 18-14
Finals: Team Levon Parker def. Team John Miller 18-15