GOSHEN — Wednesday's transfer of power in Washington, D.C., comes with a sense of hope locally.
Although local Republicans, even those who supported former President Donald Trump, may disagree on Democratic policy, their hope is in the strength of the republic to stand as one nation.
For Democrats, their hope is that President Joe Biden and Vice President Kamala Harris will bring back civility and unity to the nation.
And for women and people of color, Harris' ascendancy provides hope in the continuing equalization of diversity.
Former City Councilman Daniel Grimes, the first African-American or person of color to hold any office in Goshen, said of Harris becoming the first woman of color to be vice president, "I don't think that it can be overstated how significant this is. It helps to normalize women in positions of power and influence, as well as historically underrepresented groups commonly referred to as people of color.
"I also think it says a lot about President Biden. He was able to select someone who at one point was a bitter political rival. He was able to resolve whatever conflict there was between them because he saw something in her that he respected and appreciated. He also is committed to having an administration that is representative of all of America, which I believe can be part of the healing process by allowing more diverse voices to be not only represented but also respected around the table."
Twelve years ago, President Barack Obama broke the color barrier. "But based on the growth of white supremacist activity, that didn't sit well with certain portions of society," Grimes said. "In spite of the rise of more hate groups, Blacks and other historically underrepresented groups have redoubled their efforts to make their voices heard, which has resulted in increased political activism. Fortunately, a portion of the white electorate is able to judge individuals by the content of their character and vote for qualified individuals who may not look like them."
Grimes said he thinks that having Harris as vice president should "assist in helping to acknowledge and deal with certain aspects of federal policies that may have been overlooked or not viewed as important by others."
He said, "Representative democracy only occurs if elected officials are actually reflective of society at large. We all have different lived experiences which helps inform our worldview and what we view as important or needed."
So he was grateful to witness today's peaceful transfer of power.
"I am also grateful that the ticket I wanted over 18 months ago at the start of the election cycle has been sworn into office," he said. "Representation is important, so to the extent that more Americans see Vice President Harris as representing a portion of their identity — female, African-American, South Asian-American, the number of Americans who gain a sense of belonging grows, which is a good thing and helps us move toward a more perfect union."
'Faith in the republic'
State Sen. Blake Doriot, R-Syracuse, said, "Of course as a Republican I prefer the last administration.
"I think it's going to be a real rough time, but I do have faith in the republic," he said. "We've had bad times before, but we've worked it out and we'll get through it."
Doriot said he is worried about some of the rollbacks Biden will make that could lead to an energy crisis and how that will impact Elkhart County. The county makes more than 300,000 recreational vehicles a year and those run on fuel, he said.
Although the companies are making RVs lighter and more fuel efficient, "If the price (of gasoline) goes up, it's going to hurt us," Doriot said.
He hopes to not have more problems relying on foreign products. Trump placed tariffs on certain foreign-made products so those industries would produce them in the United States, and therefore the U.S. would not be at the whim of another country, he said.
"I do feel there will be impacts," Doriot said. "I'm quite terrified of some of the things I've heard coming out. There's talk of a federal 3% property tax."
He explained that a person with a $250,000 home with the current 1% cap would pay $2,500. If the Democrats get a 3% tax through, he said, that will mean that $250,000 property will cost $7,500 per year.
"And that's devastating," Doriot said.
Plus, he added, if the Democrats raise corporate taxes, those corporations will put their money in other places to work for them.
"And that scares me," he said. "That scares me."
Democrats hold the House and Senate by a narrow margin, so they will need some Republican cooperation.
"Both sides now are so vile," he said. The days of Democrats having a beer with a Republican to work out problems may happen in Indianapolis, but not so much in D.C., he said.
"I wish that we could start to get along," Doriot said. "There's a lot of animosity built up on both sides. I hope we can get by it. But after four years of what Congress did to Trump, it's kind of hard to swallow it."
Bring back decorum
Goshen Mayor Jeremy Stutsman, a Democrat, said he has never been one to worry about party, so whether the U.S. has a Republican or a Democrat as president wasn't as important as having proper decorum.
"Someone with integrity, respect and willing to work with others is important to me," Stutsman said. "I am hopeful that Biden and Harris will be able to bring back that decorum and be willing to take that huge step of bringing Washington, D.C., officials closer together so we can see more progress from their work."
He added that if decorum comes back to the highest office in the land, then it will spread through the country.
"We all need to take a deep breath and recognize we are part of the same community," Stutsman said. "We thrive together and not separately. I hope that our country and our community can start dealing with the issues at hand."
And that hope is for both sides. "One wrong doesn't justify another," he said. "We don't all have to agree, we just have to respect each other."
Nappanee Mayor Phil Jenkins, a Republican, said at this point it's too early to tell how the Biden-Harris administration will have an impact locally.
"I have not been following that really closely on a national level," he said.
Rep. Jackie Walorski's office helped when tariffs caused problems for local manufacturers during the Trump administration. He said he likes to work with local Congressional people on those issues when they arise.
For now, he said, "I'm kind of taking a wait-and-see approach to this administration."
Jenkins said his job is to look out for the Nappanee community, so he doesn't focus so much on the national level.
But he does believe Biden's actions are going to have to speak louder than his words.
"Actions are what are going to drive it," he said.
Jenkins was also pleased to see the civility of the inauguration.
"We'll see if that changes tomorrow," he said, adding that he hopes for more civility in national politics.
"Hope can bridge that divide and focus more on some common goals," Jenkins said.
Not all of those looking for some hope were politicians.
Jacob Kaufman, Goshen, said of Biden and Harris stepping into the top leadership roles of the United States, "I think I really just hope they do well; that they serve our country well, and I'm looking forward to that."
Personally, for Kauffman, "To me it means where our country will be in the future, what kind of leadership we have and … the consequences of that."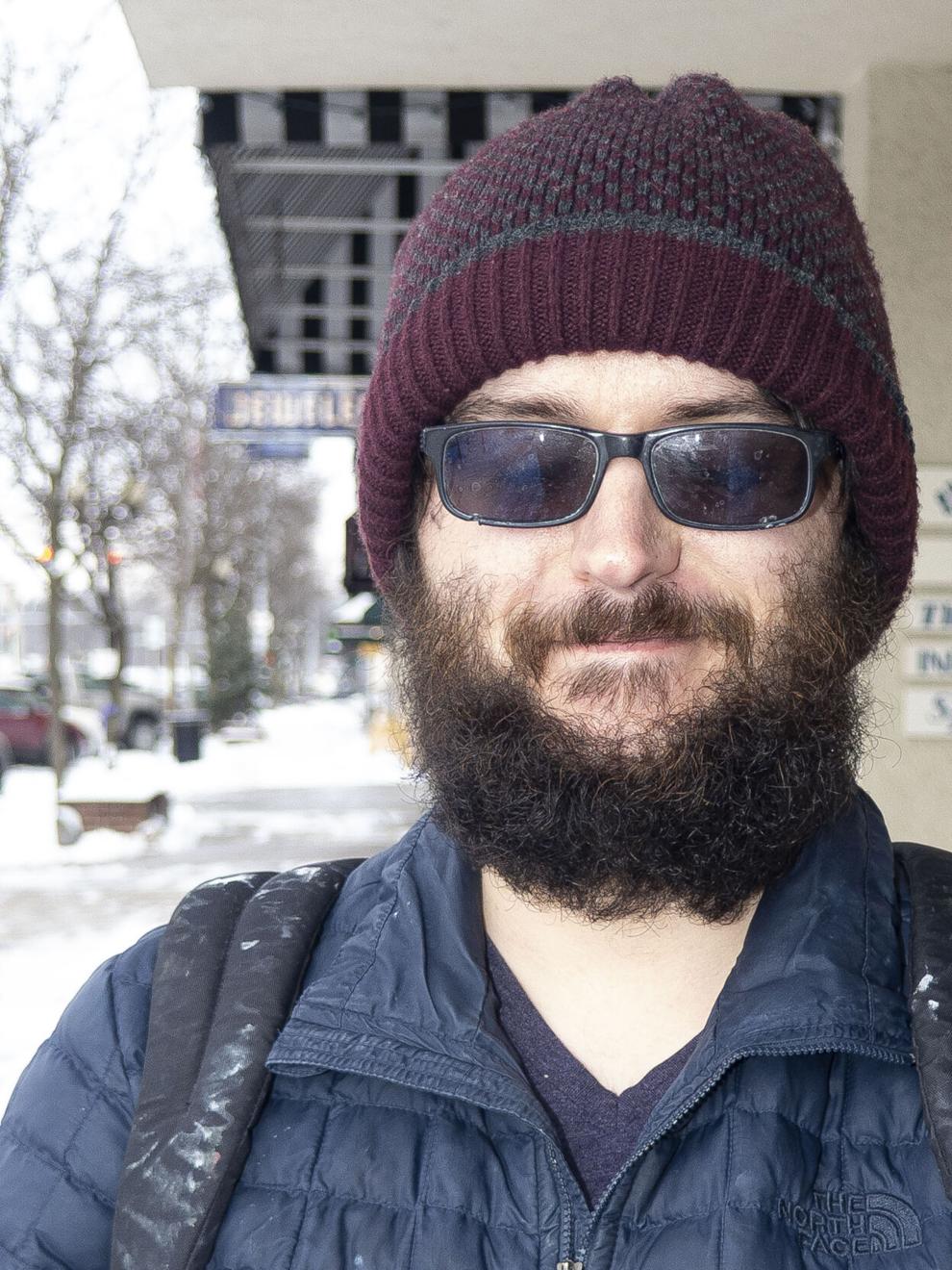 Alex Peterson, Goshen, said, "I think the peaceful transfer of power is a hallmark of American institutions, a key part of our nation. I'm glad that it's occurring peacefully, though I'm dismayed by many of the circumstances around it. But it seems very appropriate that the people who win the election, win the election."
As for what he expects from the Biden-Harris years, Peterson said, "I don't know. There's many different pressing problems. One, I could say what I hope for. I don't know what will happen. I hope there will be systemic national policy that won't be local authorities in trying to limit the spread of the COVID virus and return our lives to normal. … I would expect a return to more democratic norms and hopefully more civility in our political discussions among the national league and among the people around Goshen."