Claudia Swisher loves casting her ballot in person on Election Day, but this year COVID-19 health concerns are keeping her away from the polls.
In her lifetime, the 75-year-old Norman, Oklahoma resident has voted only four times by mail. She cast three of those ballots this year. Swisher also paid $100 to become a notary public to make it easier for her neighbors to comply with the absentee ballot notarization law in the state.

"I want to take away as many barriers as possible to vote because people who want to vote should have as many options as possible," Swisher said.
All but a handful of states now allow widespread access to mail-in — or absentee — balloting, but voters nationwide find themselves navigating a complex patchwork of regulations that vary from state to state — everything from voter ID requirements to strict ballot deadlines.
And prospective voters face conflicting messages about whether their ballots will be counted amid concerns over U.S. Postal Service delivery delays, barriers to access in poorer communities and the potential for fraud, despite no significant evidence that is, has been or will be a problem.
Still, experts say mail-in ballots will play a pivotal role in the Nov. 3 election and warn the race may not be settled until days later or longer, as record-setting numbers of people vote by mail. In Michigan, by Tuesday afternoon — 24 days before the deadline — 2.6 million voters had requested absentee ballots. That's more than half the total number of voters who turned out in the state during the 2016 election.
The last presidential election was decided by margins of less than 2 percent in six states — Florida, Pennsylvania, Michigan, Minnesota, New Hampshire and Wisconsin. Pundits and policymakers differ on which states will swing this year, but some estimate the race could hinge on voters in eight, including Arizona, Florida, Georgia, Michigan, Minnesota, North Carolina, Pennsylvania and Wisconsin.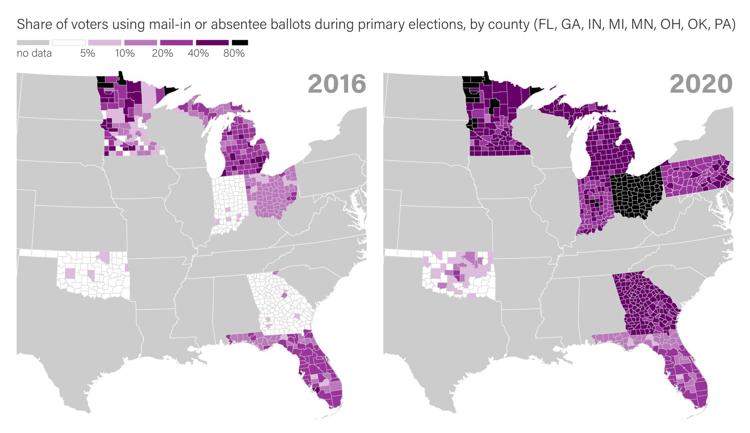 A CNHI data analysis showed voters cast ballots by mail in record numbers in the 2020 primaries when compared to 2016. Spikes in vote-by-mail turnout ranged from 2,758 percent in Georgia to 11 percent in Florida. Pennsylvania, which allowed anyone to vote absentee for the first time in 2020, saw a 1,616 percent increase in returned absentee ballot applications.
The increases in mail-in and absentee voting also held in places where total turnout fell.
CNHI's data analysis collected and analyzed county-by-county election data from eight states where mail-in or absentee ballot numbers were available. The findings show:
In six swing states (Florida, Georgia, Michigan, Minnesota, Ohio and Pennsylvania), at least 5.2 million more voters used mail-in or absentee ballots in 2020 primary elections when compared to similar electoral milestones in 2016.
Republicans relied more heavily on mail-in voting during 2020 primaries in two of four states where such comparisons were possible (Florida and Georgia). Prior to 2020, in Florida and Georgia's 2016 primaries, mail-in voting was roughly equally popular with Democratic and Republican voters.
In seven of eight states examined, median household income of a county had a positive relationship with the use of mail-in and absentee ballots. Generally, the more wealthy a county, regardless which political party claims majority support, the more voters utilized mail-in or absentee ballots in 2020.
Analysis
| State | Vote method analyzed | Election dates — 2016 | Election dates — 2020 | Total number of mail-in or absentee ballots — 2016 | Total number of mail-in or absentee ballots — 2020 | Total number of mail-in or absentee ballots — % change | Share of voters using method in 2020 | Major party more reliant on method in 2020 | Correlation with median household income in 2020 |
| --- | --- | --- | --- | --- | --- | --- | --- | --- | --- |
| Florida | mail-in | 03/15/2016 | 03/17/2020 | 1,258,732 | 1,395,524 | 11% | 23% | R | +** |
| Georgia | mail-in | 03/01/2016 | 06/09/2020 | 36,208 | 1,034,762 | 2758% | 51% | R | +** |
| Indiana | mail-in | 05/03/2016 | 06/02/2020 | 53,818 | 546,716 | 916% | 50% | | +** |
| Michigan | absentee | 08/02/2016 | 08/04/2020 | 531,478 | 1,638,617 | 208% | 65% | | +** |
| Minnesota | absentee | 08/09/2016 | 08/11/2020 | 41,989 | 543,169 | 1194% | 59% | | - |
| Ohio | absentee | 03/15/2016 | 03/17/2020 | 446,508 | 1,810,486 | 305% | 99% | | + |
| Oklahoma | mail-in | 06/28/2016 | 06/30/2020 | 15,856 | 95,335 | 501% | 14% | D | +** |
| Pennsylvania | mail-in | 04/26/2016 | 06/02/2020 | *106,854 | 1,224,215 | 1046% | 42% | D | +** |
The net effect of the exponential growth of remote voting has been a substantial expansion and diversification of the pool of people who participate in elections, said Enrijeta Shino, a University of North Florida assistant professor of political science.
Prior to 2020, Republicans tended to vote by mail at higher rates than Democrats, but that is changing, she said.
"This leads us to think how politicized this vote method has become because of (President Donald) Trump's criticism of the method, and how Republicans are taking cues from the president and following with it," Shino said. "This is a bit concerning because it is going to shake people's trust in this voting method, which we know is safe. The fraud cases are so small and isolated, but that also may make voters lose trust and faith in the electoral system and the outcome of the election."
The data from states examined for this report shows neither major political party benefited more from mailed ballots in 2020. In Oklahoma and Pennsylvania, Democrats were more likely to vote by mail. In Florida and Georgia, Republicans cast more ballots by mail.
THE FINANCIAL DIVIDE
More consistent than party-line divides in voting behavior are economic divides. In seven of eight states, mail-in and absentee voting was more popular in counties with higher median incomes.
A poll of New York voters conducted by Siena College in late September found voters in the youngest age bracket — 18 to 34 — and those with an annual income of at least $50,000 are more likely to vote by mail in the November election. The survey of 504 likely New York voters also indicated Republicans in the state heavily favor in-person voting.
Trump has been a frequent critic of mailed ballots, attempting to discredit their use. He's cited risks of "mayhem" and fraud. Vice President Mike Pence repeated claims of potential for widespread fraud because of mailed ballots during a nationally televised debate Wednesday night.
Despite repeated claims by politicians, the Brennan Center for Justice, a nonpartisan public policy and law institute, found fraud is "very rare, voter impersonation is virtually nonexistent, and many instances of alleged fraud are, in fact, mistakes by voters or administrators."
Local and state elections officials often point to ballot numbering and tracking systems, and signature verification processes as some of the safeguards in place to prevent fraud.
The institute found the same holds true for mail-in ballots, which are "essential to holding a safe election" during the pandemic.
In some states, GOP and Trump campaign leaders are even urging mailed ballots.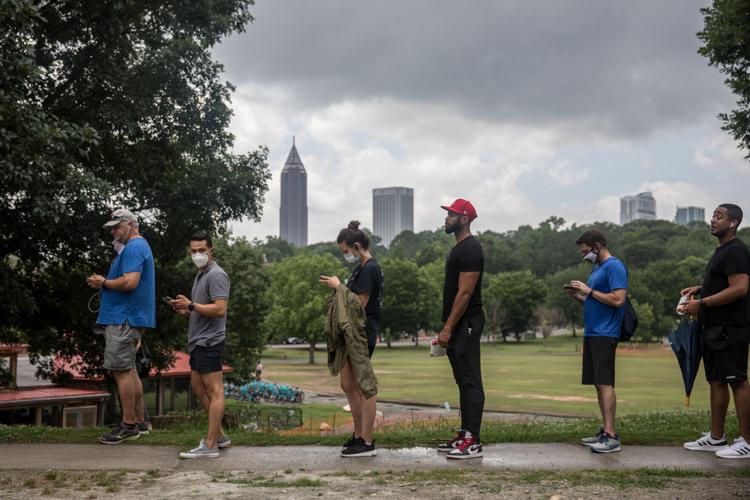 In Georgia, Trump campaign doorknockers carried absentee ballot applications, and Georgia's GOP sent out mailers in late August with absentee ballot request forms. The spike in absentee balloting in the state follows reports of voters waiting in line for more than seven hours in some precincts to cast ballots in recent elections.
In Pennsylvania and Michigan, some voters have received absentee ballot applications sent on behalf of Trump's campaign or state Republican party officials.
"As absentee has grown exponentially, we give every voter that we talk to the opportunity to cast absentee," said Brian Barrett, regional political director in Georgia for the Trump Victory campaign.
In Pennsylvania, expanded mail-in voting eligibility in 2020 resulted in 1.5 million voters opting to cast ballots outside the polls in the state's June primary. Previously, access was limited to voters like college students and military personnel. More than 2.2 million applications have been received ahead of the general election.
Trump supporter Seth Rugen, of Oxford, Pennsylvania, said he fears the shift away from in-person voting provides more opportunities for fraud. He wishes the federal government had started thinking about expanding mail-in voting long before COVID-19.
"Now you've got all these states with different regulations and dates and postmark dates," Rugen said. "I don't like that."
Elections decisions — like how to count absentee ballots or handle registration forms — are largely left to state and local officials, said Joseph Anthony, an assistant visiting professor at Oklahoma State University.
In fact, there's only one federal law that regulates elections — the Help America Vote Act passed in 2002. It sets mandatory minimum standards for states, including provisional votes, voting information, voting equipment and statewide voter registration databases.
Leaving election control to states helps local leaders innovate and be more responsive to constituencies, Anthony said.
"It really does make it much more difficult to manipulate or steal an election," he said.
In New York's Otsego County, elections officials said there are strong procedures aimed at combating voter fraud both with absentee voting and in-person ballots. An online portal facilitating applications for mail ballots has enhanced voter access, according to elections officials.
But states that don't provide free return postage for ballots risk disenfranchising minority and low-income communities, and a lack of reliable broadband access across swaths of rural America can make it difficult to even request ballots, experts said.
Additionally, voters in some places already have experienced problems with mailed ballots.
Tom Nolen of Norman, Oklahoma said he voted by mail in two elections so far in 2020, so when he mailed his ballot for the Nov. 3 election he didn't have any second thoughts.
"I mailed in my past two ballots and they were counted no problem," Nolen said.
A few days later the ballot reappeared in his mailbox. There was no pre-printed return address on the envelope as there was on the past two mail-in ballots.
"Given the state of our government right now I was kind of freaked out," Nolen said. "A couple days later I took the ballot to the Cleveland County Election Board and hand delivered it to them and asked the guy, 'Did you have a printing problem?' and he said 'Yeah a couple of them turned out that way.'"
But experts say mishaps like the one Nolen faced occur in small pockets, not across larger areas.
POTENTIAL POSTAL PROBLEM
There is no evidence that absentee balloting creates a widespread problem, said Grant Reeher, director of the Campbell Public Affairs Institute at Syracuse University.
Nonetheless, state and local elections clerks are handling an unprecedented task because of COVID-19.
"The postal service seems to be under additional stress," he said. "And secondly, we're likely to face a situation where there are just a greater number of these ballots, and so that leads to uncertainty of the capacity of the system to handle it well."
The turnout boost in mailed ballots triggered by COVID-19 could also lead to greater disorder and chaos, Reeher said.
Some Americans fear upheaval at the U.S. Postal Service could thwart their chance to vote after a top-down restructuring in the organization that reduced mail sorting capacity in some places.
Ruth Harimoto, who lives in Japan, voted absentee in Michigan's Grand Traverse County for the August primary. She mailed her ballot in June.
"In Japan, at my local post office here, they told me to expect delays," Harimoto said. "They were implying that it might be hard for my ballot to reach the United States because there just aren't that many planes flying."
Tracking slips show her ballot reached Chicago in just two days, but then sat without further activity until Sept. 2. It was finally delivered Sept. 9. She said that delay was "upsetting."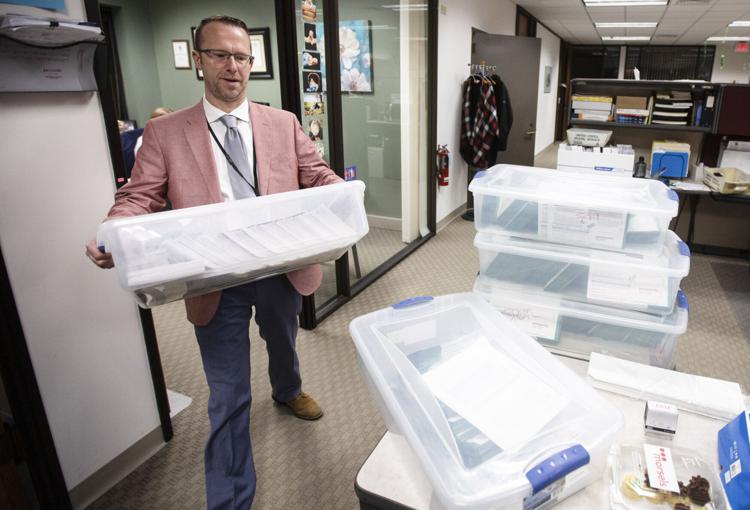 Michigan now will count late-arriving ballots that are postmarked by Nov. 2.
Traverse City Clerk Benjamin Marentette said he doesn't believe the concerns about late ballots merit as much attention as they get.
"I honestly think that a lot of the dialogue that's out there that sheds doubt on the Postal Service's ability to meet this mission is really meant to keep people from feeling comfortable voting absentee," he said. "And they should feel comfortable voting absentee."
For those who don't trust the mail, Marentette encourages voters to drop their absentee ballots off in person.