Do you like the new design?
The Indiana Bureau of Motor Vehicles is rolling out a new design for driver's licenses and other forms of identification. The photo is black and white, the text is larger and easier for police to read, some of the text is raised and it has an ultraviolet feature. Plus, the new design features iconic state images.
You voted: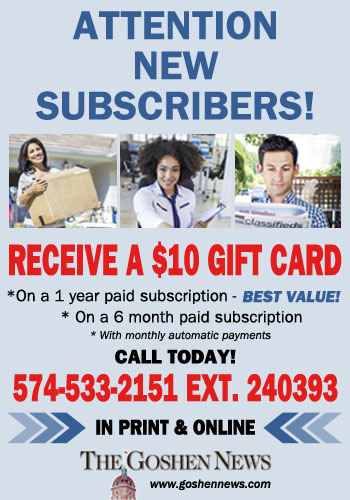 GOSHEN [mdash] Rosemary Fry, 86 died Monday, Sept. 9, 2019. Visitation will be Saturday, Sept. 28 from 2:30 until the 4:30 p.m. memorial service at College Mennonite Church. Visit www.yoderculpfuneralhome for full obituary.
GOSHEN [mdash] Anne Marie Yoder, 94, died Friday, Sept. 20, at home. A memorial service will be held at a later date. Yoder-Culp Funeral Home is assisting with arrangements.
COLON [mdash] Marie Catherine Bontrager, 89, of Centreville, Michigan, passed away Friday, Sept. 20, 2019, surrounded by her family at her daughter Orvin and Miriam Bontrager's residence. Marie was born Feb. 19, 1930, a daughter of the late William N. and Lydiaann (Miller) Bontrager. On Feb.…
PLYMOUTH [mdash] Lena Miller, age 69, of Plymouth, died at 3:05 p.m. Friday, Sept. 20, at her residence after an extended illness. She was born Aug. 10, 1950, in Bremen, to Tobias and Anna Bontrager Borkholder. On Nov. 6, 1975, she married Daniel Miller in Nappanee. Mrs. Miller was a lifetim…
HOWE [mdash] Velma Miller, 69, of Howe, died unexpectedly at 5:07 p.m. Friday, Sept. 20, at her residence. She was born Dec. 8, 1949, in Marshall County, to Oscar and Katie (Schmucker) Schmucker. On July 30, 1969, in Nappanee, she married Ray J. Miller; he died April 26, 2016. Surviving are …